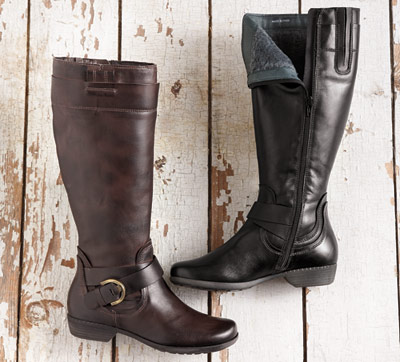 English riding boots are a fashion statement for anyone, regardless of whether they ride horses or not, but they are a necessity for anyone involved in equestrian sports. Riding boots protect the legs from getting pinched by the different parts of the saddle, and have a specially designed heel and sole to make riding horses safer. There are several types of riding boots, from the long boot type that extends all the way to the knee to the shorter types often worn by children.
Comfort is a major concern when buying riding boots, because boots that are too tight or too loose can be a hazard on horseback. In order to buy the right boots, a shopper first needs to choose the right kind of boot. Then, one has to know how to achieve the proper fit by taking measurements and then properly reading a boot size chart. Riding boots can be bought at specialty shoe shops or online. By learning to shop for boots online, horseback riders can take advantage of a wide selection as well as competitive prices on the best brands.
Understanding Different Types of Riding Boots
There are at least eight different boot types, if not more, that are commonly used today by riders in different equestrian disciplines. These types fall into one of three main categories. The first category is tall or long boots, like dress boots and field boots. The second category is short riding boots, like jodhpurs, and paddock boots. The last category is reserved for muck boots and wellingtons, which can be short or long.
Long Riding Boots
The three basic long riding boot types are dress boots, field boots, and hunting boots. Dress boots reach up to the knee, and traditionally do not have a zipper or laces. High quality dress boots are made of leather and are often very simple and elegant in design, with any styling or ornaments high on the leg. Dress boots are used by dressage riders and show jumpers.
Hunting boots are similar to dress boots but may have a zipper running down the back. They are often black with a tan cuff at the top, and are used for fox hunting. Field boots are a type of long boot with lacing. The lacing is intended to provide more give around the ankle since these boots are used for all disciplines that involve jumping. This can include show jumping, fox hunting, and hunt seat equitation, among other sports. They are also used by many police officers and were traditionally worn by 'field grade' army officers.
Short Riding Boots
Choices of short riding boots includes jodhpurs, chelsea boots, and paddock boots. These three boot types are very similar. In fact, the terms 'jodhpurs' and 'paddock boots' are often used interchangeably. The difference is that jodhpurs are usually a little more formal than paddock boots. Paddock boots often have laces while jodhpurs and chelsea boots are of the pull-on variety. Chelsea boots are jodhpurs with elastic on the sides to help in getting them on and off. All kinds of short boots can be worn with gaiters or half chaps to provide the same protection and look as long boots. This is often a good choice for children and teens who soon outgrow more expensive long boots.
Muckers and Wellingtons
Muckers or muck boots are boots used when mucking out the stable. Since mucking out a stable can involve lots of mud and slush, and other wet conditions, muck boots are made to be waterproof. Wellingtons are long waterproof boots that were originally made of leather but are best known as rubber boots. Today they are often made of PVC or other plastics.
Taking Measurements for Riding Boots
Short boots are measured much the same way as other kinds of shoes, but there are a few special factors to take into account when getting measured for long boots. When shopping for long boots, one has to take into account the shaft height and the circumference of the calf. Taking these measurements in the correct way is also important.
Measuring Shaft Height
The shaft height of the boot is different from the boot height, although the terms are sometimes used interchangeably. The shaft includes the space on the inside of the boot from where the heel rests to the top of the shaft. The boot height, in contrast, technically refers to the entire height of the boot from the bottom of the heel to the top of the shaft.
To find the correct shaft height for the boot, sit with the feet flat on the ground and the knees at right angles. Measure from the floor to the crease where the knee bends. Then add 1.5 cm to this length. This is a very important step because the boot height tends to drop around 1.5 cm as the boot is worn in. This has to be accounted for so that the boot goes all the way up to the knees even after it has been broken in. This also means the boots must be uncomfortably tall when they are brand new. To break them in with the least possible discomfort, consider buying a pair of heel lifts to use in the first few days. As the boot height drops, the lifts can be taken out.
Measuring Circumference of the Calf
To measure the circumference of the calf, first make sure to wear the same breeches and socks that are normally worn while riding. Then have a helper measure around the widest part of the calf. Those who are prone to changing weight should adjust the measurement accordingly by estimating the smallest calf measurement they might have and then look for long boots with elastic in the calf. When buying zippered boots, add 0.3 cm to the measurement to avoid stressing the zipper. For example, someone who measures 36.5 cm around the calf should look for a manufacturer who makes boots in the correct foot size with a 36.8 cm shaft.
When it is difficult to match all three measurements (foot size, shaft height, and width), it is usually preferable to choose a slightly large foot size and make sure the height and shaft width are what they should be. Foot size can be corrected with a footbed or insole, while a loose shaft or wrong height are much harder to correct. Also note that the boots should be a little tight around the calves when new as they have to break in to a perfect fit. When in doubt, check with the seller to make sure that the boot sizes given in the size chart are the sizes after they are broken in.
Spanish Cut Riding Boots
Many boots have a Spanish-cut top. This means the sides of the boot are taller than the front and back. This makes the boot look taller when worn by a rider, giving the appearance of long streamlined legs. This look is especially coveted in dressage, the most formal of the equestrian disciplines. When buying Spanish-cut boots, check with the seller if the height given in the size chart includes the extra height on the sides or not. If the sides are included, find out the shaft height to the back of the boot, as this is the measurement that determines the correct size.
Finding the Correct Size on a Boot Size Chart
Boot size charts can be complicated to read but deciphering them is the key to buying the most comfortable boots, especially when shopping online. Every manufacturer has a different size chart. Not only that, but every boot model has a different chart since the design of the boot affects the height and width. The chart below shows general sizing information to help the buyer make an informed decision.
| Boot Size | 3-4 | 4-5 | 5-6 | 6-7 | 7-8 |
| --- | --- | --- | --- | --- | --- |
| Regular width | 36 cm tall, 33.6 cm wide | 37.2 cm tall, 33.6 cm wide | 37.7 cm tall, 36 cm wide | 38.2 cm tall, 36 cm wide | 38.4 cm tall, 36 cm wide |
| Broad/wide fit | 36 cm tall, 38 cm wide | 37.2 cm tall, 40 cm wide | 37.7 cm tall, 40 cm wide | 38.2 cm tall, 40.8 cm wide | 38.4 cm tall, 40.8 cm wide |
| Slim fit | 36 cm tall, 28 cm wide | 37.2 cm tall, 30 cm wide | 37.7 cm tall, 32 cm wide | 38.2 cm tall, 32 cm wide | 38.4 cm tall, 32.5 cm wide |
| Short | 32 cm tall, 33.6 cm wide | 33.2 cm tall, 33.6 cm wide | 33.7 cm tall, 36 cm wide | 34.2 cm tall, 36 cm wide | 34.4 cm tall, 36 cm wide |
| Tall | 40 cm tall, 33.6 cm wide | 41 cm tall, 33.6 cm wide | 42.7 cm tall, 36 cm wide | 42.2 cm tall, 36 cm wide | 42.8 cm tall, 36 cm wide |
Some manufacturers offer the complete range of slim to extra wide sizes in every height, while others offer limited sizing options. Regardless of the options, the sizing charts always involve these three measurements. Suppose one were looking for boots with a 5.5 foot size, a 36 cm calf width, and a 40 cm boot height. First, look at the column (or row, depending on the chart layout) containing the closest foot sizes. Then find the closest width. In this case, the relevant foot sizes are 4-5 and 5-6. Looking for the closest width, it is apparent that the 5-6 size is a better fit. The regular width in this model is a little short while the tall model is a little too tall. The options here are to buy the tall 5-6 size and wear it with heel lifts, or to buy the next biggest size (regular 6-7) and wear an extra footbed, gel sole, or air cushion.
A better option might be to look for a different model or even a different brand with measurements closer to those of the wearer. It is not uncommon when shopping for long riding boots to search through many boot size charts for the correct fit. The most difficult sizes can find the perfect fit by looking at models with elastic panels for extra width.
How to Buy Comfortable Riding Boots on eBay
With the help of boot size charts, anyone can buy comfortable riding boots on eBay with confidence. By finding a seller with an excellent feedback score and a no-hassles return policy, finding the perfect fit is simple. Experienced sellers on eBay are more than happy to assist buyers in finding the correct boot model and size given their measurements and equestrian discipline.
To find riding boots on eBay, enter the keywords 'riding boots' in the search box on any eBay page. The search is likely to return listing of both real riding boots as well as fashion 'riding boots' that are unsuitable for equestrian sports. The search can then be refined to show only riding boots appropriate for horseback riding by choosing the correct subcategory. Other search criteria such as price, condition, and subtype make it easy to narrow down the search further.
Look for listings with an award icon to choose only eBay's Top-rated sellers. These are sellers with a long history of excellent customer service. Be sure to check the return policy and read the listing carefully for tips on sizing for each model and brand.
Conclusion
Buying comfortable riding boots is one of the challenges of outfitting a rider for an equestrian sport. Boots that are either too loose or too tight can be uncomfortable and may cause blisters due to chafing. Moreover, the number of long and short boot types may be confusing to a new rider. Long boots can have laces, zippers, or neither of the above. For this reason, learning about the different boot styles is the first step towards buying the perfect pair. Secondly, one has to take measurements of the lower leg and know how to use these measurements to find the correct size on a boot size chart. While riding boots can be found in specialty equestrian sports shops, the largest selection is indubitably found online. By learning to take and use the necessary measurements, comfortable boots can be found just as easily online as in a brick-and-mortar stores, especially with the help of highly rated sellers on eBay.