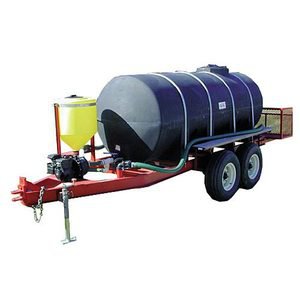 Commercial trailers are the workhorses of the delivery vehicles world. They range in size from trailers rated to carry 750 kg behind a large family saloon up to a 3,500 kg articulated trailer with highly sophisticated control systems. Finding spare parts for a commercial trailer depends upon the type of trailer in question. Buyers looking to source parts for a commercial trailer must understand something of the technology to quickly find the best selection of products.
For many trailers, a registered dealer or the original equipment manufacturer (OEM) is the only place to find spare parts. However, there is an increasingly large third party market developing. To buy third party commercial trailer parts, buyers must understand what types of trailers are used in the United Kingdom, what E.U. law requires of those trailers (especially with regard to brakes), and which manufacturers supply components.
Types of Commercial Trailers
Commercial trailers are usually categorised by their gross weight. Firstly, no trailer must have a gross weight that is more than half the kerb weight of the vehicle towing it. Trailers under 750 kg do not require braking systems; however, they must have lighting and numberplate systems controlled from the towing vehicle. Trailers between 750 and 3,500 kg require more robust technology, and must deploy overrun braking systems.
Overrun brake systems rely on the motion of the trailer and the towing vehicle as separate entities to provide the force to apply the brakes. A strong spring on the tow bar moves back and forth with the acceleration and deceleration of the towing vehicle, and this provides the force to apply brakes on the trailer. Suspension and braking systems specially designed to carry larger weights are required under E.U. law. Finally, for trailers above 3,500 kg gross weight, fully fitted air brakes are required.
Lighting Systems and Components
eBay has many listings for commercial trailer lighting components. Trailer light boards fitted with the correct lighting requirements as well as space for a U.K. sized number plate are readily available. There is also a wide variety of light units for use in constructing a custom made light rig. Lights available include LED as well as conventional light bulb housings and number plate lights which are required by law. The electrical supply for the rear lights on a trailer is controlled as an extension of the lighting system on the car, van or lorry that is pulling the trailer and the lights connect using a standardised coupling. The cables are either 7-core or 8-core cables with a standard colour to function mapping.
| Pin Number | Function | Cable Colour |
| --- | --- | --- |
| Pin 1 | Left indicator | Yellow |
| Pin 2 | Fog lights | Blue |
| Pin 3 | Earth | White |
| Pin 4 | Right indicator | Green |
| Pin 5 | Side lights | Brown |
| Pin 6 | Brake lights | Red |
| Pin 7 | Side lights | Black |
| Pin 8 | Reversing lights | Purple |

Seven-pin sockets and cables are used of trailers without reversing lights. Eight-pin sockets, while not required in law, support the use of reversing lights.
Brake Systems and Components
Trailer brakes are another type of commercial trailer part widely available on eBay. Complete sets of brake shoes that are compatible with designs from leading manufacturers such as Knott, Ifor Williams and Alko can all be sourced. Brake shoes and discs come in a wide variety of styles and shoppers should be familiar with the size specifications of any brake components they purchase. Heavy duty air braking components such as coiled air hoses are often listed for sale. Buyers can also find a wide selection of air brake calliper tools and air brake piston rewind tools on eBay.
Axle Systems and Components
Commercial trailer axle systems can often require maintenance or even replacing, particularly on large commercial vehicles. eBay seller often list complete second hand axle systems for sale which is a very cost effective way of extending the working life of a flatbed or articulated trailers. For less demanding use, on smaller trailers, eBay lists complete axle systems. ATV trailer kits contain all of the components for constructing a new trailer or for replacing axle fittings on an existing trailer. Kits of this type usually consist of two wheels with tyres, two 500 kg stub axles and a tow hitch.
Other Trailer Spare Parts
Articulated trailer parts are often only available through the original equipment manufacturers dealer network but it is possible to find some parts for these trailers on eBay. The king pin mechanism in an HGV commercial trailer is the component that locks the trailer into the fifth-wheel mechanism on the lorry, they are specialised and specific to each trailer manufacturer. Locking mechanisms that prevent unauthorised coupling and trailer theft are more generalised are found listed for sale on eBay. Specialised landing legs for use on articulated trailers can also be sourced on eBay. Landing legs are used to support a trailer when the lorry's fifth-wheel is removed.
Trailer Manufacturers
There are certain companies who manufacture certain types of parts for commercial trailers. Using their brand names is a good way to find listings for their products on eBay. The following sections discuss some of the most well-known trailer manufacturers.
Bradley Trailer Parts
Bradley is one of the best known suppliers of parts for commercial trailers and has a product range that covers towing hitches, couplings and jockey wheels. They are particularly well known for security locks for trailer hitches and tow bar couplings.
Erde Trailer Parts
At the smaller end of the marketplace Erde trailer parts are seen for sale. Trailer covers, with fitted bungees for secure fixing can be found. The working life of an Erde trailer can be extended by replacing a baseplate which may have become after carrying repeated heavy loads.
Peak Trailer Parts
Peak Trailers manufacture suspension systems for smaller commercial trailers. Their product range includes complete axle assemblies, suspension units and wheel assemblies for small and mid range commercial trailers and eBay is a useful place to find new or second hand components for Peak assemblies.
Knott-Avonride Trailer Parts
Knott-Avonride are a company who supply components for commercial trailers. Their product range includes braking components such as shoes and dampers, jockey wheels, chassis components as well as wheels and tyres. They also specialise in anti-theft devices. Searching for Knott or Knott-Avonride on eBay returns a range of new and secondhand components for sale.
Ifor Williams Trailer Parts
Ifor Williams are a manufacturer who specialise is small commercial trailers and livestock trailers. Accessories and parts for these trailers include workshop maintenance tools, brakes and electrical components. There is also an aftermarket for bodywork components and coupling parts such as towing hitches and jockey wheels. eBay is a good place to source Ifor Williams branded components and those that are compatible with their wide range of trailer models.
Al-Ko Trailer Parts
Al-Ko have been manufacturing commercial trailer chassis and chassis components such as axles, overruns and braking systems. There is an established aftermarket for a wide range of Al-ko components and many of these are found listed on eBay.
How to Buy Commercial Trailer Parts on eBay
Searching for commercial trailer parts on eBay is very straightforward. You start the process by typing a desired search term into the search bar that appears on every eBay page. For example, if you type in "towing hitch", eBay presents a selection of listings with "towing hitch" in their description. If the selection of listings is too many to review conveniently, you can narrow your search down using the filters eBay suggests. The filters vary from search to search, and are determined by the original search query you type in, but they include such things as size, manufacturer, and condition (whether new or used). You might also see a choice of specific trailer parts. If you are considering buying a large, heavy item you might be able to save on delivery charges by arranging to pick it up, yourself. eBay helps by offering filters to help you find listings that are within a certain distance of your postcode.
Conclusion
Sourcing components for commercial trailers is now becoming easier. It is no longer necessary to buy exclusively from the original equipment manufacturer. Buying commercial trailer components on the third party market means that a shopper has the choice of components from a range of third party manufacturers who make products that are compatible with the original manufacturers' specifications. An aftermarket of this nature introduces competition. Third party manufacturers are very price competitive. Buying aftermarket parts also stimulates innovation, as manufacturers try to make their components more functional and more reliable.
Internet shopping has provided third party component manufacturers with a marketplace where they can sell goods alongside OEM companies. The best online platforms allow online shoppers to review descriptions of items as well as identify the trading history of the particular seller they are considering doing business with. Online shoppers also have the advantage of being able to shop at a time that is convenient to them as platforms are open for business 24 hours a day, seven days a week.