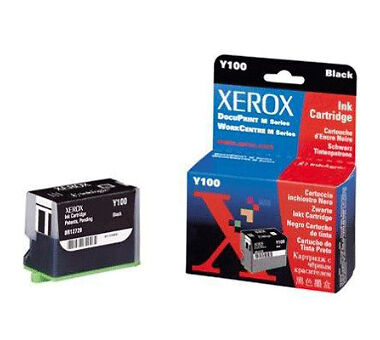 Xerox makes an array of printers, copiers, fax machines, and all-in-ones. It can be quite confusing to determine which kind of ink cartridge is needed for a specific printer, since the company makes so many models and types of printers. Fortunately, each model has a name and number, so this can decrease the amount of frustration when shopping for ink cartridges for a Xerox printer on eBay.
Xerox not only offers traditional printers, but it also makes printers that use a revolutionary form of solid ink, which is better for the environment and is waste-free. Xerox printers are high-quality, efficient machines, but like any other brand of printers, when the printers become low on ink, it is time to replace the cartridges, whether they are toner cartridges, solid ink sticks, or standard inkjet cartridges. Buyers can find all of the different varieties of replacement ink for Xerox printers available for purchase on eBay.
Determine the Printer Model and Type
Each Xerox printer has a model name. This should be located on the actual printer, usually on the front casing. The printer model is also located on all of the instruction information and any documentation that came with the printer when it was purchased. Some examples of Xerox printer models are the Phaser, the ColorQube, and the WorkCentre. Consumers also need to know exactly what type of printer they have, because there are several variations of the traditional printer that are made by Xerox.
All-in-One
An all-in-one printer is exactly as the name implies: It is a printer that does it all. An all-in-one printer requires a different type of ink cartridge than a standard printer. All-in-ones made by Xerox are either called WorkCentre models or they are the form of the ColorQube printers.
All-in-one printers not only print, but they also serve as copiers, scanners, fax machines, and email browsers, among other things. Xerox offers all-in-ones that are either laser printers or inkjet printers, so buyers may have all-in-ones that are either one of these, but the ink types are quite specific.
Laser or Inkjet
Xerox, like other printer brands, makes laser as well as ink style printers. Purchasers need to know exactly what type of ink cartridges they need for the specific types of printers, so knowing whether they have laser printers or inkjet printers is the best way to determine what type of cartridges are needed. There are also some Xerox printers that are black and white only, and some that print in colour. Laser printers use cartridges with toner, to produce the crisp quality of laser printing. Inkjet printers use ink to produce text and pictures, so solid ink cartridges are the preferred type of ink that Xerox printers use.
Wide Format
A wide format printer is a large-scale business printer that is created to print a variety of paper options, such as large types of paper, as well as copy and scan large documents for work or graphics purposes. Some of the model names of these wide format printers include the DocuColour and the Nuvera series. A wide format printer requires a different type of ink cartridge, so buyers need to know if they are purchasing ink for this type of Xerox printer, so the correct cartridges can be purchased.
Check the Ink Type
Xerox creates printers that are compatible with several different types of ink. Buyers need to check which printers they have to make purchasing ink cartridges a whole lot easier. Laser printers always use toner cartridges, and inkjet printers made by Xerox either use solid ink sticks or a standard inkjet cartridges. Each printer requires a certain type of ink, so buyers can either check their existing ink cartridges or check their users' guides to determine which ink cartridge needs to be purchased.
Xerox solid ink cartridges come separated by colour, so buyers only need to purchase the colours they are out of. This is a more environmental way to purchase ink, and eliminates waste. Consumers also need to know whether they need to purchase only black ink or coloured ink for their printers before buying.
Buying Name-Brand Ink
Though some consumers may want to try and save money by purchasing other brands of ink or third-party produced ink, it is recommended for buyers to always purchase the brand-name ink to ensure that they receive the highest quality ink that is compatible for their specific types of Xerox printers. Buyers should never purchase used or already opened ink cartridges, because the quality of the ink may be compromised in this situation.
Determine the Printer Series
Each printer not only has a model name but a series number as well. This is where it can become confusing when buyers are looking for the right ink cartridges, because one model of printer has different series numbers for its various types of printers. A few examples are the Phaser 6600 or the ColorQube 8570. The number after the model number is the series number, and though the printers may be similar, each series needs its own specific type of ink cartridges.
Picking the Right Ink Cartridge
There are several factors that go into purchasing the most compatible and correct ink cartridge for Xerox printers, all-in-ones, or copiers. Buyers need information about their printers, such as the model names and series numbers, as well as what type of printers they are, such as laser printers or inkjet printers. This helps buyers to determine exactly what type of ink cartridges to purchase, whether they are solid ink, inkjet, or toner cartridges for laser printers.
| Printer Model | Type of Ink Needed | Cartridge Price |
| --- | --- | --- |
| ColorQube | Solid ink sticks/inkjet | £-££ |
| Phaser | | £££ |
| WorkCentre | Toner cartridges | £££-££££ |
It is important to note that most newer printers are compatible with solid ink technology as opposed to the standard inkjet cartridges, but these are still referred to as inkjet printers, because they still use ink, and not toner, as laser printers do. Buyers will sometimes see the option to purchase remanufactured ink cartridges, which have been refurbished from used cartridges. These may be a more cost-effective option for the budget buyers, but they do not promise to deliver the same quality as original, new cartridges do.
How to Buy Ink Cartridges for Your Xerox Printer on eBay
Once you have determined the model and series number of your printer, as well as which type of ink you need, it is easy to find compatible ink cartridges on eBay. Navigate to ink cartridges to get to more relevant search results, or you can type in a keyword search using eBay's user-friendly search engine, such as "Xerox ink cartridges" or "Xerox Workcentre cartridges". You can narrow the search further by selecting either solid ink, inkjet, or laser printer toner cartridges.
Make sure the ink cartridges match the model and series number of your printer, and ask the buyer if you have any questions about the cartridges before you purchase. It is best to buy ink cartridges new, so make sure that they are packaged properly and sealed before purchasing. Purchase Xerox ink cartridges from merchants who are Top-rated sellers to ensure a satisfying purchasing process. See if the seller is offering any other items you can bundle with your ink cartridges to get a discounted price on shipping, such as printer or copier paper, or additional cartridges in different colours.
Make sure if you are buying solid ink that you are getting the colours you need, since this type of ink comes packaged as separate colours instead of one colour cartridge. Sellers may only be selling one or two colours of ink, and if you need more colours you may have to purchase them from other sellers or find a seller who is offering all of the colours you need.
Conclusion
Xerox has made a name for itself with professional-quality home and office printers of varying types. It offers a wide variety of printers, and with that, an equally wide array of inks or toner cartridges to choose from. However, it can be very easy for buyers to become frustrated when purchasing ink cartridges, or even purchase the wrong series of ink cartridges by accident. It is always a good idea to keep a written record of what the ink cartridge type is, or keep the user's manual to the printer easily accessible if need be. Returning printer ink can be a hassle, so buyers always want to get the right ink the first time around.
Laser printers and inkjet printers are two different types of printers that take two different types of ink cartridges, and there is a price difference as well to think about. Buyers should shop carefully for printer ink cartridges for their Xerox printers, and purchase ink when it begins to get low, not when it has already run out. Staying on top of how much ink is needed can alleviate the hassle of running out while printing an important document.