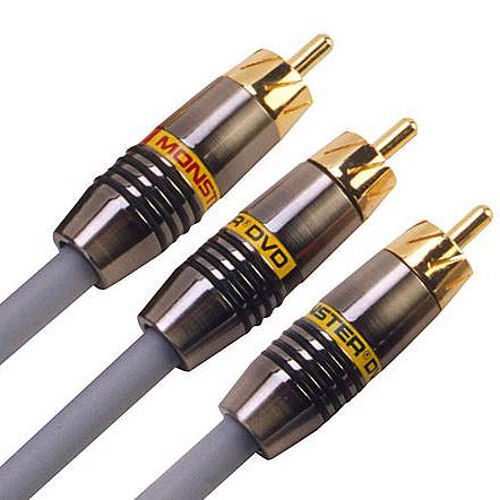 Audio and video technology is constantly evolving. The pace of technological innovation in this field is incredible. Modern consumers have access to affordable HDTVs, home theatre systems, Blu-ray players, and a whole host of other electronic devices that were unheard of in the recent past. However, with new technological innovations inevitably comes more technical jargon. In fact, the very first page of an instruction manual can be overwhelming for the average consumer, especially one that is not tech savvy. One of the most important pieces of the home audio video puzzle is the component video cable. Also known as a RGB cable, this connector improves picture quality by splitting colour information into different signals and ensuring that they do not interfere with one another. There are component video inputs and outputs on most televisions, AV receivers, video projectors, and video game systems. Buyers in the market for new audio video hardware should definitely familiarise themselves with these handy cords.
Those looking to buy component video cables should look to eBay, an expansive online market with thousands of home electronics listings. The wide variety of sellers and diversity of products on eBay plays to the advantage of the consumer, who can browse through items in the comfort of their own home. Buyers in the market for component video cables can find a great product at an affordable price on eBay if they are knowledgeable about the function of component video cables and understand how to differentiate them from other video connections.
Component Video Cables: Red, Green, and Blue
Component video cables are also called RGB cables, and the acronym stands for 'red', 'green', and 'blue'. The human eye has receptors on the retina, known as rods and cones, which are sensitive to luminance and colour. The cones are responsible for colour, and each one is particularly sensitive to one of three parts of the visual spectrum: red/orange, green/yellow, and blue/violet. Therefore, a video system that captures and projects red, green, and blue signals is able to present clear and vibrant pictures to the viewer. For this reason, each of the three sections of the composite video cable has a separate colour coded RCA plug on the end. The colours obviously being red, green, and blue. Buyers can easily identify component cables by looking for the tri-colour plugs.
Component Video Cable Applications
The signal separation reduces noise, errors, and signal loss. This means that component cables are versatile, multi-format connectors. Therefore, component video cables are compatible with almost all HDTV and progressive scan televisions, and can also be used in conjunction with DVD players, Xbox consoles, HDTV set top boxes, and D-VHS decks.
Characteristics of Quality Component Cables
Brand is not especially important when searching for component cables, as the vast majority of products on the market offer comparable performance. Those looking for component cables should pay close attention to length and choose cables that are the appropriate size for their equipment. Smaller cables can connect devices that are situated close together or on top of one another, while larger cables may be necessary for more expansive entertainment systems. Cables that are less than 25 m typically offer equal performance regardless of the size.
Connecting Component Cables
Connecting component cables is a simple and straightforward process. First, check the back or side of the TV and electronic equipment for component inputs. They are usually clearly labelled and colour coded to match the RCA plugs. Then, push the plugs into the jacks until there is a secure fit. Once there is a secure connection on both sides of the component cables, turn on electronic devices and enjoy the video presentation.
Other Types of Video Connections
Component video cables are at the top of the analogue video cable heap. However, they do not carry audio signals, which is one distinct drawback. In this regard they are similar to their predecessor and nearly identical twin, the composite video connector. In addition to composite video, buyers should become familiar with S-Video, HDMI, and DVI connectors in order to navigate the market and make an informed decision. The following chart breaks down these cables and their functions.
| Type of Cable | Description/Function |
| --- | --- |
| | Identifiable by a yellow RCA plug; usually attached to one red and one white audio cable; created as a backwards compatible solution for the transition to colour TV; does not provide a very clear picture; incompatible with most HDTVs |
| | Introduced in the 1980s and billed as a replacement for the composite video cable; features a round, four-pin mini-DIN cable at the end; incompatible with most HDTVs |
| | Features a flat, rectangular plug with fasteners on either side of the head; found on first generation HD televisions and PC video cards; transmits digital RGB data in one cord; does not transmit audio signals |
| | Features a flatter, rectangular plug similar to the DVI cord; Provides an all-digital picture that is identical from source to display; transmits both audio and video signals in one convenient cord; supports the latest high-definition resolutions |
A buyer who has recently purchased a new piece of home video equipment should understand the appropriate way to connect it to their TV or receiver. The best course of action involves speaking with a trusted professional and asking them which cable is the best match.
Buying Component Video Cables on eBay
eBay has a vast selection of electronics products, including a wide variety of cables and connectors. For example, entering the phrase 'component video cables' in the search field yields thousands of results. New eBay users may find the sheer number of products overwhelming at first, however, the handy search filters help buyers eliminate unwanted results and limit product listings to those that match their search criteria.
For example, buyers can use the filters to display only new, or only used component cables. Buying used is a good solution for the budget-conscious shopper. Component cables do not have any working parts and tend to maintain their marginal utility even after extended use. Buyers are also encouraged to utilise eBay's price filter, which allows the buyer to enter a specific amount and browse items that fall within their budget. In addition to understanding the filters and search options, buyers should also learn how to search by location and evaluate sellers.
Searching by Location
Although the cost of component cables is not prohibitive, there are the shipping and handling costs to consider. To avoid these added fees, buyers should utilise eBay's location feature. Users can either target a specific region of the world, such as the U.K. or the entire European Union, or open up the search to include products all over the world. Those that want to cut down on shipping costs should not only limit results to the U.K. But they can also limit results to their local area. Users can enter a specific radius and target results close to home, and this may open up the option to pick the item up in person. This is dually productive for the buyer, as they get to inspect the product firsthand.
Evaluating the Seller
A buyer should also evaluate the seller by identifying the seller's feedback rating and reading buyer feedback. Again, the search filters come in handy in this regard, as users can limit their results to eBay Top Rated Sellers. Top Rated Sellers have a proven track record over a span of at least 90 days. In this time they must adhere to eBay's guidelines and receive 98 percent positive feedback from their customers. Users are encouraged to explore the potential seller's profile and read the feedback to gain a clear picture of the seller's level of customer care.
eBay users should also make sure to contact sellers directly in order to discuss the terms of their return policy. Not all sellers explicitly state that they accept returns, so buyers should take the extra precautionary step and ask for a detailed explanation. Upon arrival, if the product does not appear to match the description of the seller, the buyer should contact the seller again and schedule a return. In general, buyers are advised against purchasing component video cables, or any item for that matter, from sellers that do not accept returns under any circumstances.
Conclusion
When it comes to audio and video technology, understanding the relevant terms and features is the key to making an informed purchase. Knowing the functions of various items, and being able to identify them visually, helps the buyer sift through technical jargon and skip to the important part: comparing prices. Buyers in the market for component cables, for example, should know how to identify and differentiate them from other video cables such as S-cables and HDMI cords. Those buyers that understand that component cables typically display tri-coloured red, green, and blue caps are a step ahead of uninformed buyers, and those that know how to utilise eBay to sort listings and evaluate sellers have a running head start on the rest of the field.
eBay's various search filters and consumer protections are user-friendly and efficient, and buyers that know how to utilise them can browse product listings quickly and efficiently. Fortunately, it does not take a confusing instruction manual to get a handle on eBay. Buyers that have an Internet connection and a few minutes to spare should be able to use the site to find their desired item in a short amount of time.