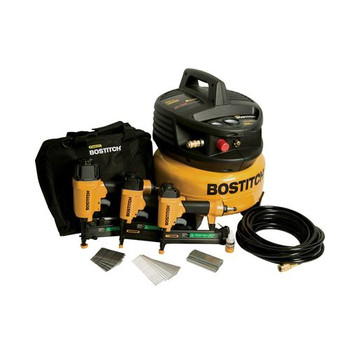 Buying air compressors on eBay can seem a little more complicated than it actually is. However, when shopping for an expensive piece of industrial equipment, buyers want to be certain that they have purchased the right item. Otherwise, the buyer could end up with a compressor that simply does not do the job. To be sure of a compressor before purchase, buyers should be familiar with the many uses of this piece of equipment. They should also know how much power is needed from the compressor to operate workshop tools. The two important numbers to keep in mind are the kilopascals (kPa) and the cubic metres per minute (m3/min) that the compressor puts out. Buyers may also see the standard measurements for these two terms listed on the site and the seller descriptions.
Shopping on eBay is made easier with many of the refinements available on the search results and category listing pages. These refinements allow buyers to search for products according to condition, type, location, and more.
Uses for Compressors
Air compressors are valuable tools to have in the workshop. These tanks compress air and force it out through a hose at high pressure. This high powered air is useful for sand blasting, spray painting, and even filling tyres. Other compressors are used for nail guns and pneumatic drills. When looking to buy a compressor on eBay, make sure it is in good condition, capable of fitting all of these other tools, and that it provides enough air pressure to work. Spray painting requires a lower amount of kPa compared to something like using a nail gun which requires a lot of kPa to place a nail solidly into a piece of wood.
There are a few different air compressor designs on the market. One is the single stage compressor, using a single piston to compress air in the tank. This is ideal for at home use or for small workshops with under 1034 kPa maximum compression. The two-stage compressor features two pistons to compress the air twice. These are heavy duty compressors that provide over 1034 kPa or more.
Tool Requirements
Tools used on the air compressor require different amounts of cubic feet per minute (CFM) or cubic metres per minute (m3/min) of compressed air. Both CFM and m3/min refers to how much air is being pushed out of the flow valve by mass every minute. This mass is used to move the tools that are attached to the compressor. More air mass is required for some tools compared to others. Here's a quick chart showing the m3/min and CFM of commonly found compressor attachments.
| Tool | CFM | m3/min |
| --- | --- | --- |
| Dusting gun | 3 | .08 |
| Drill | 4 - 7 | .1 - .19 |
| Impact Wrench | 2 - 10 | .05 - .28 |
| Die Grinder | 4 - 5 | .11 - .14 |
| Filing and Sawing Machine | 3 - 5 | .08 - .14 |
Knowing the air flow rate of the compressor is important in terms of getting the most use out of it. Luckily, most industrial compressors provide more than enough m3/min to power work tools.
Compressor Condition
An important factor to consider when shopping for a compressor on eBay is the condition of the tool. This site allows sellers to list compressors in all conditions. Some conditions buyers can search by include new, new (other), manufacturer refurbished, seller refurbished, used, or for parts/not working. The prices range widely between the listings depending on compressor condition too. Items that do not work are listed at very low prices because they need an investment of time to repair. Brand new compressors still in the original packaging are generally the highest priced listings.
Those looking for a working compressor at a great deal may want to look to manufacturer refurbished or new (other) conditions. The former is a compressor that was returned to the factory for some reason and repaired for resale. The latter is usually a new or like new compressor that has only been used a couple of times. These listings may not come with the original packaging. Buyers should be certain that they are familiar with the style of compressor sold in this condition before purchasing it. Instructions and manuals may be hard to find.
Searching By Compressor Type
Sellers also sell a few different types of compressors by type. This is the way to search for compressors if looking for one that can do a specific job, such as drilling or pumping water. Just click on the "Item Type" refinement in the refinements menu. This brings up all of the type options, including some parts for compressors. Look for the type of compressor desired and click on the check box next to that item. The site updates the listings automatically.
Some types listed available to select on eBay include air sand blasters, air tools, caulking gun, impact wrench, hammer, compressor, nail gun, spray gun, riveter, ratchet, and water pump.
Parts
It is also possible to purchase different parts for compressors on eBay. These parts can be found in the type refinement too. Buyers with a broken compressor can easily find a replacement part without having to replace the entire piece of equipment. It is also a good idea to check out the condition refinement to find compressors that are being sold for parts.
Other parts found in this refinement include accessories and add-ons to use with the compressor. Items, such as adaptors to fit different tools to the compressor, and couplers to connect the hose lines to the compressor.
Power Supply
Before buying a compressor it is a good idea to consider what kind of power supply it uses. There are three basic power supplies for air compressors, electricity, diesel, and petrol. Buyers can specify the type of power supply under the "Power Source" refinement.
Both diesel and petrol powered compressors are useful for areas without access to electricity. This is especially helpful when out on a job site. Those who plan on using a compressor for drilling, hammering, nailing or even sand blasting may want to look into a fuel powered compressor. Only use these types of compressors in an open area with plenty of ventilation.
Electrical compressors plug into a standard outdoor wall outlet and provide just as much kPa as compressors using other power supplies. These are also more popular and easier on the environment. Buyers have an easier time finding electric air compressors compared to diesel or petrol powered.
Oil Lubricated or Non-Lubricated Compressors
Some compressors also use oil for lubrication of the piston. This may or may not be a preferable option for buyers. The lubricated compressor requires regular maintenance to keep the piston inside running smoothly. This requires changing the oil from time to time, just like changing the oil on a vehicle. If this is the type of compressor preferred, make certain to get an owner's manual with it. The manual details how to change the oil and at what intervals it should be changed.
Non-lubricated air compressors make use of sealed bearings to keep the seal tight between the piston and the cylinder wall. This type of compressor requires less maintenance. Non-lubricated compressors are mostly intended for home use, rather than industrial or business use.
Buying Compressors on eBay
Purchasing air compressors for business and industrial use is possible through eBay. These compressors can be found in several categories on the site. However, you may want to use the eBay search engine to find these items more quickly. To use the search engine, click on the search engine bar at the top of any page on the site. Enter in a search term related to air compressors, which can be anything from the most specific to the vague. For instance, "Sealey" is a well-known brand for machinery.
Searching By Postcode
You can save a little money and time when you narrow the listings down by the postcode. To search for an item on eBay by the postcode, click on the "Distance" refinement. This shows a text box for your postcode and a drop down menu for your search radius. The search radius can be set to a minimum of 10 miles up to a maximum of 2000 miles. When you enter this information, eBay automatically updates the listings to show only those within your search radius.
Conclusion
Compressors can be powerful tools in the shop and at the worksite. Make sure that the right size of compressor for the job is purchased. This means paying attention to what the compressor is designed for, its kPa, and its m3/min or CFM. When looking for compressors on eBay, pay close attention to the refinements menu. This allows buyers to narrow down their search results by a number of different factors.
The best way to search for a compressor is by type, which allows buyers to focus on specific uses for their compressor. Sellers can classify their compressors as air tools, sand blasters, spray guns, and even nail guns. Another way to narrow down the search results is by the item's condition. The compressors are classified by their general condition from new to not working or intended for parts. The condition of the compressor tends to affect its price point, with new compressors being the most expensive and non-working compressors being very affordable.