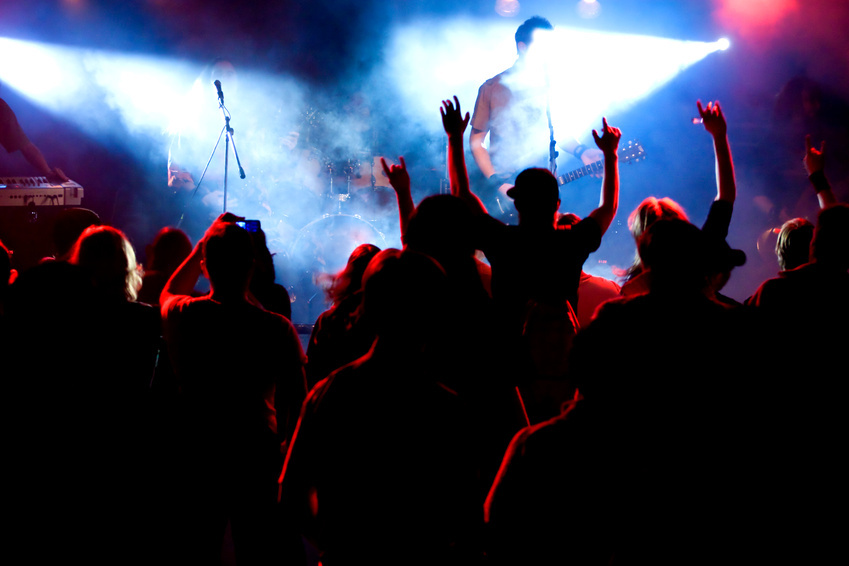 Buying concert tickets can be somewhat tricky at the best of times, with some shows selling out within hours of ticket sales opening and the majority of tickets being held back for corporate sponsors, fan clubs, and other presale group. Buying more than one or two tickets at a time can seem nearly impossible. However, sometimes it is necessary to buy concert tickets for a big group of friends, a tour group, or a corporate event.
There are several ways to source large numbers of concert tickets. Contact the venue or agent before tickets are made available for public sale and ask about group sales. A large number of tickets are made available during the presale period. Look into presale requirements and consider the advantages and disadvantages of buying during this period. Joining the artist's online fan community can also yield good advice from more experienced fans. Alternatively, buy from a ticket reseller. Finally, consider buying seats in the general admissions area. Concert tickets are available from venues, agents, ticket resellers, and sites such as eBay.
Contact the Venue or Agent
The venue or ticket agent can give buyers the best advice about group sales. Policies may differ between events, but this is the best way to get an idea of how to approach the purchase. Keep the venue seating plan to hand while searching for tickets, as this provides a clear indication of where seats on offer are located. Those with a poor view of the stage tend to be the slowest to sell. If a large number of tickets are available in a particular block, ensure that the seats are in a position that allows concertgoers to see the action.
Buy During Presales
Buying during presales has its advantages and disadvantages. Presale tickets are usually made available to fan club members or through corporate sponsors. They typically go on sale three to four days before tickets become available for public sale. Contacting a fan club for access to presale tickets is a viable option if there are no additional fees for joining. Alternatively, find out how to buy presale tickets and whether it is possible to join a free mailing list or obtain a buying password from a corporate sponsor.
It is important to note that presales do not necessarily offer the best seats in the venue. Be careful about which seats are purchased by checking the seating plan and venue layout before buying. It may be possible to buy better seats for the same price once public sales open. The gamble is whether seats are available for a group booking.
Join an Online Fan Community
Buyers seeking tickets for big groups should consider joining an online fan community as soon as the concert is announced. Die-hard fans often have good advice about ticket sales for specific artists and it is possible to learn a trick or two from more experienced concertgoers. Asking about group ticket sales on a public forum could also produce a few options that buyers simply do not think of. Do not buy tickets through this type of forum unless you can prove that the tickets are genuine.
Buy From a Ticket Reseller
Ticket resellers often buy up large blocks of seats. If the venue or agent claims that tickets are sold out, contact a reseller and enquire about availability. The reseller may charge more than the ticket's face value, an amount equal to the face value, or less than face value as the concert date draws near. Ask about the refund policy in case the concert is cancelled. This is especially important when buying tickets for a big group as a lot money can be lost through a cancellation. In most cases, resellers refund the ticket's face value. It is best to confirm any policies and procedures before buying the tickets. Always buy from a reputable source.
Seating for Big Groups
One of the factors that makes it difficult to find concert tickets for big groups is finding seating in the same area. In some cases, even finding two tickets together can be difficult. Increase this number to 10 and it can feel as though it is an impossible feat. Although location is important, some people thrive on the atmosphere and the experience. Decide whether front row seats are essential or if the general admissions area is sufficient. This area may not have reserved seating; it may only have standing space, but tickets often cost less than they do in reserved seating areas and it may be easier for the group to keep together rather than being spread across the venue.
Seat Layout
In addition, be creative and flexible about the seat layout. When attending an event as part of a big group, adjoining seats can make conversation and group interaction awkward. Consider seats in a block, with some people sitting next to each other and some sitting in front or behind each other. Do not discount seats if 2 are taken in a row of 10. It may be possible to ask the people that do not belong to the group to trade with someone on the edge of the seating block. It would be best to offer better seats as an incentive. Alternatively, consider this a good time to make new friends.
Seat Location and Sound Quality
Although most people intuitively prefer front row seats, these rarely offer the best sound quality, depending on the type of music or performance. Front row seats at pop concerts allow concertgoers to interact with the artist to some degree and offer the best view of the performance. When attending a classical concert, the middle of the venue and the balcony tend to have the best sound. However, this varies, so it is always best to contact the venue to ask about specific events if sound quality is a concern.
Seating Terminology
The table below lists and describes common terms used when indicating seating. This terminology applies to a variety of venues from classical concert halls to rock stadia.
Term

Description

In the Round, Gold Circle, or Circle

Closest to the stage

Most expensive

Tiers, Blocks, or Reserved Seating

Behind the circle

Prices vary according to the exact location

Can be spread over more than one floor level

Can be close to the stage or further back depending on the venue

Can be standing only

Cheapest tickets
The price of tickets generally increases the further away seats are from the stage. They are usually also influenced by the viewing angle, with seats set at a poor angle being less expensive than those in front of the stage.
Buying Concert Tickets for Big Groups on eBay
Finding concert tickets for big groups on eBay is simple. Type a phrase, such as "Wembley Stadium", into the search field, which can be found on every page, to see the items available from eBay sellers. Narrow your results by choosing the most suitable category and ticket features. Consider searching for tickets sold as lots to see listings from sellers with multiple tickets available. If you would like more control over your search results, use the advanced search feature.
Before Buying on eBay
Before buying on eBay, take a moment to learn about the item and the seller. Click on an individual listing to view the item listing page where you can find information such as the full item description, buying options, postage and packaging costs, the terms of the seller's return policy, accepted payment methods, and the seller's feedback details. Always read the full item description, paying close attention to details, such as the artist, venue, date, and time. Add postage and packaging costs to the item's final selling price to calculate its total cost. If you have any questions about a listing, contact the seller by clicking the "Ask a question" link.
Get to know the seller by checking his or her eBay seller feedback. Buyers leave feedback about sellers' products and customer service at the conclusion of each transaction. View this information by clicking on the number next to the seller's username.
Conclusion
Although it can be difficult to find concert tickets for big groups, it is not impossible. In the first instance, contact the venue or agent and ask about group ticket sales. Some limit the number of tickets that can be bought at one time, while others may be able to offer assistance with special purchases. It is best to do this before tickets go on public sale as it provides a clear indication of how to proceed when sourcing tickets.
Find out how to buy presale tickets. It may be as simple as joining a mailing list or obtaining a password from a corporate sponsor. These are not always the best tickets; exercise caution when buying and check the location on the venue's seating plan to ensure that they are not poorly positioned. In addition, joining an online fan community for a particular artist may be beneficial, as experienced concertgoers may have valuable advice about sourcing tickets for a specific performer.
Resellers often have tickets available for big groups. Ensure that all seats are together and compare the seller's price to the ticket's face value. Finally, consider choosing cheaper seats that are not reserved or be flexible regarding seating. eBay sellers offer a variety of concert tickets, from rock and pop to classical, at competitive prices.