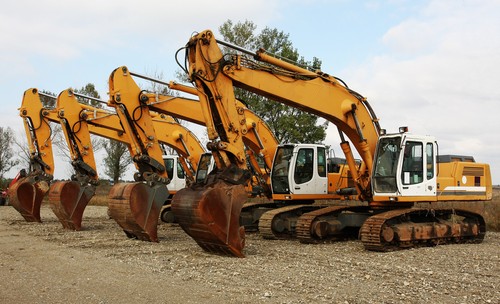 A construction site contains a number of pieces of heavy equipment, chief amongst them the excavator. Most commonly identified by its digging arm and bucket, the construction excavator is often used for digging and demolition. Other uses include land clearing, mining, cutting, and trenching. Due to its vast size and movability, the construction excavator is a potentially dangerous piece of equipment; therefore, safety training and proper operation are essential.
Prior to making a purchase, a contractor or foreman should assess the project's needs. The tool's intended use dictates a number of features, including its size, weight, power, lifting capacity, and accessories. Whereas the smaller construction excavators weigh 930 kilograms and present a horsepower of 13, the units can weigh as much as 980,000 kilograms and produce 4,500 horsepower. A thorough site evaluation, along with a deep familiarity with construction excavator features and functionality, enables buyers to make informed purchase decisions when they visit eBay to shop.
About Construction Excavators
Over the years, construction excavators have come to be known by many names: power shovels, rubber ducks, diggers, mechanical shovels, and 360-degree excavators, or simply 360s. In basic terms, a construction excavator is a tool used to dig or move soil, rock, concrete, or other large objects. It is a common sight at construction locations, as its extensive functionality performs many difficult and critical tasks. Other frequent functions of the construction excavator include trenching, demolishing, mining, lifting, transporting, and removing. A construction excavator is composed of two main parts: a boom arm and a driving base.
Hydraulic Powered Tools
While a construction excavator can be cable operated, the majority of these tools are hydraulic powered. Hydraulic fluid flows through cylinders and motors, facilitating a more linear movement than their cable-powered counterparts. Pilot control is provided by the more low-pressure of the hydraulic pumps, with the two high-power main pumps responsible for swing and track motors, ram, and power accessories.
Construction Excavator Movement
Rather than wheels, the construction excavator moves via two moving tracks situated on the base. These tracks provide greater traction and stability than their smaller wheel counterparts would, thereby securing the balance and operation of the excavator. The platform, of which the cab is a part, rotates either 360 or 180 degrees, depending on the unit and the job's needs. The degree of movement is directly correlated with the excavator's flexibility.
Construction Excavator Control
The operator inside the cab controls the excavator. One set of controls allows for both forward and backward motion, while the other enables the driver to adjust the angle and reach of the boom arm, as well make as other horizontal movements.
Construction Excavator Components
A construction excavator can be broken down into eight basic components: car body, upper structure, cab, boom, bucket, track system, hydraulic cylinders, and stick, and dipper. There are two main sections, the undercarriage and the house. Whereas the house includes the engine, operator cab, fuel and hydraulic tanks, and counterweight, the undercarriage is comprised of the tracks and track frame, final drives, and blades. The house and undercarriage are connected by a centre pin. The dipper arm, located at the end of the boom, facilitates digging and transportation.
Prior to operating a construction excavator at a job site, the contractor must first obtain a license to ensure awareness of and adherence to safe operating practises. This is not only necessary to begin work but also to validate the company's insurance.
Construction Excavator Accessories
A number of accessories can be attached in lieu of the bucket, thus enabling such actions as lifting, ripping, crushing, cutting, and boring. Amongst the most popular attachments found on eBay are heavy-duty, deep heel, or clean-up buckets; rotating tools, such as grapples, rakes, and clamshells; thumbs and rakes, which are used in logging and clearing land; and boom modifiers and extensions.
Construction Excavator Selection
As construction excavators range in size, horsepower, function, and capacity, a company or individual should first consider its intended use before visiting eBay to make a purchase. Smaller extractors may weigh as little as 930 kilograms, with operational strength of 13 horsepower. On the other end of the spectrum are the large construction excavators, with up to 4,500 horsepower moving 980,000 kilograms of machinery. The desired size and power of a construction excavator depends on the work it is intended to provide. As suggested, the unit's lift capability increases along with its weight.
Construction Excavator Operation
Prior to stepping into the excavator's cab, a potential operator must first be trained and certified in the equipment's use. The construction excavator is an extremely heavy piece of machinery; therefore, it can be quite dangerous to use and be around if users are not educated as to proper operation. In many instances, construction firms put their employees to work on lesser equipment before moving them up to excavator operation.
Fields of employment for excavator operators include government, private construction, utilities, and the mining industry, amongst others. An operator may be hired to clear forests, dig or remove roads, or prep a location for new construction. In private practice, these individuals are often called upon to clear rock and debris, remove old or dilapidated structures, or dig building foundations and trenches.
Construction Excavator Safety
In the United Kingdom, the Health and Safety Executive oversees construction safety. A formal document, the Construction (Design and Management) Regulations details specific requirements with regard to training, project management, equipment operation, and injury notification. Safety training courses and manuals abound and must be consistently implemented to increase workers' safety.
Indeed, it is a well-known fact that the majority of job site fatalities come from construction excavator use. Ensuring that everyone, operator and non-operator alike, understands the use and operation of this heavy machinery is vital. Worst-case scenarios too should be discussed as this knowledge may prove crucial in saving lives should something go wrong.
Inspecting the Construction Excavator Before Use
Even though the certification and licensure may be in place, the safety process is not complete until a thorough inspection of the excavator itself has been performed. The operator should get into the habit of examining his equipment before climbing on board. Some of the critical systems to check include the engine, boom, stick, and bucket; gasoline, and hydraulic fluid levels; and all controls.
The unit should also be inspected for any leaks, especially those in the hydraulic system. Finally, a thorough review of the construction excavator's safety devices should be performed; this includes checking the functionality of fire extinguisher, glass, guards and shields, horns, lights, and wipers. On a monthly basis, safety dictates the assessment of additional components, including the boom and stick, bucket, cab, car body, engine compartment, seat belts, track system, and upper structure.
Cave-Ins
While asphyxiation, fume inhalation, electrocution, and drowning are real concerns, one of the more dangerous excavating situations is the cave-in. This occurs when digging causes dirt, gravel, or other material to slide into the gap and potentially have a devastating effect for the driver or any nearby workers.
A common cause of cave-ins is the undercut. This occurs when a construction excavator operator digs the ground too close to the equipment's tracks. This reduces the stability of the tracks and may produce dangerous results. For this reason, the operator must be aware of the bucket's position at all times, taking care to leave enough of a foundation for the tracks.
How to Buy Construction Excavators on eBay
Whether you are a construction company or an independent contractor, you have realised the time has come for you to purchase your own excavator. When you know what duties you need your new equipment to handle, you can narrow down your wish list. There is no place like eBay to deliver the greatest inventory of products with the most options and attachments, and at the best prices.
To reduce or eliminate shipping expense and hassle, you can perform a keyword search for construction excavators on eBay Local. There, not only can you peruse product offerings within a specified distance from your site or residence, but you can also reach out to area sellers and make arrangements to meet and view the equipment.
Even if you pay for your purchase in person, you should take note of the seller's return policy and time limits. Although you have already seen the product with your own eyes, it is a good idea to perform a thorough inspection of the construction excavator upon taking delivery. This way, you can be assured of owning a fully functional product that performs exactly as you need it to.
Conclusion
No construction landscape is complete without the excavator. With this piece of equipment, operators can accomplish a wide variety of tasks, from digging to trenching, demolition to mining, lifting to transporting. Once they have been used to knock down old or outdated structures, construction excavators can scoop up and remove the rubble. Still, despite their functionality, construction excavators are amongst the more dangerous pieces of heavy equipment on the building and demolition market. For this reason, safety considerations are of the utmost importance.
Prior to climbing into the cab of a construction excavator, operators should familiarise themselves with the unit's proper use. It is essential to adhere to legislative and operational safety procedures to reduce the risk of injury. These are outlined in the U.K. by the Health and Safety Executive. Other important considerations are the size and complexity of the job, including the location, soil quality, proximity to utilities and cables, and weather. Once buyers have done their homework, they are ready to visit eBay and find their perfect construction excavator.