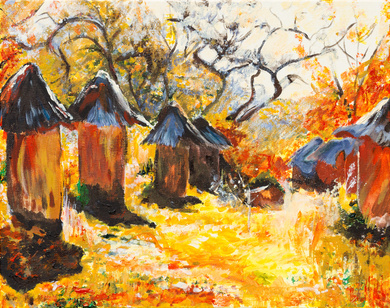 There are many art designs available on eBay to cater the high demand in the UK. The nature of open edition prints means that their number on the market is potentially countless, meaning that they are readily attainable and therefore affordable for most art enthusiasts to buy.
This guide will look at some examples of contemporary works and how to go about buying open edition prints from eBay.
There are two ways in which a piece of art can be printed, either with a fixed or non-fixed amount of duplications possibly made. A fixed number is known as a limited edition; this is where an art piece is only reproduced a certain amount of times with the intention of no more ever being printed.
The alternative is an open edition, which are not restricted at all in the number which can be printed. Because of this, open editions are more accessible on the market for the average buyer and therefore tend to be less expensive.
The term contemporary is defined as something existing within the present time period. In terms of classifying art, it is often described as something produced post 1970. The subject matter of contemporary art has a broad range of topics often inspired by modern events such as globalisation and multiculturalism.
Types of Open Edition Prints
The subject matter of contemporary prints can stretch to anything, from a portrayal of an old 19th century building to a 21st century fighter jet to a modern pop music album cover. When searching on eBay in the 'Contemporary – Open Edition' category and using the preference bar on the left-hand side of the results page, some of the main categories that open edition prints fall into include:
People & Portraits
Animals
Landscape/ Cityscape
Fantasy
Abstract
A lot of open edition prints are not actually specified into a certain category by the seller however. This can make it harder to pin down a particular but will provide many more results to review overall. They will be listed in the non-specified category.
Art Styles
A good way to narrow down the listings to bring up more desired prints is to select the sort of art movement that the painting could fall into. For example, some of the prints could be listed into the following art genres:
Vintage –Vintage or retro art is often bold and with images that stand out from any background they are placed on.
Pop Art – Many of the topics that inspire pop art are based around modern popular culture and the birth of well-recognised franchises. It allows the artist to express themselves in a variety of ways.
Realism – The motivation for realist paintings are to depict the subject as closely as possible and not necessarily being distracted by creative or background elements.
Impressionist –Impressionism was a movement founded in 19th century Europe with the emphasis on small, controlled and colourful brushstrokes to make up the image.
Again there are many more styles of art that may interest you, many of which may not have been specified by the seller. Carry out more research into which sorts of prints will be most suitable and search accordingly.
Art Substance
On what surface the picture is another aspect to consider when making a purchase. There are a number of different mediums in which an open edition print can be made. This section will run through the main two of them that are commonly listed on eBay.
Giclėe – Prints that are made digitally using inkjet printers are known as giclėe prints, by and large made on paper. It is a process used regularly in the fine art printing industry due to its easy and low-cost nature. A number of finishes such as matte paper are available for this type of printing that enhance its appearance.
Lithograph –Lithography is a printing method which traditionally used stones but now uses smooth metal plates during the printing process. With the onset of technology, many prints can be made digitally on computers which have made lithographic prints popular and affordable for many people in the UK.
Other printing process mediums include etching, silkscreen or woodcut. Once again, the vast majority of printing mediums will have been not specified by the seller.
Buying Considerations for Open Edition Prints
When coming to make a final purchase of a contemporary open edition print then also consider a few buying basics which some people may overlook.
The cost of open edition doesn't have to break the bank, even if making more than one purchase. This is due to the widespread nature of some open edition prints that can be replicated freely. Although some prints can fetch into the thousands of pounds mark, plenty of them can be found for less than £10.
The size of the print must be thought out in respect to where it will be positioned. Check the details of the print carefully and measure out if it will fit in the desired location. Consider the frame aswell for this which itself can come in a variety of designs.
Consider the colour scheme and feel of the room the print will be placed in and whether the print is suitable. Remember that many low-cost contemporary prints can be bought to try out to see if they are suitable.
Are there any certain interests that you have which a print could represent? Music lovers may look for an album cover for example, football fans can do the same whilst iconic stars such as Marilyn Monroe can be sought after as well.
Using eBay to Buy a Contemporary Open Edition Print
Buying on eBay is easy and quick if the type of open edition print is known. Typing a relevant term such as "contemporary open edition print" will bring up many listings of this nature. It is also possible to review all the prints in the 'Contemporary (1980-Now)' section and all the 'Open Editions' within this category.
Remember to review the print as carefully as possible and check all the items details. Be sure to ask the seller a question if unsure about any aspect of the prints quality or size. eBay offers the chance to buy either via the auction or buy it now facilities and a number of payment methods of which PayPal is considered to be the wisest to use.
The next section will look at how to make a payment for the print and also ensure its safe delivery to your door.
Postage and Payment
One of the main considerations for buying a contemporary print is how long it will take to be delivered and in what condition it will arrive in. Of course buying online brings the advantage of having an item shipped to the front door, saving time and effort in the process. However, an extra long delivery service or damaged print is obviously not preferable.
When reviewing an item, don't only read the description but also examine the 'Postage and Payment' details also. Below are a few tips on how to pay for the open edition print in question after it has been won and also some delivery advice:
Payment
First of all check out what payment methods the seller is accepting. Initially in the first few years of eBay's existence personal cheques or even cash were the normal means of paying. Since then, Paypal has emerged as the most traditional accepted form of completing a transaction. Be wary of sellers who don't offer Paypal as a payment method. For new eBay users planning to use the site often, it is best to look into signing up for its safe and secure service.
It may sound an obvious aspect to consider, but will there be enough money in your account to actually cover the cost of the open edition print. Only bid or pay as much as can be afforded.
Delivery
In regards to the delivery of the print, consider if it is needed for a specific time and whether the postage options offered by the seller are suitable. On the item's description page, details should be present of what service the seller is providing in terms of the courier method and also an estimated delivery date.
Look at the location of them item. An open edition print being delivered from hundreds of miles away will potentially cost more and also take longer to arrive. Also, in respect to delicate art works, the longer the distance it has to be delivered from, the higher the chance of damage. If the print is local or within driving distance, then asking to pick it up first hand is always an option too.
The cost of delivery is another basic element to have in mind. Remember to add this to the budget set out for the print in the first place. Some items on eBay may seem cheaper than others, but will actually end up costing more due to the increased postage costs.
Does the seller post to the location you are in. Some sellers may exclude delivery to certain areas, especially if the print is coming from overseas. Residents of the Channel Islands, Isle of Man, Isle of Wight and similar areas of the UK may find this is a common problem.
Review the history of the seller and feedback comments in relation to their delivery record in particular. Look out for remarks such as "quick delivery" or "item didn't arrive in specified time" to get a better idea of who is selling the item.
Finally, if the print is arriving via recorded delivery then make sure someone is in the house to sign for the item. Ask for further details on the postage from the seller if unsure of any detail.
Conclusion
Consider which style of print is needed and where about in the house it will be positioned before making a purchase. Using eBay to perform an open edition print search is advisable as there are many different types of print available along with the chance to purchase one at an affordable rate.