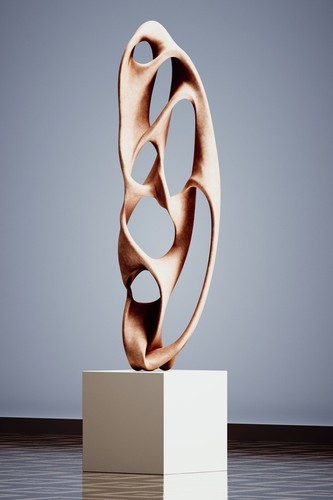 First time buyers and collectors of contemporary sculpture are both catered for by the likes of eBay. The site offers certain categories of contemporary sculpture that enable buyers to pick and choose a specific area of the art form that they enjoy. Whether it is prevalence towards a certain animal or a desire to add to a collection of bronze sculptures, an affordable and sensible deal can be found on eBay.
A variety of tastes and sensibilities are accounted for by the site as far as contemporary sculpture is concerned. Yet, whilst the options and choices are vast, the buying process need not be a complicated nor expensive one.
Use the following information as a guide to help with the understanding of the options and considerations in the contemporary sculpture world, as well as a compendium on how to buy contemporary sculpture from an auction site such as eBay.
Contemporary Sculpture Considerations
Before anything else is decided on and settled for, there are a few things that should be considered. Before jumping straight into the buying process, it is wise to think about the following, in order to narrow the search:
| Consideration | Why? |
| --- | --- |
| Space | It is a good idea to consider if there is enough room available for a certain type of sculpture. Measure out a designated space so as to gauge a size limit to help determine which size sculpture to purchase. |
| Conservation | If the sculpture is to be kept outdoors then certain steps may need to be taken to preserve its condition and protect it against adverse weather conditions. Read up on the specific materials used in contemporary sculpture to gain an idea of how to maintain a sculpture and keep it in good condition. Even indoor, ornamental sculptures may require a level of upkeep in terms of their varnish and other areas of damage control. |
| Quality | For a contemporary sculpture buyer, the quality and condition of the work can determine its price. If buying a new sculpture whilst looking for one in good condition, set a higher budget than if looking for a used sculpture. The conditions of used sculptures tend not to be as good. |
Themes of Contemporary Sculpture
Knowing which style of sculpture is desired can enhance the ease of buying contemporary sculptures. Having an understanding of the common themes in contemporary sculpture can lead to a more efficient and accurate search in a market where the options are plentiful. Here are the categories that make up the segregated themes that eBay use on their site to make the buying process an easier one:
Otherwise known as abstract sculptures, these types of sculpture are popular amongst contemporary sculpture buyers for a number of reasons. Firstly, the notion of abstract and surrealist art suggests that the work of this genre is entirely original. What is more, abstract sculptures can be used as interesting ornamental pieces around a buyer's home, as well as grand pieces of outdoor furniture. The making is abstract sculptures is not necessarily dedicated to a certain material and their size and design differ enormously.
Representations of human heads and faces are a widely purchased form of contemporary sculpture amongst collectors and casual buyers alike. Commonly known as 'busts', they are often used as ornamental pieces and are traditionally made from porcelain or marble. In terms of their design, busts are sculpted portrayals of the human body from the shoulders up. The subject of bust sculptures can range from famous historical icons to representations of ordinary people. Historically, they were crafted as gifts and dedications to monarchs and leaders.
There is a special section of eBay dedicated to buyers who wish to purchase sculpted portrayals of their favourite animals, either for collection or as a one-off purchase. Animal sculptures from the contemporary era come in a variety of different sizes and materials. They're popular amongst those who wish to have sculptures of animals around the house for decorative purposes.
The art of contemporary sculpture also covers 'masquerades', or masks. Whilst most of the masks found in the contemporary sculpture of eBay are not original, there are a number of high quality, good condition masks that can be used as ornamental pieces.
Contemporary sculpture often concerns itself with the design and the shape of the human body. Sculptures of this ilk are available from eBay in a variety of sizes, as well as being sculpted from a number of materials such as porcelain and bronze. Whilst there are some nude sculptures that can be classed as 'erotic' in their nature, there are also others that portray the human body by focusing on specific contours and shapes that the human body can make. Sculptures from this theme were historically considered to be of high value and this has continued into the canon of contemporary sculpture.
Mediums of Contemporary Sculpture
When buying a contemporary sculpture it would be astute to know which medium of the art form is best for certain sculptures. With the art of sculpture being an ancient art form, the materials used in contemporary sculpture can often play a role in deciding its value. This is due to the fact that a certain level of craftsmanship is required in the sculpture of certain mediums. Here is a table explaining the different materials used in contemporary sculpture:
| Medium | Description |
| --- | --- |
| Resin | Sculptures made from resin are often mass-produced and machine made. This ensures a high level of quality but also an inexpensive price for both the manufacturer and the consumer. An advantage of resin is that because it is an imitation material, it can be made to look like other mediums that are widely used in the world contemporary sculpture, such as marble and bronze. Whilst these sculptures are seen to be of less monetary and artistic value, they are extensively purchased for their durability. |
| Bronze | The way that bronze sculptures are made allows for a high level of realism in their portrayal of certain subjects. For example, wildlife and representations of the human body are common themes that run through the canon of bronze sculpture. This medium is also widely used for outdoor sculptures because of its robustness against most weather conditions. |
| Steel | Another metal used in the creation of contemporary sculptures is steel. It is widely appreciated by sculptors for its ductility and its ability to withstand damage and weather erosion. For these reasons it is largely used for sculptures that can be kept outside. |
| Wood | The likes of masquerades and wildlife are themes commonly covered by the medium of wooden contemporary sculptures. With carpentry being recognised as a niche form of sculpture, wooden sculptures can often be highly valued. Despite the hardiness of wood, the level of detail that can be achieved in some sculptures of this medium make them so valuable. eBay, however, offers the opportunity for wooden contemporary sculptures to be purchased at reasonable prices. |
| Stone | Stone has been carved to create sculptures for as long as sculptures have been made. The process of stone masonry is an extremely complex and time consuming one, yet the results are often worth it. Generally, stone sculptures tend to be used as ornaments in gardens and outdoors spaces. The types of stone used in the creation of contemporary sculptures are vast, with the likes of marble being popular amongst buyers. |
Buying Contemporary Sculptures Online
The buying of contemporary sculptures can be made a lot more cost-effective by visiting art discussion forums that concern themselves with the world of contemporary sculpture. The browsing of these websites can lead the buyer to certain sculptors and styles of sculpting that they may enjoy and may wish to search for.
The value of contemporary sculptures is also discussed regularly amongst collectors who frequent art blogs and discussion boards. With this in mind, any advice given by these people can be utilised when looking for contemporary sculptures on eBay.
It may also be an idea to visit specialist contemporary sculpture sellers who do their business online so as to comprehend the prices that are considered typical for specific mediums or types of sculpture.
Buying Contemporary Sculptures on eBay
Follow the steps on this checkpoint list to guarantee a secure, honest and cost-effective transaction for a contemporary sculpture on eBay:
- Visit the Art category of the site.
- Click on Sculptures to gain access to the part of the site eBay has designated to the buying of sculptures.
- Choose the Contemporary (1980-Now) tag at the side of the page to find listings of contemporary sculptures only.
Then, once a product has been chosen, be sure to do the following:
- Check the images provided by the seller so as to be sure of the condition and quality of the sculpture.
- Check that the product description is comparable and honest with the nature of the pictures.
- Be meticulous in going over the merchant's previous selling history and take note of their feedback rating to make sure that the seller is recommended or appreciated by former customers.
- If unsure about any aspect of the process or product, contact the seller and check eBay's Buying Tips.
- Be aware of the collection or postage instructions for the sculpture as the size and material of the sculpture may require collection only or special shipping conditions.
- Once prepared to buy a product, either place a Bid, put in a Best Offer or take advantage of the Buy It Now option, all of which use PayPal.
Conclusion
Bear in mind that the conditions of contemporary sculptures can vary enormously. Be prepared to purchase the necessary restoration tools if they are required but also be aware that a lot of the contemporary sculptures available on eBay are as in as good condition as they are reasonably priced.
Whatever the placing or use of a sculpture, they can improve the aesthetics of any space and eBay is home to a host of contemporary sculptures that can be purchased affordably and safely.