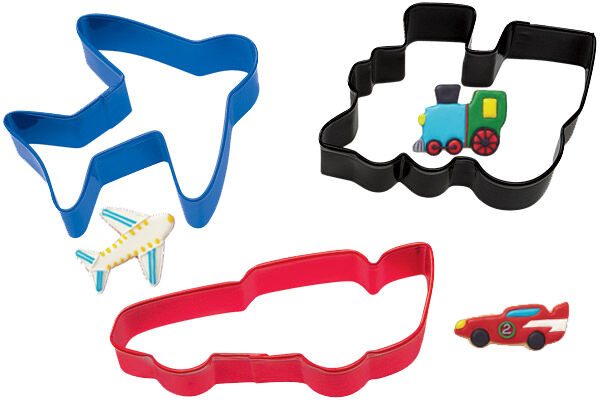 A range of differently shaped and sized cookie cutters should form part of any domestic cook's kitchen utensils. Making biscuits and cookies is not difficult, and cookie cutters are a useful tool for personalising or customising the baked produce. The variety of cookie cutters available on eBay is enormous, with plenty of choice from standard round shapes to shapes for all sorts of special occasions. Having a supply of attractive, and perhaps unusual, cookie cutters in the kitchen can help encourage children to get involved in the cookie making process, first by making the dough and then choosing which shapes to make before baking and then eating them. The wide choice of cookie cutters available, including many collectables, means that some research should be carried out before buying so that the right type or types are bought. Manufacturers are constantly bringing out new shapes, making the process of making tasty cookies imaginative and fun.
About Cookie Cutters
The earliest types of cookie cutters are thought to have been used by the ancient Egyptians some 4,000 years ago. Baking moulds from the period have been discovered that were probably used for shaping cookies and other cakes. In England in the sixteenth century, during the reign of Queen Elizabeth I, cookie cutters were developed by bakers to shape gingerbread men – apparently a delicacy that amused the Queen – and it was after this that bakers began to experiment more freely. When the great tide of immigration began to roll from Europe to America, many baking traditions followed, and the simple round or rectangular shapes that were originally made changed into ever more inventive patterns. Few cooks who take a pride in their biscuit/cookie baking will be without several cookie cutters both for standard and special occasions.
Materials for Cookie Cutters
The most popular type of material for making cookie cutters is tin, as it is very easily worked and can be fashioned into many different shapes. The cutting edges can be fluted or straight, and may be very sharp, making the cutting process easy. Stainless steel is also a good material for cookie cutters – it is resistant to rusting or tarnishing, so provided the cutters are kept clean, there is little likelihood of any food being contaminated. Copper is also a popular choice for cookie cutters, and it fits in well with a classic, traditional type of kitchen, perhaps one where copper-bottomed pans are used and displayed. There is a wide range of choice of copper cutters, and plenty of imaginative shapes to be explored. Cookie cutters may also be found that are made of aluminium or plastic, again with both materials providing many different options to choose from. In the end it will come down to exactly what the biscuit maker wants and what they judge will be best for use in their kitchen.
Choosing Cookie Cutters
One of the pleasures of searching for cookie cutters on eBay is the number of different shapes, sizes, and materials that are available. It pays to do some thinking before buying, deciding on whether some straightforward shapes such as circles or hexagons are preferable, or if a number of special shapes are wanted for specific occasions, such as Christmas, or purely for fun so that children will want to get involved. Many cookie cutters come in sets so that different sized cookies can be made, though keeping the same shape.
Christmas and Birthdays
As important times when families get together for celebrations, Christmas and birthdays are ideal for bringing out the festive cookie cutters, and everyone can join in by making their own favourite cookies. For children's parties there is any number of fun themes to consider. Dinosaur shapes, such as Tyrannosaurus Rex, Triceratops, or Brontosaurus, will probably evoke squeals of delight, and cookie stamps saying "Happy Birthday" or with other messages are available. Number sets are useful too because they can be used time and time again to suit any age. Christmas is the time for getting the whole family baking cookies and Christmas themes are much in evidence with good seasonal choices of cookie cutters. Themed cookies could include Christmas trees or Santa's reindeer, and snowmen, angels, and stars, or snowflakes, and bells. The cook in charge could prepare some green, red, and white icing so that once the cookies have been shaped and baked, they can be decorated – another special bonus for children.
Animal Shapes
Children can also have great fun with animal shaped cookie cutters, amusing themselves by building up their own special menagerie. Farmyard animals are a popular choice, with options to buy shapes of horses, cows, pigs, and sheep, so a child's own favourites can be used over and over again. Pet animals are a frequent addition to family life, and there are many choices of cat and dog shapes, though buyers looking for less common pets, such as guinea pigs, gerbils, or hamsters, may have to make a special request. An enjoyable way to help younger children identify more exotic animals is to purchase cutter shapes such as elephants, kangaroos, lions, giraffes, and penguins.
Buying Cookie Cutters on eBay with Confidence
eBay is a valuable resource for purchasing cookie cutters. It is important to know how to make full use of this site and its features to arrive at the most suitable product.
Product Research
Good research is essential when planning to bid for or buy a product. Using eBay's powerful search tools helps to quickly find any number of items under the main product category. By typing "cookie cutters" into the search box, a list of options will be flagged up on the page's left hand side, making it possible to focus the search more closely to what is actually wanted. Searches can be done on the type of material required for cookie cutters, or for what occasion they might be needed for, or simply by searching for types of shapes, such as animals or numbers. Be sure also to take some time to look at the different prices on offer, comparing and contrasting products before deciding if the item is worth putting in a bid.
Asking Questions
Any auction carries a small amount of risk that the items being bid for are not as they have been described. This risk is minimised by using the "ask a question" features on eBay's listing page. It is perfectly in order to use this to contact a seller, asking for as much additional information as possible before going ahead and putting in a bid. This is standard practice, and experienced sellers will expect this and be ready to respond.
Checking a Seller's Feedback
Bidders want to buy with confidence, so seeing what feedback there has been from previous buyers is a great help. The seller's user ID is displayed on the listings page, and a feedback list generated when the numbers in brackets next to that ID are clicked.
Top-Rated Sellers
Looking for top-rated sellers gives access to those who have developed a good reputation if there are issues that need to be resolved, and that have carried out many successful transactions. They are the eBay equivalent of the Kitemark, the independent quality and safety symbol.
Making Realistic Bids
Sellers frequently put items up for auction with a reserve price attached, meaning they will accept a minimum amount and nothing lower. There may be some collectable cookie cutters that will have higher reserves than others, so it is important to make realistic bids. Even if a bid greater than the reserve price is put up, it does not guarantee that the item will be won. It is also worth exploring the "Best Offer" or "Buy it Now" options so a faster transaction may be made. Highest bids can be set up automatically, meaning that the eBay system increases a bid's value automatically up to the maximum that has been specified. This ensures that on a particular item the bid remains the highest entered, and is only beaten if another bidder goes over the specified maximum. Deciding what maximum price to bid should be done in conjunction with the research into the category so that it is set at a realistic level.
Finding Cookie Cutters On eBay
To find Cookie Cutters on eBay, go to Home & Garden and Home & Garden again from the home page. Once on this page, select Furniture & Living from the list on the left had side of the page. This will bring down a drop down menu, from which Cookware, Dining & Bar should be selected. Once on this page, the search can be narrowed down to reflect any criteria had.
Conclusion
Choosing cookie cutters is not difficult as long as there is clarity about how they are to be used. There is a wealth of different shapes and sizes of cookie cutters and many different materials from which to choose. eBay allows bidders and buyers to carry out research into cookie cutters quickly and easily, and gives them the ability to pinpoint exactly what is most suitable. Searching for the right cutters online will throw up a huge range of options, whether for daily use or to collect, so taking time to identify the best options will prove fruitful.