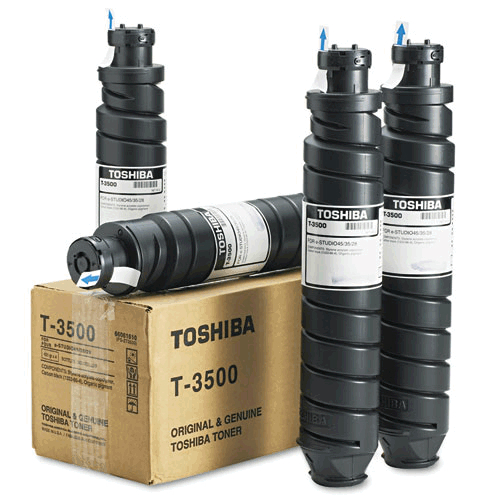 Photocopiers are convenient, almost indispensable business machines. They enable people to do in minutes what took scribes perhaps years to do: reproduce a document or set of documents exactly, up to hundreds or even thousands of times over. The first copy machine was invented in 1949 by an American company, Xerox. The copier machine has since evolved to the point where it can now perform many other functions, such as collating documents, punching holes in paper, and even stapling sets of documents together in packets. Regardless of the task at hand, all copy jobs require copier toner to get the job done. Copier toner is technically not ink but performs in much the same way as ink to reproduce words and images on paper.
One can buy all types and brands of copier toner on eBay, for virtually any make and model of copier machine. With a large number of sellers listing items on eBay every day, it is easy for a shopper to find a toner cartridge for his or her copier. The eBay search platform is user-friendly. Any shopper, even one who does not know his or her way around an online shopping platform can master the basics of searching for items in a matter of minutes. Along with an understanding of how to use keyword searches and search filters, an eBay shopper should also know how to assess sellers before committing to a purchase.
Searching for Copier Toner on eBay
Finding and purchasing copier toner is quick and easy on eBay. One of the fastest ways to look for items on the site is to perform a keyword or keyphrase search. For example, a buyer types a word or set of words into the search field on the home page. One might enter a generic term, such as 'copier toner', or something more specific by including a brand name or part number. After clicking the Search button, the local search engine displays matching listings, along with a list of the merchandise categories that the copier toner is listed under.
If one particular category looks like it has the most results, a buyer might choose instead to search by navigating through the category directory tree. That way, the buyer can view all merchandise in that category if he or she is interested in multiple related items. To use this method, the user returns to the homepage and clicks on All Categories, then navigates to the categories that appeared in the keyword search. The shopper then continues to click on the hierarchy of categories and subcategories until he or she finds the correct copier toner. To hone the search, the shopper can use category filters on the page by clicking one or more criteria. These filters can be used to display only listings that offer free postage as well as differentiating among new, refurbished, and used copier toner cartridges.
What Is Copier Toner?
Copier toner is the substance that enables a copier to reproduce an image on paper. The toner adheres to plain paper during a special flash-heating process by means of a fuser. Toner is a powdered pigment consisting of carbon (if it is a standard black toner) and a polymer, or plastic. Loose toner is quite messy but is usually contained in a sealed, disposable cartridge for easy installation. Once the cartridge is emptied of toner, a person removes the old cartridge and replaces it with a new, full one. Colour copiers take a few different colours of toner. Cyan, magenta, yellow, and black pigments can be mixed to produce virtually any colour and shade. The following chart shows the codes for the four toner pigments.
| | | | | |
| --- | --- | --- | --- | --- |
| Toner Colour | Black | Cyan | Magenta | Yellow |
| Colour Code | K | C | M | Y |
Notice that the abbreviation or symbol for 'black' is 'K'', not 'B'. This is not so the user can tell the difference between black and blue toner as is commonly thought, but because in printing, the key plate is black. Hence, 'K' stands for 'key'.
Copier Toner Cartridge Sizes
Each copy machine is designed to accommodate a specific size and shape of toner cartridge. It is important to buy the correct toner cartridge, because once a cartridge has been opened, it usually cannot be returned to the supplier. In some cases, even removing the cartridge from the original packaging may render it non returnable. To determine the correct cartridge to buy, the shopper should read the owner's or operator's manual for the machine, access the Information or Help function on the copier's LED screen, or open the toner compartment in the copier machine and look at the cartridge itself, which is almost always labelled as such.
The Choice of Toner Cartridges
Since most copier toner comes in cartridge form, the buying decision essentially comes down to what type of cartridge is compatible with the copier machine in question. However, the shopper is not limited to brand-new cartridges. The shopper also has the choice of generic as well as refurbished copier toner cartridges. The shopper can also buy a special kit that allows him or her to refill an empty cartridge.
Brand-Name Copier Toner
Most of the companies that manufacture copier machines also produce compatible toner cartridges that fit particular copier machines. These are sometimes referred to as original equipment manufacturer products, or OEM. The concept is basically the same as it is with purchasing car parts from the car dealership as opposed to parts from an autoparts store or other source. OEM parts are often more costly but generally are of very high quality. In some cases, warranties specify that OEM toner cartridges be used only. Therefore, shoppers should familiarise themselves with the details of warranties on their machines before purchasing copier toner cartridges.
Generic Copier Toner
There are also companies that do not make copier machines but rather manufacture the toner cartridges that go in them. These generic or 'compatible' cartridges are generally less expensive than their OEM counterparts, although quality may vary. Still, in many cases, these toners are up to the job and are manufactured to the same specs as OEM cartridges. However, generic copier toner is cheaper.
Refurbished Copier Toner Cartridges
Old toner cartridges can be recycled, usually by returning them to the manufacturer. Manufacturers either recycle the plastic containers or clean them and refill them with fresh toner. These products are then sold as remanufactured cartridges and cost less than new ones. The downside is that warranties and rental agreements may consider the use of such items a breach of warranty, so a shopper should be sure to read the fine print before trying this alternative. If the use of refurbished toner cartridges is allowed, this is a good way to not only save money but help out the environment, too.
Copier Toner Refills
Aside from refurbished toner cartridges, one has the option of purchasing a bottle of toner and refilling the existing cartridge, although a special refill kit is required to avoid making a mess of this job. An interested party can also find a toner refill service and send the empty cartridge off to be refilled or exchanged for a newly filled cartridge. As with refurbished or remanufactured cartridges, the shopper needs to be sure that the refilled cartridge does not void the warranty on his her copier machine.
Buying Copier Toner on eBay
If you know exactly what part your particular copier needs as far as a toner cartridge is concerned, you can start browsing on eBay and prepare to make a purchase. If you see an item listing that interests you, click on the photo or title to be redirected to an individual product page. Here, you can read further details on the item, such as its condition, as well as any seller policies, such as returns policies and shipping methods.
Assessing eBay Sellers
As with any large marketplace, such as a bazaar, flea market, or neighbourhood garage sale, each seller has his or her own personality and way of doing business. One of the benefits of shopping on eBay is that you have less of a guessing game to play when choosing a seller. This is because eBay has instituted a method of providing feedback for other users in the eBay community. Every seller (and buyer) can be evaluated by the other party. The aggregation of this input results in a feedback score, which is a way of telling which sellers are the most reliable. If you are deciding between two different sellers who offer the same item, you may wish to choose the one with the better feedback, although most sellers are conscientious, and the differences between them may be negligible.
Visiting eBay Shops
Many professional sellers run eBay shops. Shoppers can easily save the shop's website address and return to it in the future to see what other merchandise is in the offering. Sellers often tend to deal in like merchandise, so a seller who offers copier toner may have replacement fusers or other necessary parts available. If not, the seller may be willing to locate items for favourite customers.
Conclusion
Copier toner is, quite simply, a necessity. There is no way to avoid using it if one wishes to use a photocopier, and running out of it can be a real nuisance. Keeping a backup cartridge or two on hand is a good practice for any business, however small the business may be. Buying copier toner on eBay is a hassle-free way to obtain these supplies without making a special trip to an office equipment store. With so many people selling on eBay, there is always a very good chance of finding the correct cartridge for a copier machine.
The shopper should remember to buy the right type of toner cartridge for his or her specific copier, as the wrong cartridge may not fit and could damage the machine. The best ways to do this is to match the part number on the old cartridge to part numbers in the listings. OEM and generic cartridges are popular choices. One might try refurbished cartridges or refill kits, but the latter can be especially tricky to work with. Furthermore, either type of cartridge can void a service agreement, so while these are great money-saving options, a shopper should proceed cautiously.