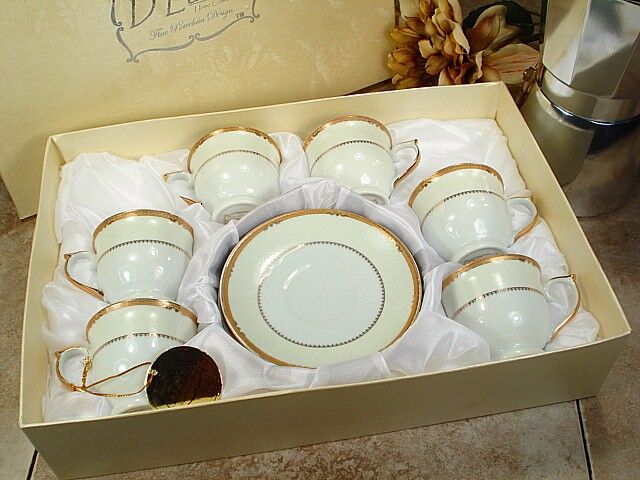 Cups and saucers are an essential item for the home. The history of drinking tea, coffee, and other hot beverages goes back hundreds of years, and any kitchen without teacups, coffee mugs, and saucers would be incomplete. When looking for cups and saucers for a new house, buying a gift, or replacing an old set, there are a lot of aspects to consider before buying.
Buying New or Buying Used
One aspect to consider is the choice between purchasing new cups and saucers, saving money by looking for second-hand sets or individual pieces in good condition, or seeking out a vintage set for a classic or retro look. All these options are widely available both in physical shops and via online ordering, and they all offer various advantages and disadvantages. Opting for new products makes it easier to find a full set, and also means choosing from a wide range of colours, designs, and styles is possible, whereas searching out second-hand or vintage pieces can sometimes save on cash and there are often real bargains to be found by someone willing to look closely.
Types of Cup
When buying cups and saucers, it can help to decide on the style and size in advance. Cup and saucer sets come in a range of types and sizes, including some intended for specific drinks such as latte or espresso.
| | |
| --- | --- |
| | Traditional teacups are small and often delicate, usually with a small handle. They tend to be wider and shorter than coffee mugs, and often come in tea sets with matching teapots, milk jugs, and sugar bowls as well as saucers. |
| | Sometimes called coffee mugs, these are all-purpose pieces for drinking tea, coffee, cocoa, or any hot beverage. They are generally taller than teacups and can hold more liquid. Mugs are available in a very wide range of styles, shapes, and colours, and often feature slogans or pictures on their sides. Novelty mugs are also available, including some which are made roughly in the shape of an animal with its tail forming the handle, or giant mugs which hold three or four normal-sized cups of coffee. |
| | These are small cups, designed specifically to hold a single shot of espresso, which frequently come with matching small saucers. They are often plain or minimalist in design, though more decorative espresso cups are also available. |
| | Also known as latte glasses, these are tall, narrow cups often made from glass, designed specifically for drinking milky latte coffee. They may have a metal base and handle, or may be made entirely from glass or clear plastic. |
| | These coffee cups are generally short, round, and wide, designed so that the frothy foamed milk on top of a cappuccino coffee can be enjoyed to the full. They are generally purchased along with matching saucers, although they may sometimes be sold alone. |
| | Chinese teacups are generally very small, holding around 30ml of liquid, and have no handles. They are almost always round and made from ceramic material, which may be decorated with various designs or patterns. |
Cup and Saucer Design Choices
Cups, saucers, and mugs come in a vast range of designs and styles, from playful novelty pieces to elegant and classic tea-sets. The available designs cover a multitude of looks, including bright, fun and colourful modern designs, traditional patterns such as blue and white willow pattern porcelain, clean, minimalist black and white, and hundreds more. It is often helpful to browse thoroughly before buying in order to make a decision on pattern, style, and colour. Saucers for cups also come in various shapes, sizes, and designs - although most saucers are round, with a central depression designed to hold the cup in place, they are also available in various other shapes. Contemporary sets with a modern design may include square, oval, oblong or leaf-shaped saucers. These saucers still generally include a round depression for holding the cup, though it is sometimes off-centre. This may be done for aesthetic reasons, or for more practical purposes - some sets, particularly those used in cafes, are designed with the cup off-centre in order to make it easier to place biscuits or snacks on the side of the saucer. Oval, oblong, or leaf-shaped saucers also make this easier.
Cup and Saucer Materials
Cups and saucers are made from a wide range of materials. Although china, porcelain, and ceramics are the most traditional, they can be made from almost any solid substance which is not damaged by heat - glass, stone, plastic and metal cups and saucers are all widely available.
| | |
| --- | --- |
| Ceramics and earthenware | Ceramic cups and saucers are very popular. They are made from clay which has been shaped by hand or machine, and then fired and glazed to make it hard, solid, and opaque. They are generally painted during or after this process, and are available in thousands of different designs. Ceramic cups are hard, brittle and breakable, and will usually crack or shatter if dropped onto a hard surface. |
| Porcelain | Porcelain, also known as china due to its Chinese origins, is a specific type of ceramic material made by heating clay to temperatures of up to 1,400 degrees Celsius. This process causes it to become less porous than earthenware and more like glass, becoming impermeable and slightly translucent. Like other types of ceramic material, porcelain is fairly fragile and liable to break if dropped. |
| Bone china | Bone china is a specific type of porcelain which contains bone ash from animals. This material is often used for traditional teacups. |
| Glass | Glass is most frequently used for coffee cups such as latte cups, but tea sets, mugs, and various other cup types are also available in glass. The glass used is often clear, but may also be dyed in various solid colours or colour combinations, or may be printed or engraved with patterns, pictures or slogans. Glass, like ceramics, is also fragile and prone to breaking, cracking or chipping if dropped, but is generally dishwasher and microwave safe. |
| Plastic | Cups and saucers of various types are also available in plastic. These may be disposable teacups intended for a single use, or may be tough, reinforced plastic cups and saucers designed for more long-term use. They are very resilient and are unlikely to break if dropped or handled roughly, which can make them a practical choice for small children, or for situations which require taking them out of the house such as a picnic or holiday. However, some plastic cups may not be microwaveable, and may become damaged or scratched in a dishwasher. |
| Stone and marble | Tea cups, coffee mugs, and saucers are also sometimes produced in various types of stone, including semi-precious stones such as onyx and lapis lazuli. They are generally carved from a single piece of stone, and tend to be at the higher end of the price scale. Stone cups and saucers are generally fairly resilient, and may be less prone to breaking than glass or ceramic pieces, though they may still shatter or chip if dropped from a height. |
How to Buy Cups and Saucers on eBay
To purchase cups and saucers, first go to the eBay homepage, and choose Home & Garden from the menu on the left side of the screen. After selecting this option, hover over Furniture & Living on the left-hand menu, and select Cookware, Dining & Bar from the options which will appear. From there, select Tableware, Serving & Linen from the menu, and finally, click on the link for Cups & Saucers. Browse the options currently available, search for specific words within this category using the search bar at the top of the screen, or use the checkboxes at the left side of the screen to narrow down the results by colour, material, price or other categories.
Conclusion
Cups and saucers are an essential part of any kitchen, and are available in a huge array of types and styles from vintage classics to cutting-edge modernist designs. Before buying, research cup styles, materials and designers in order to find the perfect cup and saucer set for the best possible price.