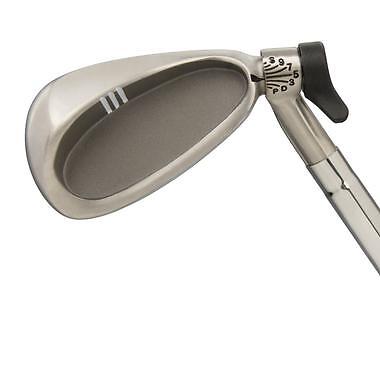 Custom-made
golf clubs
, also called custom-fitted golf clubs, are tailor-made clubs matched to your height, age, skill level, gender and fitness. Ordering custom-made clubs is a good way to ensure the equipment you buy supports your style of play.
Although off-the-shelf sets can be purchased very affordably, they do not support the golfer in the same way as a custom-made set. Standard clubs are made for golfers with a 'typical' build and height; this may be quite different to your own measurements.
Look for custom-made golf clubs in the eBay "Golf Clubs" category. From there, you can search for custom-made clubs, entire sets and clubs sold by sellers in the UK and overseas.
A set of custom-made golf clubs normally includes a mix of irons, hybrids, woods and wedges; you will find a range of sets on eBay incorporating different combinations of clubs. Custom-made clubs can also be purchased individually, allowing you to build up a set over time.
Who Should Buy Custom-Made Golf Clubs?
Custom-made golf clubs are ideal for both beginners and advanced golfers. The vast majority of PGA Professional golfers own custom-made clubs, but novices also benefit and often see a dramatic improvement in their game.
Players with a high handicap will find a custom-made set particularly beneficial. Buying a custom-made set in the early days is an investment that will help you to improve more quickly and enjoy the game as you develop your skills.
Custom-made clubs do away with the need to adapt – something new golfers find particularly difficult. They also ensure that golfers develop the right habits and do not artificially alter their swing.
A custom made club can compensate for incorrect alignment between the clubhead and the ball, helping the golfer to achieve a straighter shot and reduce the likelihood that they will slice or hook the ball.
Custom-made gold clubs reduce the risk of developing bad posture as the player overcompensates for badly fitting clubs, or clubs that are too short.
If the angle of the clubface is not correct, you will find it more difficult to hit the ball in a straight line. By taking simple measurements, you can determine the angle you need for improved performance.
Custom-made golf clubs offer a customised grip size. This will resolve any problems caused by gripping the shaft too tightly.
Purchasing a custom-fitted set could also help to improve your confidence on the golf course.
A set of custom-made clubs will not replace the need for practice and training, but it will go some way to ensure your swing is as productive and accurate as possible.
Should You Buy Branded Golf Clubs?
On eBay, you can filter your search results by brand. Big-name brands tend to offer more customisation options, but less experienced players may not need to invest in a set made by a big-name manufacturer. One advantage of well-known brands is that they can be re-sold very easily on eBay if you decide to replace them.
If you have any questions about your custom-made golf clubs, ask your eBay seller to explain the ordering process in more detail. Be specific with your measurements and honest about your ability. The perfect set of custom-made golf clubs will serve you for many years to come.
Fitting Custom-Made Golf Clubs
In the past, golfers would be measured in store for their custom-made golf clubs. The measurements used would vary from shop to shop.
However, it is possible to self-measure so that you can purchase custom-made golf clubs online from eBay. This allows you to obtain affordable clubs without compromising on fit, and you will also save money on the shop's fitting fee.
If you have already been measured, you can use the figures you have to search for custom-made golf clubs on eBay. The only exception is your handicap because this may have changed since your last fitting.
Measurements for Custom-Made Golf Clubs
The measurements taken are used to determine the length of your golf clubs, the 'loft and lie' and the stiffness of the shaft.
If you already own a set of custom-made golf clubs, you may need to replace them from time to time as your handicap falls and your posture improves.
If you already have a set of custom-made clubs, the specifications may be marked on the shaft.
The length of a golf club is calculated according to the ratio between height and arm length. Golf club manufacturers therefore require a mixture of measurements to work out which custom-made clubs are right for each player. The measurements you will need are detailed in the table below.
Stiffer shafts are better for experienced golfers who are stronger. More flexible shafts are better for novices and golfers with less strength in their arms and legs.
Loft and lie measurements (also called 'length and lie') determine whether you hit the ball upright or lean slightly when you swing. This type of customisation is only applicable to irons.
Golfing manufacturers take five measurements into account to come up with the correct custom-made golf clubs.
| | |
| --- | --- |
| Gender, Age and Swing Speed | Male and female golf clubs are made differently. The shafts used in a women's set are more flexible since women tend to have a slower swing; as such, you will usually only see one or two flex options on eBay when reviewing ladies' clubs, whereas men's clubs can be split into three or four different flex ratings. Age and fitness can also affect your style of play; older or less fit golfers should aim for light or medium flex. |
| Height | Your height measurement should be taken accurately without shoes. The majority of golfers require standard length clubs; 44 inches for steel, 45 inches for graphite, but you may need a different size. |
| Wrist to Floor | Golfers need to accurately record the measurement between the crease in the wrist and the floor. Again, this measurement should be taken without shoes. Be sure to hold the club in the correct hand when taking this measurement. |
| Handicap | This is not essential but can help the manufacturer or eBay seller to guide you towards an appropriate set of golf clubs. The figure does not need to be accurate; a general impression of your skill level is usually sufficient. |
| Grip Size | Measure your dominant hand from the wrist crease to the end of the third finger. Although grip size preference varies, this will give you some idea of the size to aim for. |
How To Buy Custom-Made Golf Clubs on eBay
On eBay, sellers list new custom-made golf clubs individually and in sets. These are located within the eBay "Golf Clubs" category.
When reviewing an auction listing, look at the top of the page for drop-down boxes that allow you to select your own criteria:
| | |
| --- | --- |
| Club Length | Although longer clubs give more speed, they can be difficult to control. If your clubs are too long, you will find it harder to develop a consistent swing and may feel pain in your back after a round due to excessive rotation. That said, it is more common for golfers to choose long clubs so they can learn to control them over time. Do not be tempted to order excessively short clubs which may cause you to lean in an awkward way. |
| Shaft Weight and Flexibility | Although manufacturers measure shaft stiffness in different ways, most eBay sellers use the terms 'strong', 'medium' and 'light'. Ask your eBay seller for advice when choosing the correct flexibility. Even if you have previously purchased very stiff shafts, the amount of stiffness varies between manufacturers. |
| Grip Size | The correct grip size ensures that the golfer holds the club with the correct amount of overlap. The size of the grip is largely a matter of personal preference, although you can measure your hand (see above) to get an idea of the grip size you need. Consider a ribbed grip which will assist with the alignment of the hands and helps the golfer maintain a consistent technique. |
While searching on eBay, consider the following factors to get the most affordable and suitable set:
Look for a listing applicable to your gender and age. eBay sellers provide custom-made golf clubs for women, men, children and unisex use.
It's possible to filter custom-made golf clubs by price on eBay. Ensure that the clubs in your price range are suitably fitted; do not be tempted to opt for a cheaper set which does not fit.
Don't forget to check that your custom-made clubs are made for right-handed or left-handed play.
If buying from a business seller, ask them if they provide a retro fitting or alteration service.
Used golf clubs are very affordable, and some may have never been used. However, used golf clubs that have been used regularly will inevitably pick up some wear and tear. Inspect the seller's photographs for wear to the grips and clubface, and check for dents in the shafts.
Buying individual clubs is possible, but check your seller's other listings to see if you can buy multiples from the same seller to save on postage and packaging costs.
Factor in the cost of postage and packaging on heavy sets. Try filtering your search results to identify custom-made golf clubs from local sellers, or sellers who offer free postage and packing.
If you need a complete set of custom-made clubs, look for sellers that bundle the set with a golf bag.
Factor in any applicable import fees if buying your clubs from overseas.
Conclusion
Custom-made golf clubs can make an enormous difference to your game and can prevent new golfers from becoming frustrated with flaws in their swing. Whether you're new to golfing or you've been playing regularly for some time, eBay is the perfect resource for affordable custom-made golf clubs that are specially fitted to your body and designed to help you play more accurately.

It is important to remember that you will need the appropriate information from the user if you're looking to buy as a gift for a birthday, Father's Day, Christmas or any other occasion.