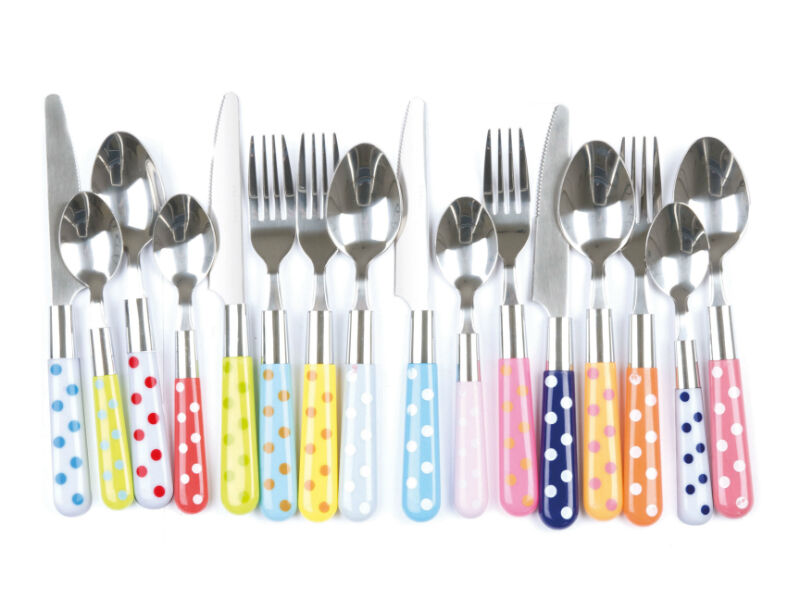 Many people would argue that no home is complete without a good set of cutlery, or preferably more than one set. As well as providing the tools with which to prepare, serve, and eat the food, good cutlery can also help to decorate and enhance the appearance of the dinner table. This is especially important for special occasions, such as formal dinner parties and birthdays, and, of course, the Christmas dinner. Many individuals have more than one set of cutlery, each being kept for a different kind of dining event. Buyers on eBay have an almost unlimited choice when it comes to purchasing cutlery – there are many different styles, types, and varieties available. This choice can make buying cutlery confusing – some people may find it difficult to decide on the right cutlery set for them.
What Different Types of Cutlery Are Available?
Most cutlery sets contain a variety of different knives, forks, and spoons. Different cutlery sets contain different pieces: basic, everyday cutlery sets may contain only a knife and fork and two spoons per person, whereas more expensive, fine dining sets may contain a variety of different knives, forks and spoons to be used with the different courses of food to be served.
Everyday Cutlery Sets
Most families have a basic, everyday cutlery set that they use most of the time. This will include one size of knife, one size of fork, teaspoons, and dessertspoons. They will use the same knives and forks for every type of food, will use the tablespoon to serve food and the dessertspoons to eat foods such as soup, and will use the teaspoon to add sugar to hot drinks. When eating a dessert, they may choose to use a fork, dessertspoon, or teaspoon, depending on their preference. Some people may choose to supplement their everyday cutlery set with special knives, such as steak knives, which are necessary for cutting through thicker pieces of meat. Most cutlery sets in use today are made of stainless steel. They are made to be hard-wearing and will last a very long time. Some varieties may be crafted from one piece of metal – others may have a plastic handle. Everyday cutlery sets come in a wide variety of different colours and styles – some people may even have a lightweight, outdoor set made of plastic, for picnics or for use when camping.
Comprehensive Cutlery Sets
Comprehensive cutlery sets, such as family dining sets or fine dining sets, often contain many more pieces than the basic everyday sets. Some families will have a family or fine dining cutlery set that they keep for special occasions – such sets often come in a presentation box to preserve the cutlery in its best condition. Some family dining sets or fine dining sets contain only a few additional pieces, whereas others contain a comprehensive collection of every piece of cutlery that might be required. Examples of cutlery items that may be found in comprehensive sets include, soup spoons, fish knives, steak knives, dessert forks, and cheese knives. Sets may contain several different sized knives and forks, which may be lined up on the table in height order, with the smallest on the outside, to be used for each separate course as it is served. Due to the contents of such comprehensive cutlery sets, they are often more expensive than basic sets. However the increased cost may also be due to the quality and weight of the cutlery – often fine dining sets are made from solid silver, or silver alloys, making them heavier than basic sets. They may also be engraved.
How To Buy Cutlery
There are a number of things to consider before buying cutlery. Purpose, number of sets required, appearance, and budget should all be taken into account to ensure the appropriate purchase is made.
Considering Purpose When Buying Cutlery
One of the key things to take into account when choosing cutlery is what its purpose will be. For example, cutlery that is to be used occasionally during a camping trip does not need to be as hard-wearing as cutlery that will be used every day in the home. It does, however, need to be lightweight, strong, and easy to clean and transport. On the other hand, fine dining cutlery which is to be used at prestigious family dinners needs to be of excellent quality; it should match the style of the dining room in which it will be used, and needs to look very shiny when polished. Practically, it must also be considered how the cutlery is to be washed. If a dishwasher is used, it will be necessary to ensure that the cutlery bought is dishwasher safe, or it may become damaged if it is washed in the machine.
Considering The Number Of Sets Required When Buying Cutlery
Every home needs enough cutlery for all of the people living in the home, plus some extra pieces for visitors, or in case one or two pieces go missing. If the family regularly entertains guests, it will be necessary to buy an increased number of sets. If the available budget is an issue, everyday cutlery can be bought very cheaply, and can be used to supplement family dining sets or fine dining sets. Almost everyone is familiar with those occasions when there are not enough cutlery items in the set for everyone that is sitting down at the dining table. In addition, children may be better suited to more lightweight everyday cutlery than they would be to heavy fine dining sets, so it is not always necessary to buy enough sets for everyone. If the style of the basic cutlery set and the fine dining or family set is similar, guests are unlikely to notice.
Considering Appearance When Buying Cutlery
The appearance of cutlery is an important consideration, and is usually one of the first things that buyers will think about when deciding between the different cutlery sets. The range of choices is vast, and buyers can choose between simple contemporary metal sets, engraved metal sets, simple sets with coloured plastic handles, and sets with decorative handles. Cutlery is available in all different colours and styles, meaning it is wise to take into account the room in which it will be used when deciding the style to choose.
Considering Budget When Buying Cutlery
Obviously, budget is one of the key considerations a buyer must make when choosing cutlery. Those who regularly entertain guests with multi-course meals may get more use from a fine dining cutlery set than those who do not entertain very often, and only cook simple one or two course meals. The key thing when considering budget is to make sure that there are sufficient funds to buy enough cutlery as there is no point in spending a small fortune on a very expensive fine dining set if it will have to be supplemented by a cheap basic set because only four sets are affordable. Thankfully, due to the large choice that is available online at eBay, buyers can easily find a cutlery set that suits their needs and budget.
Finding Cutlery on eBay
Finding cutlery on eBay is very quick and easy, due to the site's extensive research tools. It features a powerful and accurate search facility, which allows buyers to type 'cutlery' or a more specific phrase such as 'plastic cutlery set' into the search box. All items matching the description will then be displayed. If buyers wish to narrow down their search and exclude items that they will not be interested in, saving themselves time, they can exclude those items by using the tick box system down the left hand side of the page. For example, they could choose to display only new or used items, only cutlery made from a specific material, or only cutlery which falls within a specific price bracket. Alternatively, buyers who are not sure exactly what they want to purchase could browse through categories. From the homepage, they should select Home, Furniture & DIY, and then Cookware, Dining & Bar, followed by Cutlery. A list of all cutlery items will then be displayed.
Conclusion
Using an online auction site such as eBay can help to make buying cutlery easy. Before buying cutlery, it is essential to think about what type of cutlery set would be most appropriate. The main decision entails choosing between a more basic set or a more comprehensive set. When deciding this, take into account several factors, such as purpose, appearance, budget, and the number of place settings that are required. Once it has been decided what sort of cutlery set is desired, use eBay's search tools to research the different products available and make a decision on the one which best suits the requirements.