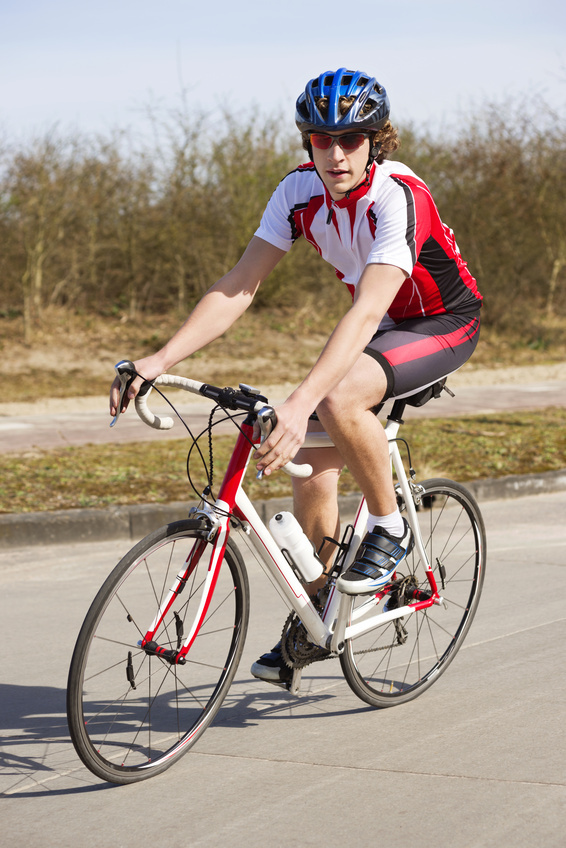 Cycling is a great sport for all ages and abilities. But what are the best clothes to wear when riding a bike? Perhaps the biggest factor in making this decision is comfort. There are many different cycling clothing brands that manufacture comfortable outfits like cycling jersey sets. Because the clothing design is focused on cycling, it is hard to overlook this type of clothing. It is guaranteed not only to be comfortable but also to enhance and improve the rider's performance.
Due to the number of cyclists in society today, it is possible to find many different specialist shops selling these types of clothing sets. However it is also possible to shop for these clothes online on eBay. As an auction site eBay offers a wide selection of cycling clothing. This guide will outline how to purchase a jersey set and other sporting goods on eBay.
What Is a Cycling Jersey Set?
A cycling jersey set is a combination of a jersey and pants or BIB pants. The two items of clothing are designed to be worn together to offer an optimal cycling experience. The combination ensures that the wearer's clothes fit well and look good.
There are two distinct cycling jersey sets. The first of which are the short sleeve combo variety, which consists of short-sleeved jersey and bicycle shorts or a Bib. The second is the long sleeve combo option – which consists of long-sleeved jersey and long bicycle pants or a Bib.
Benefits of Wearing a Cycling Jersey Set
There are many benefits to wearing a cycling jersey set. You don't have to be a professional rider to reap the rewards of the combo. The advantages are many and accessible to all.
The main benefits are as follows (please note this list is a starting point only and not exhaustive):
· The garments are specifically designed and made for the sport. This means they have all the cutting edge technology behind them to ensure they are the best items to be worn when cycling. This includes additions like padding and ventilation.
· The fabric. The fabric has been specifically chosen and tested to work with the cyclist on the ride.
· The combination. The two garments are designed to fit together.
Material and Fabrics
The fabrics used in cycling jerseys and pants are formulated to offer the rider both support and other benefits. Most items will be made of a 'wicking' fabric. This means that it has the ability to not only absorb moisture but also flick it away from the rider. This is an excellent feature for both winter and summer months. It acts with the body to cool the rider down or preserve heat depending on the need at any given time.
The fabric does not help stop the body from perspiring, but it does offer a solution on how best to handle the situation. There are a number of ways that fabrics can do this. They are by:
· Using multiple fibres in the garment that counterbalance each other. Specifically, this is the use of hydrophobic fibres that expel moisture on the inside of the jersey and then hydrophilic fibres that collect moisture on the outside of the jersey.

The polar opposite effect of each fibre creates a push and pull force that expels perspiration away from the rider's body. By pushing it to the 'outside' of the garment this speeds up the evaporation process.
· The jersey having an increased surface area offering more of an opportunity for evaporation to happen (due to the expanded surface area).
· Using a 'waffle-like' texture (lattice work) that increases the airflow via the fibres thus offering perspiration more room to evaporate.
Benefits of a Cycling Jersey
There are numerous benefits to wearing a jersey designed specifically for cycling. These include:
· Most jerseys come equipped with a long zipper in the front of the garment. This allows the rider to adjust how much it is done up or down on the ride. This is a quick and easy way to increase ventilation and airflow.
· A cycling jersey will accommodate the bent-over position when sitting on a bike and be designed appropriately. This often means a longer piece of material at the back of the jersey protecting the lower back region.
· Most jerseys will come with pockets (zip pockets) to hold various items often needed when cycling i.e. supplies and food.
There are three main types of fitted cycling jersey available on the market.
| | |
| --- | --- |
| Racer fit snug | Racer jerseys are mostly found within European countries and worn by professional racers. They are designed to hug the contours of the body. |
| Club fit | A club jersey offers a looser fit for a fuller physique. |
| Casual fit | Casual jerseys are almost like t-shirts. Amateur cyclists who ride for recreational pleasure generally wear this fit jersey. |
Each of these designs will come in long-sleeved, short-sleeved or no-sleeved cuts.
Benefits of Cycling Pants and Bibs
There are two main types of cycling shorts – plain shorts and bibs. The main difference is that a bib has straps that come up over the shoulders. Some argue that this is the better option as it holds the shorts in place under the jersey. Certainly if purchasing a cycling jersey set this is worth taking into consideration.
Be sure to look out for where the seam is located on the shorts. This can sometimes be right where the bottom sits on the saddle and can cause discomfort over an extended period of time.
If you enjoy cycling on a regular basis and complete many miles in a week – a pair of cycling pants found in a cycling jersey set is essential. The main benefits for cycling pants include:
· They provide padding which helps to keep chafing and saddle sore at a minimum.
· The wick fabric and breathability of the design help to keep the rider free from sweat. This in turn assists in keeping the bacteria at bay.
Aesthetic and Price
When looking to purchase a jersey set on eBay, it is worth keeping in mind the following two points:
· What does the set look like? Whilst this won't form the basis of the purchase choice, it will have some influence on the decision. You have to be happy with the look of the combo to get the best possible wear out of it.
· Set your budget. This will help you understand what can be achieved within the desired price range.
Conclusion
Whether you are a frequent or an occasional cyclist, owning and wearing a cycling jersey set will enhance your performance. The jerseys and pants are designed to fit and work together when worn. This in itself is reason enough to explore the possibility further.
eBay has such a wide selection of products available that it is possible to purchase a set that was not originally advertised together. This allows for all budgets and tastes. Couple this with the easy-to-use nature of this website and you can't go wrong.