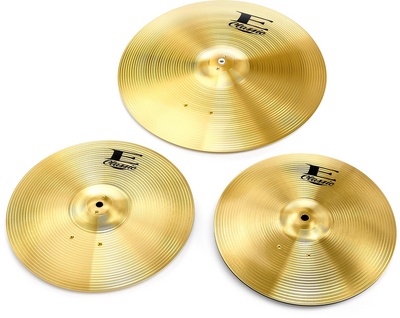 Cymbals are a common place percussion instrument often found as part of a standard drum kit, but also used in marching bands, orchestras, and one-man bands, where the cymbals are struck with beaters, scraped with sticks, or banged together to create noise. The unique sound of cymbals against accompanying instruments makes them an essential part of any musician's kit, and the versatility means their sounds are often heard across the genres, everything from bubblegum pop to hard rock. Cymbals of all kinds can be found for sale in a variety of conditions and budget ranges online on eBay.
Buying Cymbals on eBay
eBay lists a huge range of percussion instruments, including many types and sizes of cymbal made from a variety of materials. There are really two main advantages to buying a cymbal on eBay rather than a dedicated music store. Firstly, the range of cymbals available is likely to be much greater on eBay, with third party sellers offering both the latest models and discontinued products no longer sold by the likes of Sabian or Stagg. Secondly, musicians who are willing to entertain the idea of used products could find themselves getting a great deal financially on eBay. If proper care has been taken of the cymbals, and a suitable cymbal case used, these instruments can last well for up to 30 years, so purchasing a secondhand item is certainly worth considering.
Choosing Cymbals on eBay
Cymbal is really a generic umbrella term for a range of percussion instruments that vary greatly, rather than being a specific object. Cymbals differ in style, size, and material, and each of these variants brings something different to the table, with a range of sustain, response, and sound suited to different music genres and varying musical tastes. eBay's simple menu allows musicians to filter results listing by any of these factors, and more.
Type of Cymbal
The type of cymbal significantly affects the sound that the cymbal produces. A standard drum kit will usually include hi-hat, ride, and the infamous crash cymbal, but musicians looking for more unique sounds can pair these standard percussion pieces with other instruments to enhance and expand musical output.
| | |
| --- | --- |
| Hi-Hat | The hi-hat cymbal is considered to be the core of any cymbal kit, with other cymbals really needing to be paired with the base sound of the hi-hat. Usually pedal-operated in a drum kit, this cymbal creates a range of both tight and open sounds. |
| Ride | The ride cymbal is another standard instrument found in many drum kits. It frequently doubles as both a sound maker and time keeper, with the short sustain and high response being ideal for ongoing rhythm and rhythmic sounds. |
| Crash | Crash cymbals do just that; they create that famous crashing sound that cymbals are primarily renowned for outside of the musical world. Available on eBay in a range of sizes, some musicians prefer a large, main crash and a smaller, secondary crash. |
| Splash | Like the crash cymbal, the splash instrument is named for the sound it produces, with a tone similar to an item being dropped into water. Splash cymbals are relatively small and create a uniquely fast sound with very short sustain for ultimate effect. |
| Chinese | Unofficially known as trash cymbals, Chinese cymbals are an effect instrument that create what is often described by musicians as an explosive sound. The upturned ridge is responsible for the unique sound, and also provides a one-of-a-kind design. |
Size of Cymbal
Generally speaking, a good rule of thumb in terms of cymbal size is that the larger the cymbal the louder, bolder, and longer the sound. Smaller cymbals typically have a shorter, sharper, and faster sound, but this is not always the case. Cymbals are measured by their diameter, and tend to range from around 8 to 22 inches. Keep in mind that larger cymbals for sale on eBay may have higher postage and packaging costs. If looking for cymbal accessories such as a case, or other instruments, consider buying from the same seller to reduce these shipping costs.
| | |
| --- | --- |
| 8 - 12 Inches | Splash cymbals are the smallest, standard cymbal available and are typically between 8 and 12 inches in diameter. This smaller size creates a tight and rather high pitched sound when compared to larger types of percussion. |
| 13 - 15 Inches | Hi-hat cymbals are usually available on eBay in sizes ranging from 13 to 15 inches in diameter. The medium size of the instrument means it is very versatile, and is regularly used in various genres including jazz, hard rock, and disco. |
| 15 - 20 Inches | Crash cymbals have the widest range of sizes, coming in sizes anywhere between 15 and 20 inches. 15 inch crash cymbals respond very quickly and create a short crash, whereas the 20 inch versions produce a more long lasting sound. Chinese cymbals typically measure around 18 inches. |
| 20 - 22 Inches | Ride cymbals are the largest standard cymbal available on eBay. The bigger ride cymbals are often known as sizzle cymbals and are primarily used in traditional-style rock. The smaller versions resemble a Chinese cymbal in terms of tone. |
Cymbal Material
Cymbals are very rarely made from one metal alone, and are usually made from a combination of metals, known as alloys. Copper is the primary base metal in most types of cymbal, but the secondary metal is interchangeable, with different metals creating slightly different sounds. Material is one of the main determinants of a cymbal's retail cost, so should be considered when working to a strict budget. The material may not always be listed in the item description on eBay, so if in doubt use the Ask a Question feature to check with the seller directly.
| | |
| --- | --- |
| Bronze B20 | B20 bronze is the most common material used in cymbal making as it is believed to produce some of the highest-quality sounds of any affordable material. The quantities are typically 80 per cent copper and 20 per cent tin which produces a very rich sound. |
| Bronze B8 | Typically made from more than 90 percent copper and less than 10 percent tin, B8 bronze was first used to create cymbals by manufacturer Paiste in the 1960s. The alloy creates a louder sound than B20, and the material has a red, coppery tint. |
| Other Bronze | Alloys other than B20 and B8 are somewhat rare, but do exist. The most common are B6, B12, B15, and B18, where the number corresponds to the percentage of tin mixed with the base copper, although a one per cent discrepancy is considered normal. |
| Brass | Brass is a very affordable material, so it is often used to make lower end cymbals for musicians on a budget. Brass cymbals are often met with mixed reviews, with some arguing they do the job nicely, and others classing them as too low quality. |
| Nickel | Nickel, or silver cymbals, are generally made from a small percentage of nickel, a little more zinc, and a high percentage of copper. They are a good choice for those looking for a cymbal with good sustain, and are also a budget option. |
| Paiste Sound Alloy | Cymbal manufacturer Paiste created their own alloy in the 1980s which they use to make their top-quality instruments. The exact combination remains unknown, but is thought to consist of high percentages of copper and tin, mixed with multiple other metals. |
eBay Buying Considerations
There are some aspects to take into account when buying cymbals on eBay that buyers would not need to think about when buying from a shop. It is important to make these considerations to ensure a successful shopping experience. Firstly, check out a seller's feedback before committing to a purchase. If a seller has a high percentage of recent successful transactions, it is a good sign that future transactions will follow suit. Reviews from previous customers can be read by potential buyers. Secondly, make sure that there is the means to make a payment via a method accepted by the seller. Cheques and Paypal are the most used methods. If buying a very large cymbal, check the seller's location. If local, consider asking the seller if a collection is possible to avoid delivery costs.
Finding Cymbals on eBay
eBay makes finding cymbals online very easy with the dedicated Musical Instruments shop. From here, a range of instruments, including Percussion, can be browsed. By simply choosing Cymbals from the left hand menu, all relevant results will be listed. However, if this is too broad, the results can be narrowed further based on personal preference, such as filtering by cymbal type, size, price, brand, location, and condition, whether that be new or used.
Conclusion
eBay lists a wide range of cymbals that can easily be purchased online. While the buying process is somewhat different to that in a traditional brick and mortar store, it is no more difficult. In fact, as cymbals can be purchased without needing to leave the home, it is perhaps even easier. Be sure to browse the listings thoroughly, and purchase from a reputable seller.