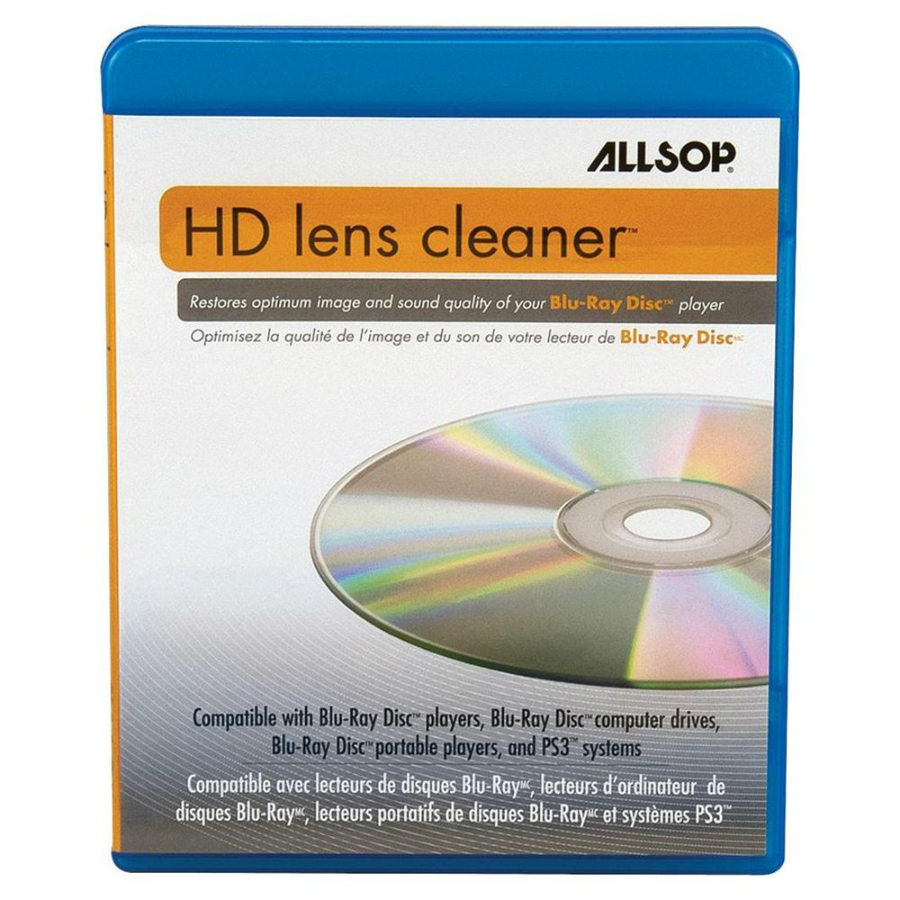 The DVD player is one of the most popular media devices of recent years because of its relative inexpensiveness and the potential for data storage and entertainment. To get the most out of a DVD player, it is important to perform the proper maintenance; if a DVD player is not working properly, a quick lens cleaning is usually a solution that works. Buying a DVD lens cleaner is something that many people do sooner or later who want to get mileage out of their DVD player. A proper lens cleaner improves the playback and fidelity of a DVD, as well as maintains a player's lasers at optimum performance.
DVD lens cleaner is widely available, as DVD players are near ubiquitous, which means a person generally has no problem acquiring what they need to properly maintain them. Still, quite a few people buy their lens cleaners online; eBay has a rather good selection of items, and it is easy to find exactly the brand or type of cleaner that is needed. A successful purchase on eBay requires a buyer to be familiar with navigating the site, comparing the many options, and being aware of the options for DVD lens cleaners and the types of cleaners available.
Navigating eBay
It is easy to find what is needed on the eBay site because all that a buyer needs to do is navigate to any page on the site and type the keywords of a product into the search bar. Typing in "DVD lens cleaner" results in hundreds of items. Choosing just one or two from that number seems overwhelming, but there are ways to narrow down and order the results. One way to narrow down results involves using the site tools provided on eBay. It is possible to filter down a result list by condition, price, or location.
Another way to get results that are closer to a buyer's preferences is to enter a more specific keyword or phrase into the search bar. For instance "wet DVD lens cleaner" provides solutions that use cleaning fluid. A phrase like "Maxell lens cleaner" provides product results with the Maxell brand only, although unbranded lens cleaners may be just as effective and cost less. Using specific keywords provides relevant results, however, if a buyer wants to browse, a keyword that includes a broader category of products is more beneficial.
Types of DVD Lens Cleaners
Buying a DVD lens cleaner is relatively simple, as most lens cleaners are similar. Still, it is recommended that consumers know which type of cleaner is most compatible with their DVD player.
| Type of Lens Cleaner | Description | Advantages |
| --- | --- | --- |
| Wet | Uses a cleaning solution or fluid on the DVD cleaner | Often more effective than dry lens cleaners |
| Dry | Uses no cleaning fluid, just the disc | Less messy; simply pop the disc into the player or drive |
Many DVD lens cleaners today are wet or dry types, so they are rather flexible for someone who wants to see which type works best for their particular player. Keep in mind that the many brands and companies that manufacture these cleaners do not put out the same type of disc or cleaning solution. While the selection on eBay is massive, it does not mean that all types of lens cleaners are appropriate for a particular DVD device. A buyer has to compare the cleaners and determine which product is best for a particular need or device.
DVD Lens Cleaner Options
As mentioned earlier, properly maintained electronics last longer and provide better sound and video quality than when they are neglected. A lens cleaner is one of the easiest ways to look after a DVD device. A DVD lens cleaner is usually a kit composed of a disc, or a couple of discs, with or without one or two small plastic bottles of cleaning solution. On the underside of the cleaning discs, there are several small, soft brushes that are responsible for the cleaning job.
Brushes
Make sure the brushes are appropriate for the job; the laser or lens of a DVD player is delicate, and a brush that is too rigid could skew the laser or damage the player. See that the brushes are installed properly and are stable, or they may fall off into the mechanism and cause more problems, rather than help.
Cleaning Fluid
Some people say that dry lens cleaners only take care of dust and not much else. Others say that some cleaning fluids are ineffective, or too potent that they ruin the lens. To make sure the DVD lens cleaner is ideal for the task, begin researching the many brands and products available. eBay forums and blogs surely have a mine of relevant information.
Manufacturer
There is no significant difference between various DVD lens cleaners at first glance but different manufacturers have different formulas and designs. Doing a little research into the performance of various brands of lens cleaners can give valuable insight into the kinds of lens cleaners that are most effective for cleaning the DVD player lens. Asking questions at tech and consumer electronics forums is a good idea, and the eBay forums are also a good resource.
Buying a DVD Lens Cleaner on eBay
The eBay site is one of the most popular retail websites on the Internet, catering to many sellers, products, and buyers all over the world. To make a satisfactory purchase on eBay, there are a number of things to keep in mind.
Product Comparison
Nearly everyone can become a buyer or seller on eBay, which has many advantages, including a range of prices for the same product. It is a good idea to perform product comparisons for lens cleaner if a buyer is wanting to compare the characteristics of two products that are more in-depth than price or condition.
Seller Feedback
The seller feedback is important if a buyer wants to know about the reliability of a vendor. Many sellers on eBay are casual and part-time vendors, so do not forget to read the feedback and comments on their pages before committing to a purchase. Also, remember that buyers make mistakes too, and negative feedback is sometimes understandable. Still, a seller with a recent run of negative feedback should be approached cautiously. Do not simply check the positive and negative feedback percentage. A seller with 500 feedback comments and a 98 per cent positive ratio is worth looking into just as much as a seller with 20 feedback comments and a 100 per cent positive rating.
Most sellers list their selling policies on their profile or include them somewhere in a product description. Some sellers offer one-day shipping, more than one way to pay, insurance, or free shipping. In any case, there are eBay site tools that can be used to filter some of these factors.
Product Description
Read the product description thoroughly because the terms of the sale or auction may be included. A good description has a concise and accurate description of the actual item, including photos. The photo of the described item should be included in the listing, not just a generic photo from a website of the product manufacturer. A product description page that is professional is a good indicator that the seller is conscientious and takes the business seriously.
The eBay site has a way of ranking product condition, although many listing details are more in-depth regarding the appearance or performance of an item. This is not much of a problem when buying DVD lens cleaners, however, which are infrequently purchased as used. A buyer gets more use out of a brand new lens cleaner, and the item can be acquired for only a few pounds.
Shipping and Handling
After a buyer has decided to make a purchase, the one last concern is shipping. There are couriers that are better than others, so it is always prudent to ask which shipping company a seller uses. Most sellers include shipping and handling fees in a listing, so it is simple to calculate the total cost of the product. If a shipping company is not to the taste of the buyer, it is always possible to ask the vendor to switch companies.
Conclusion
Despite the rapidly increasing popularity of media devices that can store greater amounts of data, like portable drives and flash drives, the DVD is still going strong. It helps that DVD players are more inexpensive than other forms of media entertainment devices. To increase the life of a DVD player or DVD drive, a lens cleaner is recommended. A DVD player is still a significant investment, and a buyer gets more satisfactory use out of it when it is properly cleaned and maintained; proper maintenance gives better picture and sound quality for instance.
The eBay site is one of the better places to purchase a lens cleaner online because of the sheer variety and volume available at better than reasonable prices. There are several types of lens cleaners, so always remember to do a little research on the product before buying to get the most satisfactory product as well as a better buying experience.