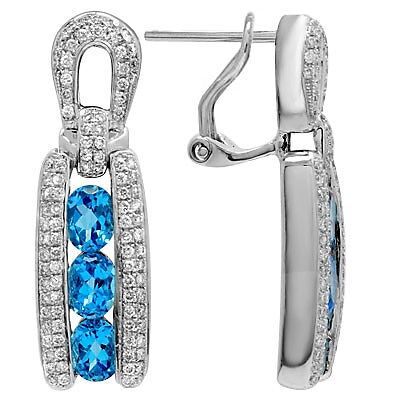 Designer earrings are earrings that have been designed either by notable jewellery designers or are associated with prominent design houses. While many top fashion houses are more associated with the trendsetting clothes they release season after season, many fashion designers are now designing their own jewellery lines to accessorise their latest clothing creations. Designer earrings may feature semi-precious stones, and are designed to be fashionable as well as affordable. Designer jewellery fits in the middle between fine jewellery and costume jewellery.
Designer jewellery can be found at traditional brick and mortar jewellery stores, or at online venues such as eBay. When buying fine jewellery or designer earrings, the buyer should consider the style of the earrings, whether stud, hoop, or drop, as well as the purity of the metal and the quality of the gemstone, if any. The buyer should also consider what clothes and shoes are appropriate to wear with the designer earrings. Before buying from a retail jeweller on the high street, who often has very limited stock, a buyer should consider browsing eBay's extensive listings of designer earrings.
What Are Designer Earrings?
Jewellery is really all about expressing oneself. Women, as well as men, who feel an affinity with a particular brand name or designer, often accessorise their outfit with designer accessories like designer earrings. Any earrings created by famous jewellery designers is often termed 'designer earrings'. Designer earrings are often produced in limited quantities and sold in specific markets or out of specific shops. One is able to identify designer earrings by way of motifs associated with the brand or the designer. A pair of earrings may also carry some identifying marks that identifies the designer.
Art Jewellery Earrings
Art jewellery can be considered a subset of designer jewellery. These earrings are fashioned from cloth, paper, beads, clay, precious and non-precious metals, and varying kinds of wire. Art jewellery is made utilising unique techniques and various materials. The piece is often signed by the artist. Art jewellery earrings are created and sold one piece at a time, with no mass marketing or manufacturing involved. Such earrings are sold directly to the buyer by the jewellery designer, using no middle man.
What to Look For When Buying Designer Earrings
Designer earrings are synonymous with quality materials and the finest craftsmanship. When shopping for designer earrings, especially online, the buyer should consider the purity of the metals, and the condition of the earrings. A buyer can often pick up a fine pair of designer earrings at a great price if the buyer purchases them in used condition. Therefore it is important that the buyer knows what to look for when assessing the condition of a pair of used designer earrings listed for sale.
Designer Gold Earrings
Gold is one of the most popular noble metals used in jewellery making. The price is tied to the purity of the metal and the purity is expressed in karats. Purity can range from 10 karats to 24 karats, with 24-karat the most expensive. Listing the purity is not required by law, but designer jewellery is marked with the number denoting the purity.
A buyer can choose between stud earrings, drop earrings, or designer hoop earrings. Gold earrings can be worn with nearly any type of clothing, for any type of occasion. For causal wear, gold ball studs are a popular choice, and can be worn by women and girls, as well as by men. This type of earring is often paired with jeans and t-shirts, or even shorts.
For a more formal occasion, gold earrings set with precious gemstones or diamonds are appropriate. Hoops, drop earrings are considered the dressier types of designer earrings. Because designer gold earrings come in such unique designs, they are often worn to make bold and at times daring fashion statements.
When purchasing designer gold earrings online, it is important to read the listing carefully to determine whether the earring is truly designer or fine jewellery. Does the listing have information about whether the earrings are new or used? Is there information about whether the earrings have ever been damaged? Look closely at the photos of the earrings and note any visible scratches, dings, and dents. Look for any signs of bent or dented hoops. It is recommended that if a buyer has sensitive skin that they avoid light coloured gold, as some earrings alloyed with nickel may provoke skin irritations.
Designer Platinum Earrings
Because platinum is one of the most expensive precious metals used to make jewellery, it is generally only found in designer or fine jewellery. Platinum has a white sheen and can be mixed with iridium, palladium, ruthenium, rhodium, or osmium. Platinum is more expensive than gold, and because of this, platinum earrings are more often worn only for formal occasions.
These beautiful and shiny earrings can start to show wear, so a buyer should be sure to study the photos of the earrings carefully when shopping for designer platinum earrings online. The buyer should always check for evidence of wear and tear, as this could put the buyer in the position to negotiate a lower price.
Designer Silver Earrings
Fine silver and sterling silver is the most common metals used to make designer or fine jewellery. Silver earrings can be worn for any occasion, depending upon the style, and by any person, man, woman, or child. For casual wear, choose a stud earring, and for formal wear think about wearing hoop, or drop earrings.
There are a variety of beautiful and unique designer silver earrings available online. Before buying any specific pair, be sure to research the earrings carefully. Look closely at the picture of the earrings to see if there is a stamp showing the purity, or the 'fineness', of the silver. If the earrings seem to be tarnished at all it could be evidence of oxidation, but it also could indicate that the silver plating has started to rub off. Some base metals are plated with a thin layer of 0.99 per cent pure silver to give the designer earrings the appearance that the earrings are made from finer silver.
Designer Pearl Earrings
Real pearls from the ocean are very rare, making any designer jewellery made with them very unique. Because pearls are so rare, most designers of fine jewellery use cultured pearls in their creations. Generally women wear this style of earring, and pearl earrings are more appropriate with evening formal wear.
Any evening wear such as stylish dresses or formal slacks and jacket would be very appropriate to wear with any style of designer pearl earrings. When looking for designer pearl earrings online, read the listing to see whether the pearls are natural or cultured, and check if the setting is secure by examining the photos very carefully for any gaps.
Designer Diamond Earrings
Diamonds are one of the most sought-after of stones and designer diamond earrings are generally worn for more formal occasions. Choose a beautiful evening dress or formal dress trousers to pair with diamond designer earrings. Although in the past women primarily wore diamond earrings, many men now wear diamond stud earrings. The unique features of designer earrings paired with the beauty of diamonds creates a look that cannot be surpassed.
How to Buy Designer Earrings on eBay
When you are ready to buy a pair of designer earrings on eBay, start your search by entering keywords that describe the designer earrings you are looking for into the search bar at the top of eBay's home page. For example, if you enter 'designer platinum earrings' into the search bar, the site's search engine returns listings that match the search query. It is advisable that you don't use a search query that is overly specific as the search engine may return no results. It is better to go with a more generic search query and then sort the listings by selecting the search filter on the results page.
You can narrow the search results based on the purity of the metal, the nature of the gemstone, and the style of the earring. If looking for designer earrings, you can specify a favoured brand. eBay offers current listings for such notable designer brands as Armani, Chanel, Vivienne Westwood and Tiffany and Company. To sort the listings by brands, simply check the boxes next to your favourite brand names.
When you have decided upon the pair of earrings you want to buy, be sure to read the item descriptions carefully, as mentioned above. If you need more information, or better close-up photos of the earrings, contact the seller who posted the listing. Contact the seller by navigating to their member profile and then clicking on the contact link.
Conclusion
Designer earrings can be found in a variety of styles and materials, that range from plated base metals to the finest in silver and gold. Most designer earrings have semi-precious stone settings, but diamonds are forever, and jewellery designers certainly favour the lustre of diamonds for their creations. Some of the most notable fashion houses in Europe and America also design earrings. From Armani to Tiffany and Company, there is an entire world of gorgeous earrings to choose from. Designer earrings don't come cheap. However, there is a huge market for barely used designer earrings. One just needs to know what to look out for when shopping for used designer earrings online.
eBay can boast a dizzying array of choices when it comes designer earrings. When shopping on eBay, make sure to examine the photos of the earrings listed for sale and note the condition of the designer earrings. It is a good idea to read the descriptions of the earrings very carefully. Does the seller offer any information about whether the earrings have been repaired in the past? Are the earrings new or used? When buying designer jewellery on eBay, it is important not to be dazzled by a designer brand. Earrings are very personal accessories. One should still choose a pair of earrings that foremost complement a wearer's outfits and sense of style.