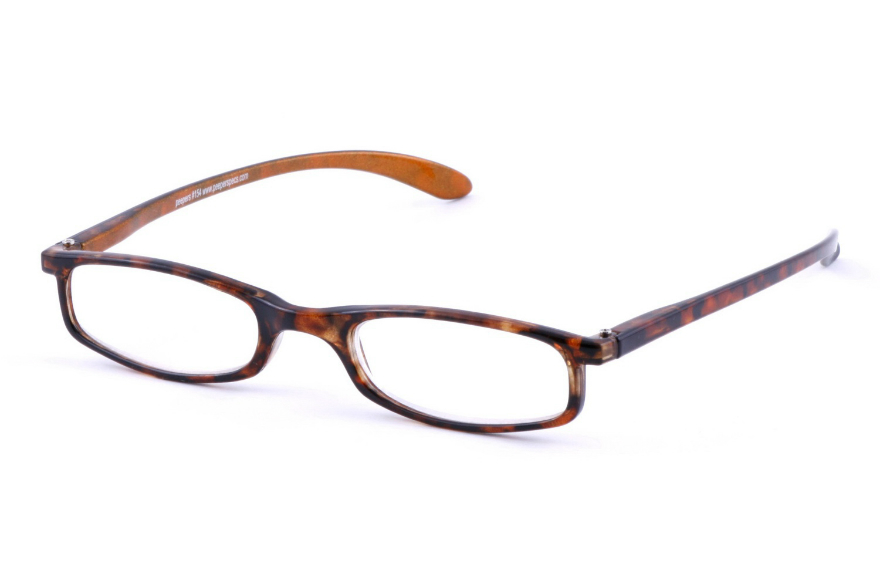 Glasses are not only a necessity for those who need prescription lenses, or glasses for reading. They have also become a key part of an individual's personal style, with designer glasses from a range of different brands becoming increasingly popular. Glasses are available to meet a variety of different needs, with frames featuring many different styles, from modern rimless designs to the unusual pince-nez, based upon a style of armless glasses popular in the Nineteenth Century.
When purchasing designer glasses, it can be important to not only ensure that the lenses are suitable to the needs of the wearer, but also to pay attention to the size, shape and design of the frames. eBay offers a range of different styles and types of glasses, including a wide variety of designer glasses.
Frame Size
One of the key factors to consider when purchasing a pair of designer glasses is the size of the frame.
Frames will usually have their dimensions represented by a series of three numbers. The frame sizes are normally measured in millimetres.
The first number is the lens diameter, representing the size of the lens present in the frame. The size of the lens is often primarily determined by the style of the frame.
The second number represents the width of the bridge, the part of the frame that rests upon the nose of the wearer. This needs to be small enough to remain stable on the wearer's face, but not so tight that it pinches.
Finally, the third number represents the length of the arms of the glasses, which need to fit comfortably onto the wearer's ears.
The right size of glasses will not reach any higher on the wearer's face than the line of their eye brows, while the bottoms of the lenses should not rest on their cheeks.
Some designs of frame may be larger than others, and it can help to match a smaller, less pronounced design to those with smaller faces. Small glasses on a larger face will be uncomfortable, while glasses that are too large are liable to fall off.
Designer Glasses Frame Design
There is a wide choice of popular and more unusual frame designs available for those looking to purchase a pair of designer glasses.
| | |
| --- | --- |
| Browline | Browline glasses were particularly popular in the 1950s and 1960s, though have remained a widely available and popular style. The distinctive characteristic style of these glasses is their bold, thick upper frame. This section is commonly made out of plastic, with the rest of the frame made out of aluminium. More recent designs often have a plastic bridge. |
| Cat Eye | This type of frame was prominent in the 1960s, and remains a popular choice today due to their retro, vintage appeal. Cat Eye glasses have a flared design where the arms meet the rims, and are available in a wide variety of colours and materials. Cat eye glasses are generally only available for women. |
| Horn-Rimmed | Horn-Rimmedglasses have been popular at various points throughout the 20th and 21st centuries. The rims of these glasses are prominent and thick, drawing attention to them on the wearer's face. Historically made out of horn or tortoise shell, more recent examples use thick plastics to emulate these materials. |
| Pince-Nez | An unusual style of frame, Pince-Nezglasses do not have arms, instead remaining in place on the wearer's face by pinching the bridge of the nose. Emerging in popularity in the late nineteenth century, modern versions are available, if not widely available, particularly for use as reading glasses. |
| No Lens | No Lens, sometimes called lensless glasses, are frames that have no lenses in place. These glasses are worn for their appearance alone, and are available in a wide variety of colours and materials. These glasses are also often based on the designs of other frames, such as horn-rimmed or cat eye glasses. |
| Rimless | Rimless glasses have no rims, with the lenses instead mounted directly onto the bridge. These type of glasses became increasingly popular in recent times, with the development of strong, lightweight materials, such as titanium frames and polycarbonate lenses. Being lightweight means the glasses can sit comfortably on the wearer's face. |
Face Shapes
A key way to discern if a particular pair of glasses is suited to a wearer is to compare the frame shape and design to the outline of the face. There are a number different general common face shapes, and the best results can be achieved by finding a pair of glasses which complements the shape of the wearer's face.
| | |
| --- | --- |
| Round | A person with a round face, with features such as a wide forehead and round chin, should avoid rounder shaped glasses. Square shaped frames with a bold, prominent design and a clear bridge can work well. |
| Oval | Those with oval faces have proportioned, softly rounded features, and can suit a wide variety of frame shapes and designs. Glasses with wider designs can also look good on this face shape. |
| Square | Those with square faces have features such as a wide jaw and square chin. Angular frames can emphasise these features, and should generally be avoided. Rounder frames can compliment this face shape well. |
| Rectangle | Those with a rectangular face shape have a longer head and nose, with a strong jaw line. Larger frames can work well with this face shape, particularly those with square shaped lenses. |
| Diamond | The diamond is a less common face shape, featuring high cheekbones along with a narrow jaw line and forehead. Glasses with distinctive rims, such as a pair of horn-rimmed glasses can help to draw attention to the eyes. Rimless frames with oval lenses can also work. |
Designer Glasses Lens Types
There are a number of different lens types available that can be suitable for different users depending on their requirements.
Lenses are available which are designed to help the wearer with specific sight issues. Lenses are available for those who are either long-sighted or short sighted.
Some lenses are available which can offer suitability for different distances of vision on different parts of the lens. The lenses of bifocal glasses have two parts: one for more distant vision and another, lower down area more suited to close up tasks such as reading. Progressive lenses have a much smoother transition, meaning there are no segment lines across the user's vision.
Also available are photochromic lenses, which react to sunlight, most commonly responding to UV radiation. These lenses darken when in sunlight, serving a function much like sunglasses, and will gradually lighten once in a darker space.
Lens Materials
There are a few different materials often used in lenses, and each has different properties.
Glass is the traditional material, and is still used in many glasses. It is strong and resistant to scratching; however, it is also much heavier than other alternatives and can shatter.
Plastic lenses are much lighter than glass, and are much less likely to shatter. They can also often offer a greater deal of protection against UV light. Plastic lenses, are however, more likely to shatter, though such lenses often come with an anti-scratch layer which can help to prevent this.
Polycarbonate lenses are a type of plastic lens that are often both thinner and lighter than other materials. Much stronger than other types of plastic or glass, this type of lens is a popular choice for glasses for children, and is also used in safety glasses.
Conclusion
eBay offers a wide range of glasses, making it easy to find a pair to suit anyone, and to find a specific pair of designer glasses, it may be easier and more effective to make use of the search function available at the top of every page. Searches can be made to cover the entire site, or to return results from within a specified category. More in depth information on getting the most out of the search function can be found on the Search Tips page.
Glasses designed for both men and women are available from many different brands, as well as an enormous selection of unisex glasses. Whatever style, frame or lens is needed, it is easy to find the right pair of designer glasses on eBay.