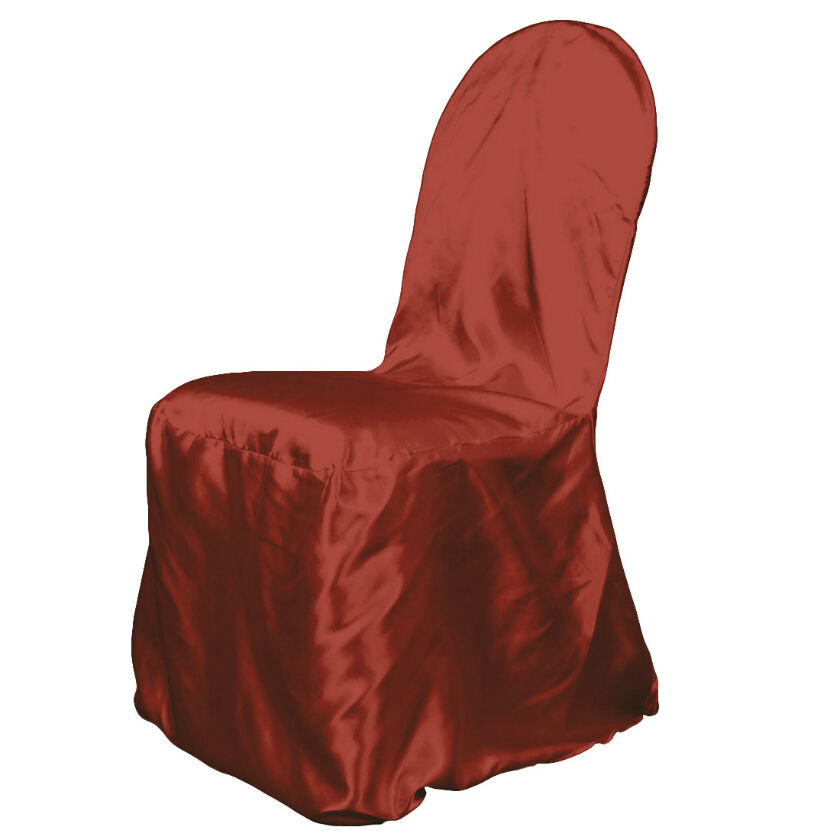 Traditionally, furniture covers have played a secondary role when it comes to home decor and style. In recent times, however, furniture covers and, in particular, dining room chair covers have been gaining popularity. They are widely available in a variety of fabrics, colours, and patterns that all add to the feeling of sumptuousness and elegance in a formal dining room.
A liveable dining area in any family home requires a balance. It needs to be able to withstand the rough and tumble of family living as well as have the ability to look elegant on formal occasions. It is also important that re-styling an important room such as a dining room does not come with too large a price tag, so a cost effective way of tying together new styling with existing furniture is a welcome idea. When choosing a set of dining room chair covers, one has a range of factors to consider such as type of chair and fabric as well as the texture and colour of the fabric. The online website eBay can help a prospective buyer narrow down the choices to find the right chair cover that can enhance the look of a dining room.
Using Dining Room Chair Covers to Transform a Room
Modern fabrics and approaches to fashion and styling mean that there is a wide variety of choices available to the consumer. With a little thought into aesthetics and functionality, one may use dining room chair covers to transform a dining room into one that not only is welcoming to guests but is also flexible enough to be used everyday.
What Type of Chairs Can Be Covered
Dining room chair covers work great with chairs that have square frames and rectangular backs. Chairs with straight lines can wear loose fitting fabrics in a stylish way, but round back chairs, or chairs that have angled backs, may benefit from tighter fitting fabrics and styles. More shapely chairs can also benefit from made-to-measure dining chair covers.
Different Lengths of Chair Cover
In a formal dining room, tremendous impact can be created by using full length dining room chair covers that fit over the chair and drape fabric loosely to the floor. The covers can have tie-backs that can fit chairs snugly to create a dramatic effect. A dining room chair cover can also be longer than the chair's height to create a feeling of sumptuousness with fabric spread around the base of a chair. For less formal occasions, a half length cover can be used to slip over the seat and legs of a chair to create a new style that fits in with a decorating scheme.
Using Texture and Colour to Full Advantage
Dining room chair covers are a great way to keep a dining room set in tune with a current interior design scheme. They offer a cost effective way of keeping the colour scheme in a room harmonious without spending too much money redecorating a dining room. It is a good idea to consider the type of fabric used in a dining room chair cover in the process of decorating a room. A dining room can be made to look and feel more formal with the use of luxury fabrics.
Damask is a fabric that can add depth to the styling in a dining room because of the textures that are woven into the fabric. Damask dining room chair covers can easily add a feeling of luxury at little expense, but they may not be appropriate in less formal settings where simpler fabrics may work better. Traditionally, damask is made in contrasting colours, and these can lend an air of antique style to a dining room. Damask dining room chair covers in single-coloured damasks such as ivory present an understated look that works very well in more modern settings. Likewise, dining room chair covers in darker colours may be more appropriate in establishing a formal tone for the room.
Dining room chair covers can also provide a more tailored look by using piping around seams. Piping can be in the same colour as the main fabric or can be in a contrasting colour for maximum impact.
Using Dining Room Chair Covers for Protection
Many dining room chair covers offer an additional level of protection to the furniture they are used with. Chairs made from softwood or hardwood can be damaged if they are exposed to wine or other liquids. The quality fabrics used to cushion and cover a dining chair seat can also be damaged by spilled liquids such as wine. Waterproof dining chair covers protect furniture with waterproof inserts over the chair cushion. The covers are treated with repellant that stops liquid such as wine from soaking through and causing damage.
A Dining Room With a New Look
As modern styling tastes change with increasing speed, it can be difficult to reconcile styling changes with existing furniture such as dining room chairs. The options of replacing dining room chairs and reupholstering are ones that involve considerable expense. Choosing a new set of dining chair covers is a simple way of drawing together existing furniture and new items as well as decorating styles without incurring too much expense.
Different Fabrics for Different Effect
A wide range of fabrics are available in dining chair covers, but traditional fabrics such as damask, silk, and linen lend themselves to dining chair covers particularly well.
Linen is a fine fabric made from flax, and it has many uses. Linen has long been synonymous with the dining room with its use in making fine tablecloths and napkins. The use of linen is now extended to high quality dining room chair covers as well. Linen dining room chair covers incorporate simple and clean textures and lend fresh, simplistic styling to a modern dining room.
Despite its reputation as a thing of fragile beauty, silk is in fact a durable fabric. Combine its durability with its visual qualities, and silk makes a fabric that is hard-wearing and has a visually impressive impact when it is part of a carefully designed dining room.
Damask is actually a type of weave rather than a material in itself. It is a heavy fabric that is woven to have traditional patterns in the weave, and these patterns lend an air of luxury to a dining room.
For a chair with a square back that accommodates a tailored fit, dining room chair covers made from faux-suede can be a stylish solution. This fabric appeals to vegetarians and can be cleaned easily, making it an attractive addition to a dining room that needs to be child friendly. The texture of faux-suede makes it a good choice when half length or perfect fits are required.
For everyday use, where a degree of style is still desired, half length dining chair covers made from cotton are a practical way forward. Easy laundering and availability in a myriad of colours mean that dining room chairs can be covered and styled to great effect without involving too much expense.
Buying Dining Room Chair Covers on eBay
Finding a set of dining room chair covers on eBay is very straightforward. Type the phrase into the search bar on the eBay homepage and you get a listing of items with descriptions that contain these words. If you cannot find what you are looking for, eBay suggests other search phrases, and a simple click executes those searches as well.
Once you have narrowed down your choice, you can examine individual listings in more detail. It is always a good idea to check the photographs attached to a listing. The better the photograph, the better you understand what the item looks like. It is also necessary to review the item description to find out the specifics about the item being sold. Once you have found an item that you would like to purchase on eBay, it is a good idea to do research on the seller to ensure that you are dealing with someone with a good track record on eBay. Simply click on seller information when you are viewing a listing, and you can see the feedback received by the seller from prior customers.
Conclusion
Designing a new decor for a dining room is an exciting process. It becomes all the more exciting when one finds a way to update existing furniture at a reasonable cost. Reflecting modern styling trends is a constant challenge, as trends change quickly, and it is simply not practical to replace expensive items of furniture every time a dining room is redecorated. The addition of carefully chosen soft furnishings such as dining room chair covers presents an effective solution to this dilemma.
The online auction site eBay is an ideal resource for dining room chair covers, because the website has numerous listings to choose from. Although traditional bricks-and-mortar high street retailers sell dining room chair covers, one may not find the variety of listings, some of which may be entirely unique, that eBay offers. The convenience of shopping from the comfort of one's home is another advantage of using the website. The process of finding the appropriate dining room chair covers can be as easy as logging on to eBay and using the website's user-friendly functionalities.