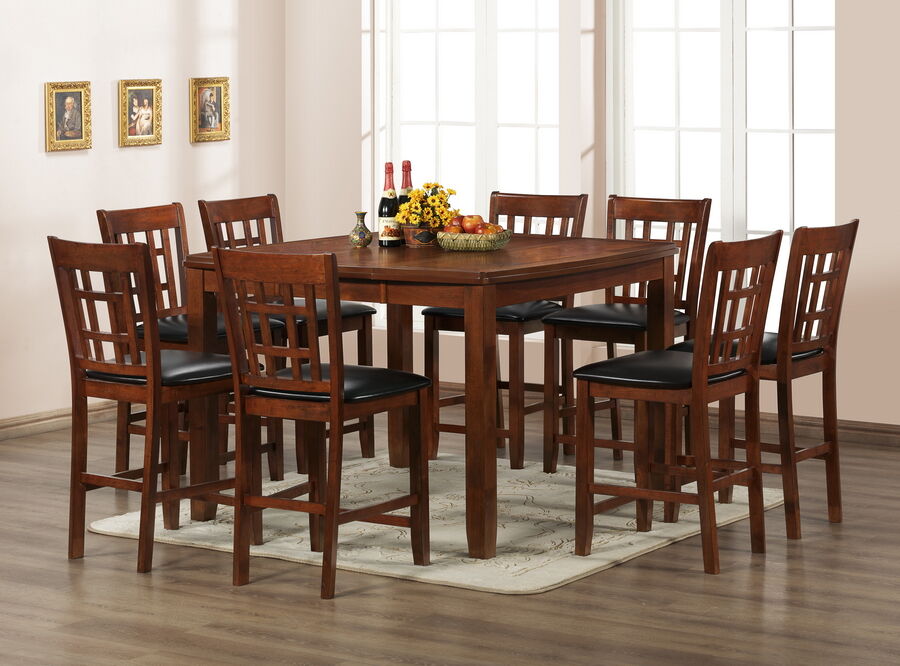 For anyone looking to buy a dining set, there are few, if any, sources that can match eBay when it comes to the sheer volume available. Locating one that is suitable can seem a bit daunting and overwhelming at first, but, in fact, all of the available dining sets can be presented in a logical way that makes locating the most suitable one quite straightforward. All that's required is to spend a little time getting aquainted with how eBay arrange and present their millions of items (including thousands of dining sets) using their item-categorisation system.
Bidding for Dining Sets
Many dining sets are available as auction items. The seller specifies a starting price and those who want any particular dining set attempt to outbid each other until the auction ends at an exact pre-determined time. The highest bidder at that time is the winner, unless the seller has set a reserved price on it and that price wasn't reached. It's important to understand that there is a legal issue involved in bidding. Whoever makes the winning bid is legally obliged to pay. It's not acceptable to have a change of mind, although extenuating circumstances may excuse any buyer who is unable to complete the transaction due to circumstances beyond their control.
Buying Dining Sets Directly
While many dining sets are available for auction, many sellers choose to make their dining sets available for direct sale with eBay's 'Buy it Now' scheme. Although auctions can often result in a great bargain for the winning bidder, many people prefer to buy the dining set immediately for the price advertised by the seller. It saves time and there's no uncertainty about whether they'll even get to buy the dining set at all, unlike with auctions where someone may be waiting to outbid at the last moment, literally seconds before the auction ends.
Buying with Confidence
Both new and used dining sets are available for sale or auction on eBay. Most new dining sets will be from established retailers and available for direct sale, while second-hand dining sets are more likely to be from members of the public selling privately by auction. If considering buying second-hand, it's important to ensure the dining set is in the condition that it's advertised to be in. The listing will have a photo included, but that may not reveal all the imperfections the dining set has acquired through normal wear and tear. All sellers want a happy customer, however. The last thing they want is for the dining set to be returned and a "not as described" complaint against them. They'll normally always provide an accurate description of the dining set's condition and will mention any scratches, marks, or other damage. Most people, understandably, are cautious about buying items such as used dining sets online, but there are ways to buy with increased confidence.
Contact the Seller
It's easy to contact the seller to ask any question about a particular dining set via eBay's messaging system. Most sellers are happy to answer any questions and give full information. It also makes for a better and far less impersonal experience.
Buy From a Trusted Seller
While eBay has an excellent record of trouble-free transactions, there are always going to be exceptions, however few and far between. To safeguard against any rogue traders selling substandard goods, it's possible to list dining sets only from sellers whose reputation for selling on eBay is recognised as excellent. Some have been awarded 'Top-rated seller', an accolade that is proudly displayed alongside their user ID. The reputation of all other sellers can be gauged by checking their 'seller rating' score and reading the feedback that they have received from previous customers.
Make Use of eBay's Buyer Protection Scheme
In the unlikely event of something going wrong, eBay offer a Buyer Protection Scheme. This is especially geared towards those who have paid for their item by using PayPal, an eBay-owned financial transaction service that is used worldwide, both in eBay and also completely independently of eBay. They will still try to help even if PayPal wasn't the method of payment used, but they recommend using PayPal for all transactions. Usually it's not necessary to turn to eBay's 'Buyer Protection' scheme if something goes not quite according to plan. It's most often something trivial that a quick call or message to the seller can quickly put right. eBay stress the importance of fostering good relations between buyers and sellers. It makes for a smooth and stress-free business environment. In the event of a buyer having a legitimate grievance with an uncooperative seller, eBay will intercede on the buyer's behalf and ensure that any money paid, including postage, is refunded.
Delivery
Delivery of the dining set will be arranged by the seller, and the method and additional cost (if any) of delivery will be clearly marked on the listing page of that dining set. This will be by an independent professional delivery service, such as Royal Mail. The cost of delivery will have been included in the payment already made. Some sellers offer free delivery as an incentive to buy from them. Most people prefer to buy items near their own location if possible. Few people in Britain would want to order a dining set from Hong Kong, for example, if they can get an equally good one at a similar price from somewhere in Britain. Buying from abroad is certainly possible and in many cases cheaper, but it increases the chance of problems arising, such as damage in transit and difficulty in communicating with the seller if necessary.
How to Find Dining Sets on eBay
With thousands of dining sets available on their site, it's highly recommended to understand how eBay categorise them, or, more accurately, how they enable the sellers to categorise them. The first step to locating dining sets is simply to perform a search for "dining sets" in the search box on eBay's homepage. This returns an unsorted list of dining sets of all types, most of which will be unsuitable because they're the wrong style, size, colour, price, or may not be suitable in some other way. On the left side of the listings page are the categories in which the sellers have chosen to list their dining sets. Each category contains the number of dining sets currently available and also some related subcategories. Below the list of categories, there are various filtering check-boxes that enable the searcher to narrow their search to, for example, particular brands and styles of dining sets. These enable search customisation so that it returns a list of dining sets far closer to what's required. The main categories and subcategories in which dining sets are most commonly listed are:
eBay Categories and Subcategories Containing Dining Sets

Category

Subcategories

Home, Furniture & DIY

Furniture

Cookware, Dining & Bar

Home Decor

Celebrations and Occasions

Garden & Patio

Garden & Patio Furniture

Barbecuing & Outdoor Heating

Antiques

Antique Furniture

Period Styles
Conclusion
Millions of customers worldwide use eBay safely and without any trouble. Security is eBay's highest priority for the simple reason that the site couldn't possibly survive if no-one was able to trust it. They put a lot of effort into keeping the service safe and secure for all of their users, whether buying or selling, and in that regard, they have been successful in acquiring a good reputation. In short, for anyone interested in finding and buying dining sets online, eBay is as safe a source as any and far more secure than many.