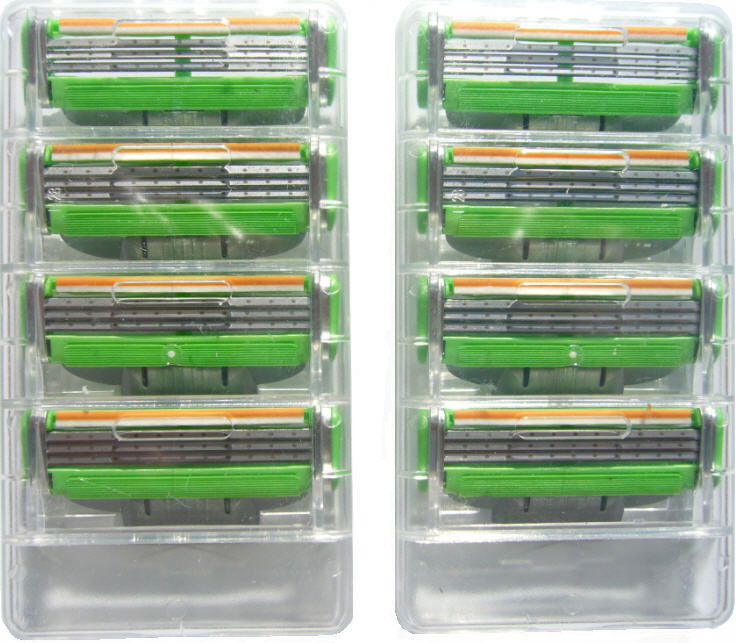 eBay is great place to buy disposable and reusable razors and blades. Regardless of the style, power type or manufacturer, eBay stocks a wealth of disposable and reusable razors and blades.
The purpose of this guide is to inform the reader all about disposable and reusable razors and blades. The guide will also explain how to purchase these hair removal products from world famous shopping website eBay.
As one of the leading brands in the ecommerce world, eBay offers its customers a choice over purchasing items from the website. Shoppers can buy products immediately ('Buy It Now') or they can bid for items in an auction format ('Bid Now') attempting to get the best price available for that item.
eBay has the most competitive pricing and the most flexible payment options on the internet.
Razors
A razor is a bladed tool that is used to remove unwanted facial hair (and sometimes body hair too). The razor has been around for thousands of years dating back to the Bronze Age (around 18,000 B.C.) and prehistoric times where they were made from a variety of materials including flint, sharks teeth and clams shells to name a few.
The razors modern day equivalent however, was not imagined until the late 18th century. And it was not until the 1930s that the first electric razors would appear thanks to infamous shaving brand Remington.
Disposable Razors
As their name suggests, disposable razors are intended to be used several times and then thrown away. Disposable razors are generally made from a lightweight material like plastic and typically host either single or double-edged blades in the razor head. Disposable razors can contain as few blades as just the 1 and as many as 4 blades.
These razors are the most affordable razors to buy and often come in large packs with at least 5-10 razors if not more (some packs include as many as 25 disposable razors). Some men even find that they can use a disposable razor as many as ten or twelve times before the blades go blunt.
Reusable Razors
Reusable razors (also known as 'refillable' or even 'safety' razors) of course are shaving devices that are meant to be used over and over instead of being thrown away after several uses like their disposable counterparts. The blades in reusable razors are very sharp but are often paper thin so that several blades can be comfortably homed in the razor head (the top of the razor where the blades are).
These razors host interchangeable razor heads that should be changed every couple of months (individual differences may vary according to the amount and type of hair you will be shaving) in order to maintain a smooth, close and comfortable shave.
Refillable razors are more costly to buy than disposable ones as they have ergonomically designed handles and incredibly sharp blades presenting a smoother shave with greater control.
Many top of the range reusable razors include some advanced features like a vibrating razor head to make shaving easier or a moisture-inducing razor head that dispensing shaving cream whilst shaving. Some reusable razors may also feature a beard trimmer or facial hair styler embedded in the razors handle to offer a comprehensive facial hair removal tool for even the hairiest of men.
Refillable razors are specifically designed to last the test of time as well as offering a close and comfortable shave.
Disposable vs Reusable Razors
Whilst both disposable and reusable razors essentially offer the same thing- a close shave- they both host their own multitude of advantages and disadvantages.
Disposable Razors
Disposable razors may appeal to travellers and frequent flyers as they can use them and throw them away- making their luggage lighter. Disposable razors are also often a good idea for men who suffer from irritated skin, acne or dryness after shaving as they are an affordable way of establishing which razor works for them and their skin. Throw away razors are prone to rust as the blades material is often a cheap metal with no specialised coating like that of refillable razors.
Disposable razors are also worse for the environment than reusable razors as of course they are meant to be used and then thrown away (the whole razor is disposed of unlike just the blade cartridge). However, many companies that make disposable razors are now being a lot more environmentally conscious and are producing razors made from recycled plastic and materials.
Reusable Razors
Reusable razors are generally a lot more durable and versatile than their throw away counterparts as a lot more time and money has been spent researching and developing them. Also as companies have spent so much time and money manufacturing reusable razors, these products have been specifically tested to see how they work whilst being used and the effects that they leave on a man's face in order to present the best razor and shave possible.
Reusable razors are of course more costly than disposables as they are intended to be used over and over and the fact that their materials cost more means the price must also be increased. However many men find that as they only get between 2 and 8 shaves from a disposable razor until they need to be thrown away; reusable razors still offer the best value for money than disposable ones.
Refillable razors are typically very affordable to purchase but some people may be put off by the relatively high price of the new blade cartridges. Whilst the price for a new pack of blade cartridges may seem high initially; it is worth remembering that the blades do not need to be changed that often and as there are multiple new blade cartridges in the pack, one pack will last for a couple of months at the very least.
The blades in reusable razors are typically a lot stronger than those in disposable razors and whilst these throw away razors may be okay for shaving your chest or your girlfriend's legs; sometimes they just aren't up to it when the face is concerned as it has been found that some men's facial hair is up to 50% thicker than the hair on women's legs.
How to buy Disposable & Reusable Razors & Blades on eBay
eBay is a great place to buy disposable and reusable razors and blades. No matter the style, power type or manufacturer of the razor or blades, eBay stocks a vast range of disposable and reusable razors and blades to suit everyone regardless of their preference.
Finding the desired item on eBay has never been easier thanks to its search functions. Using the search toolbar, eBay customers simply need to enter a manufacturers name or style of razor or blade to be met with pages of suitable search results. Once the customer has looked through the search results, customers can click on the most relevant one to be taken to its individual product listings page.
Each product on sale on eBay has its own listings page, this page contains a wealth of information about the product including (but not limited to): a detailed specification, a product analysis and comments about the items condition and of course photographs of the item.
As such an authoritative name in the ecommerce world, eBay also presents its customers with information about each products seller. This often includes the sellers: eBay rating, selling history and feedback as well as their location.
By divulging the location of the seller, the customer can decide whether it's best to pick up the item or to have it delivered to their door (and pay the postage fee).
Should any customer feel that they still require further information about a product or that they have a question they would like answered, they can do so by contacting the seller.
Once the customer has found their desired disposable or reusable razor or blades, they can begin purchasing. On eBay, purchasing products can be done in two methods: to purchase the item immediately ('Buy It Now') or to bid for the item ('Bid Now') in an auction attempting to seek out the best price available for that product.
All transactions made on eBay are safe and secure thanks to third party payment authority PayPal providing all eBay customers complete peace of mind when purchasing from the infamous shopping website.
Conclusion
There are many issues and factors to consider when purchasing disposable or reusable razors and blades. However with the important information and crucial considerations outlined in this guide, coupled with eBay's highly detailed and easy to use website, buying disposable and reusable razors and blades is easy.
A good disposable or reusable razor will offer the close shave that you've been searching for at a much more affordable price than many electric shavers.
This guide has provide some useful tips, hints, advice and pieces of information about purchasing disposable and reusable razors and blades and what to look out for when buying these hair removal products.