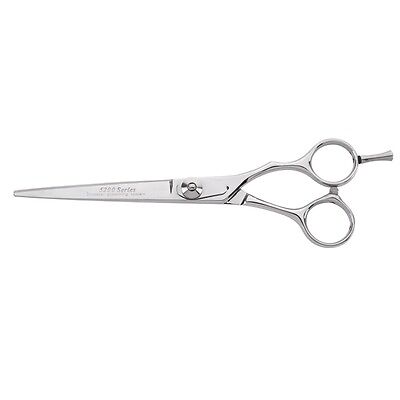 If you plan to groom your dog at home, dedicated equipment is essential. One of the most important items you will buy are dog grooming scissors.
Scissors for dog grooming are available for almost any budget, and your money is likely to go further when you shop on eBay; many sellers offer professional dog grooming scissors at a fraction of their recommended retail price. The better the scissors you buy, the easier you will find it to groom your dog and get the right results.
Choosing the correct scissors will also allow you to deal with your dog's individual needs and ensure grooming is safe and comfortable.
On eBay, dog grooming scissors are listed within the Grooming/ Health care category in the Dogs category of the website.
Types of Dog Grooming Scissors
Dog grooming scissors come in a variety of shapes and configurations, ideal for different tasks and levels of ability. Some dog groomers have preferred brands that they feel offer ideal balance and performance; some eBay shoppers simply want a good pair of grooming scissors for an affordable price.
Whatever the need, one will need to think about the characteristics of the dog's coat to determine which scissors is most suitable. In the majority of cases, more than one pair of scissors will be needed to do the job well and ensure safe grooming.
While shopping on eBay, look for sets as well as individual scissors and compare prices of both.
Rounded scissors

Scissors with rounded tips are ideal for a variety of grooming tasks. They are great for novice groomers and are safe to use on nervous dogs that are more likely to make sudden movements and potentially injure themselves.

Rounded scissors are also suited to grooming areas of the body where injury could be very severe if the scissors slipped. As such, they are used to trim around the dog's eyes and ears; the rounded ends are less likely to pierce the delicate skin in these areas. Rounded scissors can also be used to safely trim the fur on the paws and around the pads.

Ball tip scissors

Ball tip scissors are a variation of rounded tip scissors. They have a more pronounced rounding at the end of each blade and are extra safe. Choosing between rounded and ball tip scissors is a matter of budget and personal preference.

Thinning scissors

Thinning scissors are used to thin out the dog's hair and are useful for reducing volume rather than length. They look identical to thinning scissors used by hairdressers.

For dogs with very thick fur, choose double thinning scissors rather than single thinning scissors. These have serrated edges on both blades, rather than just one side, and can thin out a very thick coat much more quickly.

Coat scissors

Coat scissors are designed for general purpose grooming. These scissors allow the groomer to carry out the bulk of the trimming all over the body.

Designed for comfort over a long grooming session, coat scissors can be purchased in different sizes. Owners of large dogs will generally prefer larger scissors, whereas owners or smaller dogs may prefer smaller scissors.
If one only want to purchase a single pair of scissors, rounded scissors are the safest type of scissors for amateur dog groomers to use. Invest in a professional pair and add other types of scissors later if necessary.
If one plans to groom the dog after bathing, check that the scissors can be used on wet and dry fur before purchase. Some scissors may snag in wet fur, and this can make grooming difficult.
Dog Grooming Scissor Features
When choosing scissors, stainless steel is the most durable and affordable material used to make dog grooming scissors. The majority of grooming scissors listed in the Grooming/ Health care category on eBay are made from this material.
It can be noted that carbon steel scissors are also for sale on eBay. These are ideal for dry grooming. If purchased, carbon steel scissors must be stored in a dry place and coated with blade oil to prevent rusting between uses.
As well as the material, there are a number of other features that are unique to scissors. There may be some terms in auction descriptions that are unfamiliar. The table below covers some of the terms one may encounter while shopping for scissors on eBay.
| | |
| --- | --- |
| Clicker plate tension control | The clicker plate on grooming scissors is used to adjust the tension in the scissors for a more comfortable grip and cut. This allows the groomer to tailor the feel of the scissors to their needs. Often the clicker plate is visible in the eBay auction photos; there is a dial affixed to the blades. |
| Removable finger rings | If the finger rings on the scissors are removable, the groomer can swap them out when they become worn, or switch smaller or larger sizes into the scissors in order to best fit their hands. Finger ring inserts are normally made from rubber and can be purchased on eBay as spare parts. |
| Finger rest | The finger rest is the part of the handle that extends out to accommodate the little finger. With the finger on the finger rest, the groomer is best able to control their grip, and this makes cutting easier. Scissors may have one or two finger rests, and they are sometimes removable. |
Blade Types and Terminology
Like hairdressing scissors, the blades on dog grooming scissors have different characteristics. Here are some of the terms that may come up while shopping for grooming scissors on eBay.
| | |
| --- | --- |
| Hot drop forged | If the dog grooming scissors in the eBay listing are hot drop forged, they will be extremely durable. Hot drop forging is a manufacturing method that helps to strengthen the blades |
| High carbon tempered | High carbon tempering involves heat-treating stainless steel to harden it. This makes scissors longer lasting. |
| Hollow ground | When a pair of scissors is hollow ground, the blades are shaped in such a way that the scissors do not create unnecessary friction as they open and close. This can make grooming easier. Hollow ground blades are also occasionally referred to as inward bent blades on eBay. |
| Sword | Sword blades are shaped so that they are very stiff and can tackle thick dog fur more easily. Some users may find that sword blades do not glide quite as easily as other blade types. |
| Bevel edge | Bevel edge blades are found on most affordable or budget grooming scissors. This type of blade is reliable but can be harder to cut with. On eBay, these blades may be referred to as German style blades. |
| Convex | Professional dog grooming scissors sometimes have convex blades designer for easier cutting. These blades are generally expensive compared to other types and are chosen by professional groomers. |
| Rockwell hardness | The Rockwell scale is a standard measurement of the hardness of a material. The hardness of grooming scissors is scientifically measured and represented as a combination of letters and numbers. |
| Serrated edge | Serrated blades help to grip the dog's coat between the blades as it is being cut. This can make cutting more difficult. |
| Finish | The finish of the scissor's blades is a cosmetic feature of the scissors. Choose between sand finish, mirror finish and others. |
Customisation Options
Additional scissor customisation options make the purchase more practical and personal. The table below describes some of the customisation options found on eBay.
| | |
| --- | --- |
| Colours | On eBay, the buyer may notice that some scissors come with different coloured handles or finger grips. Ask the seller for help if there is preference for a particular colour. Some finger grips can be replaced. |
| Patterns | Vendors on eBay often sell attractive dog grooming scissors that are printed with special designs and patterns. Look for prints such as leopard print, polka dot and snakeskin. |
| Sizes | The size of the scissors needed depends on two factors: the purpose of the scissors and, sometimes, the size of the dog. Rounded scissors tend to be short (around 3.5 inches long including handles) since they are commonly used for close trimming around delicate areas. Coat scissors and thinning scissors can be up to 7 inches long. |
How to Purchase Grooming Scissors on eBay
Dog grooming scissors exist for almost any purpose and budget. On eBay, you will often see professional dog grooming scissors listed at greatly reduced prices, allowing you to get much more for your money than you would if you bought elsewhere.
When shopping, consider these additional factors.
· A good pair of scissors should last a lifetime, so don't be afraid to invest in your ideal pair. Even a good quality used pair of scissors can be improved and refurbished with regular sharpening.
· When making your purchase, you may see a number of drop-down selection boxes above the eBay purchasing buttons on the auction listing. Using these drop-down boxes, select the type of scissors you want and any customisation options such as the size or pattern. You will have the opportunity to check your selections, and the price of the item, on the bid confirmation page.
· If you need several pairs for different purposes, look for a complete set of dog grooming scissors. Alternatively, choose sellers that offer free postage on scissors, or combined postage discounts, so that you can economise on the cost of delivery.