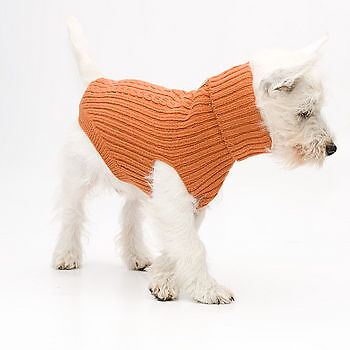 Many people like to dress their dogs in coats and jumpers for purely stylish purposes, but in fact there are many breeds that actually benefit from wearing them at certain times of year. With over 11 million pet dogs in the UK there's a clear demand for clothing and different breeds need different types of clothing in different climes.
Buying dog jumpers on eBay gives buyers plenty of choice in terms of both style and size. The range caters for those who have dogs that genuinely need to be clothed, as well as items which are purely for show and fashion.
Using eBay to buy dog jumpers gives the buyer the chance to look through thousands of different listing before locating their preferred product. The range means that prices are competitive and that buyers can definitely find a product which both suits the dog and fits them properly.
Breeds that Need Dog Jumpers
The main types of dogs which need protection are:
Small dogs – breeds such as thin-coated Pugs and Chihuahuas who are used to warmer climates.
Elderly or chronically ill dogs – conditions such as arthritis can be very painful and an extra layer of warmth is much appreciated.
Greyhounds and Whippets with thin body types.
Shorthaired breeds
Of course you can still buy clothing and jumpers for other breeds of dogs but, it is more important for these types to receive the warmth they need to stay well.
All these types of dog need protection because they find it difficult to generate and retain body heat on their own. A little support in keeping dry and warm is always appreciated by these animals.
Measuring a Dog for a Jumper
Two measurements are needed when fitting a dog for a jumper. Once these measurements are recorded then there should be no problems buying online. The important points are length in inches around the dog's neck and the length of the dog's back from the base of its neck to the base of its tail. If your dog isn't a standard measurement then it makes sense to go for a larger size rather than smaller one. The way the dog carries their tail is also important - if it's carried high on their back then hind leg loops can be awkward and uncomfortable.
Dog jumpers will usually be found with two measurements dictating the size, representing the neck's circumference and the length of the back. Knowing these is essential for buying your dog jumper online.
Getting the dog to wear the jumper may be another story but with gentle coaxing and using their standard commands such as "sit" and "lie down" it shouldn't be long before the dog is used to the new routine. Equally, if jumpers are only worn for travelling outside it could become a trigger for over-excitement and boisterous behaviour. However, this can be calmed in the usual way using the dog's basic training. The more times the jumper is worn, the more used to it the dog will become. However, if the animal shows genuine signs of distress then do not force the issue and consider alternatives if the use of dog jumpers is for the well being of the pet.
Different types of Dog Jumper
There are different types of dog jumper which appeal to different types of owner and also fit different breeds of dog. Elements to consider when buying any type of dog jumper are fabric, the easiness of putting it on and taking it off and ensure the product has good quality zippers and seams. Below is a closer look at the different types of dog jumper:
| | |
| --- | --- |
| Type | Appearance |
| | Coats tend to cover the entire body and include hind leg loops and a space for the tail. They sometimes include a hood and can be waterproof. |
| | Made from knitted material these have a knitted roll down collar, knitted front legs that pull over the dog's paws, an open belly area and hind leg loops. |
| | Vests have spaces for both back and front legs and simply slip over the back. They come in a range of materials from simple reflective plastic to warm fleece. |
These are just the most common types of dog jumper and they can all be further customised and found in a range of styles and materials. Buyers will be sure to find a range of products to suit their needs.
Dog Jumper Style
Dogs in jumpers have become a huge fashion accessory, especially with smaller breeds. This has led to huge demand for a range of different styles and patterns and when visiting eBay buyers will see that the range of fashion jumpers for animals is huge. Every type of pattern that could be imagined is available for smaller breeds includinghearts,stripes, polka dots and more. There are items which are specifically designed to match the owner's clothes and there are even specially adorned products with branded logos and motifs.
If a buyer is looking for a dog jumper to make their dog look cute and fun the choice is endless and it doesn't hurt to keep them a little warmer either.
Budget-Friendly dog jumpers
If a dog jumper is on the cards because it is needed for an animal's health then money is probably no object. But still it is possible to use eBay to find budget-friendly dog jumpers and the range offered gives buyers the chance to look through the listings and locate a number of products to choose from.
Finding a great deal can often be down to being in the right place at the right time, as eBay has a huge range of auction items, many of which end at very low prices. Buyers just need to keep a close eye on any dog jumper they really are interested in if there is no buy it now option. Simply use the account facilities to put a 'Watch' on the selected item.
The material often plays a key role in the price of items. Simple plastic waterproof vests can be bought at great value prices, whilst the buyer can expect to pay more for thicker, more resilient materials. There are coats designed to keep dogs clean from mud and rain whilst others are simply to look stylish. There are branded options and designer options alongside the most basic items giving buyers with bigger budgets a wide choice too.
Whatever price range a buyer is looking for they can be sure to have some success when using eBay and there are so many different choices and items to keep an eye on that there is scope to find the perfect product quite easily.
How to Buy Dog Jumpers on eBay
Buying jumpers for dogs on eBay is a straightforward process. There are two main ways of locating the range of products. The first is to browse generally to give the widest range of results. Buyers should initially locate the home and garden category, then find pet supplies and click on the dogs subcategory. From here the buyers can choose the clothing and shoes subcategory but there is also a wide range of products under the other dog supplies subcategory. In both instances the buyer can the use the left-hand refinements column to further pare down the results.
The alternative way of locating the ideal dog jumper is to use eBay's search facility. It is accessible through any page of the site at the top of the page as a search bar. Buyers need to input their particular search term to find related products. When the search is made many results are likely to be displayed. Chances are a large percentage will be completely irrelevant so buyers need to again use the left-hand navigational column to narrow down results specifically to the dog supplies category. There should still be a number of items to compare and contrast and eventually buy.
Buying dog jumpers on eBay is quick and simple and the opportunity to compare the wide range means that buyers have a much more varied choice. Visiting a local pet shop may mean buyers can find a dog jumper, but they are unlikely to have a wide range so buyers can actually choose one they like the style of as well as recognising its practicality.
Conclusion
Dog jumpers are hugely popular as smaller dogs seem to have become modern-day fashion accessories. But aside from the fashion element, there are many practical reasons for buying a dog jumper, especially if the dog in question is older or has difficulty keeping warm.
Buying dog jumpers on eBay means that buyers can enjoy the benefit of a huge range of different products. Some are simply for fashion purposes whilst others are practical and hard-wearing and some even combine both functionalities. In addition to having a wide range to choose from eBay also gives buyers the chance to choose the price range which works best for their needs. Competitive prices mean buyers are more likely to find an item that suits their needs from the range than they would if they visited a land-based pet store.