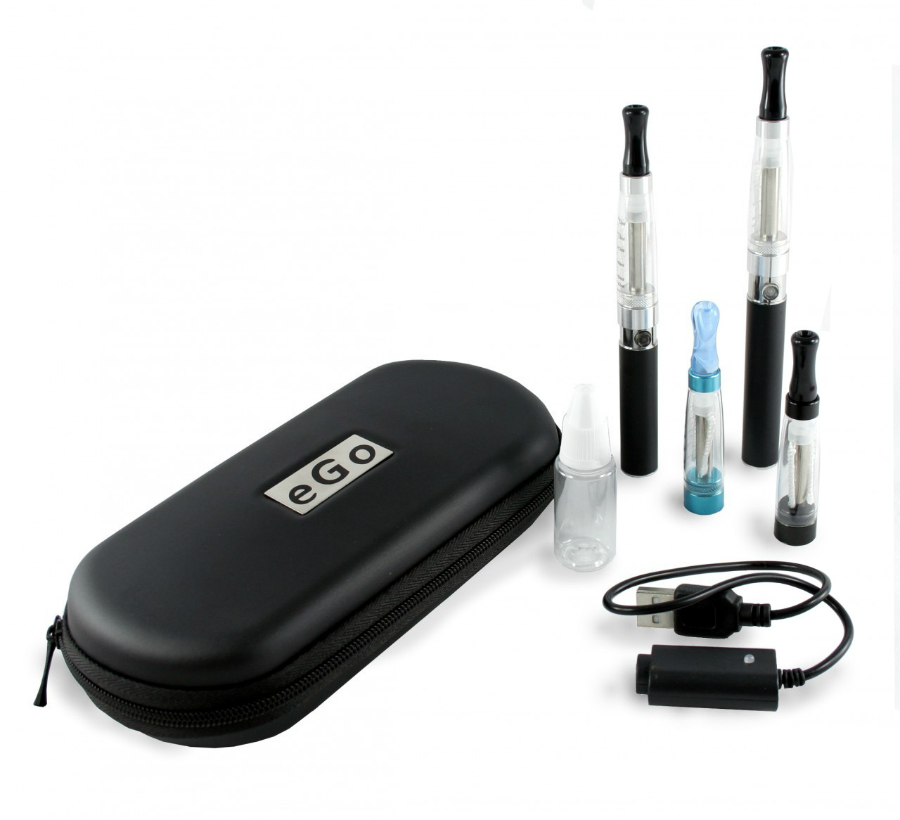 Electronic cigarettes, also known as e-cigarettes or vaporizers, are battery powered personal inhalators, which convert liquid solution into a mist, simulating the act of smoking. The liquid solution contains nicotine, but none of the harmful tar or chemicals found in traditional tobacco, making them a healthier alternative for those looking to quit smoking cigarettes.
It is possible to buy disposable e-cigarettes, e-cigarette kits, refillable e-cigarettes and components to build e-cigarettes online on websites such as eBay, and the prices vary depending on which option is chosen. For heavier smokers looking to cut out traditional smoking completely and move to e-cigarettes, choosing a rechargeable e-cig that can be refilled is often the most economical option.
How do E-Cigarettes Work?
E-Cigarettes have three main components. Each can be bought separately online, on websites such as eBay, to create a unique e-cig. The three components are: the atomiser (the part which heats up), the mouthpiece/cartridge and the battery. The cartridge is where e-liquid is stored and can be replaced or refilled, depending on the type of e-cigarette purchased. When the user inhales, the atomiser is activated and the e-liquid heated, converting it into vapour which is inhaled by the user.
Whether to buy a refillable cartridge that requires the purchase of bottles of e-liquid or an e-cigarette which takes ready filled cartomisers is a personal choice and will depend on the budget available and type of e-liquid desired.
Types of E-Cigarette Available
When choosing an e-cigarette it is possible to opt for disposable e-cigs, which can be found online on websites such as eBay, or a refillable model. Refillable models can either use disposable cartomisers, which can be bought online, or e-liquid, where the user refills the existing cartridge themselves. Those new to the world of e-cigarettes often prefer to buy disposable cartomisers for the convenience and ease of use, whereas those looking to save more money should invest in refillable cartridges and bottles of e-liquid.
There are also different battery options available, and users can choose from a manual or automatic battery. Whilst the latter is activated automatically when the user takes a drag, a button has to be pushed for the manual battery to start heating the e-liquid. It is a case of personal preference as to which type of battery to choose, but many users prefer an automatic battery as it is more convenient to use.
E-cigarettes come in a range of different sizes and designs, from those which look like a traditional cigarette to sleek aluminium designs and those which have LED lights. Smaller sizes are ideal for women or those with small hands, whilst traditional sizes are slightly larger than a cigarette, making them an ideal substitute for those looking to quit smoking and move over to e-cigarettes completely.
The Benefits of E-Cigarettes
E-cigarettes have numerous benefits over traditional cigarettes, including:
E-cigs do not contain tar, toxins or tobacco.
No ash or smoke
No smoky smell
No secondhand smoke or 'passive' smoking
There are a wide variety of flavours of 'e-liquid' available.
More environmentally friendly
Save money on buying traditional cigarettes
Can smoke (also called 'vape') anywhere – even indoors.
Manage nicotine intake – there are various strengths of nicotine available.
In addition to these benefits, e-cigarettes do not stain teeth and affect taste buds – making them a healthier alternative to traditional cigarettes or rolling tobacco. The fact that e-cigarettes can be used anywhere, including indoors, has made them a popular choice with many people – thanks to the smoking ban, smoking in public places is no longer possible. With e-cigarettes, smoking, or 'vaping' is normally allowed in places such as pubs, clubs and cinemas.
Refillable Cartridges for E-Cigarettes
There are two different types of e-cigarette refill options available – buying empty cartridges which can be refilled with e-liquid, or buying pre-filled cartridges that are ready to use. The latter is often more convenient and a popular choice with those new to using e-cigarettes.
Ready to use cartomisers come in a variety of flavours and strengths depending on the tastes of the user, and it is possible to make savings by buying cartridges in bulk online, on websites such as eBay.
Different Flavours of E-Cigarette Cartridge
There are many different flavours of e-cigarette cartridge available to buy online, on websites such as eBay. Some of the available flavours include:
Mint
Cherry
Coffee
Chocolate
Cinnamon
Vanilla
Traditional tobacco
Strawberry
Green apple
It is a personal choice deciding which flavour of refill is best and it can be beneficial to purchase small quantities of different flavours to allow the user to decide which their favourite is. Many people start with the traditional tobacco and then experiment with other flavours. Alternatively, Shisha Pens also offer different flavours of smoke.
Different Strengths of E-Cigarette Cartridge
It is possible to buy different strengths of cartridges for e-cigarettes – from those which contain a high quantity of nicotine to zero nicotine cartridges. This is a personal choice and will depend on how heavy a smoker the user is. For those thinking of quitting smoking, this is a great way to slowly decrease nicotine dependency, by reducing the nicotine content over time until zero nicotine cartridges can be used.
Users can normally choose from three or four nicotine strengths, from low to high – the high strength is aimed at heavy smokers who routinely smoke more than 20 cigarettes a day and is not ideal for everyone. By shopping online, on websites such as eBay, it is possible to find a wide range of cartridge strengths.
Choosing the Right Type of Refill Cartridge for Your E-Cigarette
When choosing a refill cartridge for e-cigarettes, there are a number of factors to take into consideration. Budget will play a part, but also convenience and the type of cartridge which is compatible with the e-cigarette. Here are the main types of refill available and their benefits for the user:
| Type of Cartridge | Features | Benefits |
| --- | --- | --- |
| Cartomiser | These pre-filled cartridges usually come with a nicotine cartridge and disposable atomiser. | Available in a wide range of flavours and nicotine strengths to suit all users. Easy to find online on websites such as eBay – simply insert the cartomiser into the e-cigarette and start vaping. |
| Empty cartridges | These are sold singly or in multipacks and are empty – to be filled with e-liquid by the user. | This is often a cheaper way to use e-cigaretters. Bottles of e-liquid can be found online at reasonable prices and the user then fills their own empty cartridges. |
Whether to opt for pre-filled cartomisers or empty cartridges which require filling by the user is a personal choice and will depend on which the user prefers. Whilst refilling cartridges with e-liquid can be fiddly and time consuming, it is often a more affordable option than buying pre-filled cartomisers. Those in the UK should be aware that it is often harder to find a wide range of flavours and strengths of e-liquid than in the USA, and this product cannot be shipped internationally.
Conclusion
Electronic cigarettes are a great way to quit smoking or switch from traditional cigarettes to a healthier method of smoking. Whilst they still contain nicotine, they have none of the tobacco, tar or chemicals normally found in traditional cigarettes. Because it is possible to buy refills in a wide range of flavours and nicotine strengths, it is easy for individuals to slowly decrease their nicotine consumption until they have quit smoking completely.
It is easy to buy e-cigarette refills on websites such as eBay, and there are a range of choices available to users. Pre-filled cartomisers are available to buy and these are simply inserted into the e-cig and ready to use. It is also possible to buy empty cartridges and bottles of e-liquid – these are filled by the user, and whilst this can be more time consuming it is often more affordable than buying pre-filled cartridges.
There has been some debate as to whether e-cigarettes have any negative effects on health, but the benefits far outweigh the risks. As well as being free from tar and tobacco, there is no nasty smoke smell and no risk of second hand smoke. E-cigarettes can also be used anywhere, including indoors, so they are much more convenient than traditional cigarettes.