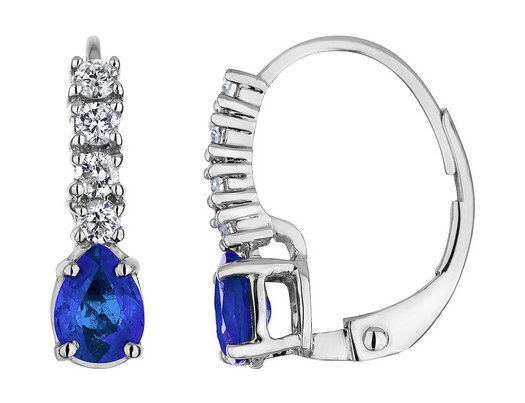 Earrings come in a large variety of styles, colours, prices, and sizes. When it comes to buying earrings, it is helpful if the buyer knows what type of earrings she is looking for and how much she plans to spend on earrings. Earrings range in price based on what metal they are made of and if there are any stones or other embellishments decorating the earrings. An everyday pair of earrings ranges from a pair of studs to a pair of silver hoops. Special occasion earrings are usually more embellished and have sparkling stones or crystals on them.
Earrings are a great way for a buyer to express her style and personality, and they add dazzle to any outfit. An outfit just does not feel complete until the right pair of earrings is selected to complement it. Whether it is a tiny, dainty pair of crystal studs or an oversized pair of sparkling chandelier earrings, there is a pair for every buyer. The shopper should select the perfect pair of earrings based on style preference, budget, the colours of the earrings, and whether or not they are for pierced ears.
Types of Earrings
Earrings come in so many different styles and types, that shopping for earrings may become an overwhelming experience. Once the buyer has an idea of what types of earrings she is looking for, it is simpler to narrow the options to find the best pair of earrings for her. Even knowing whether the buyer wants small or large earrings is helpful. Buying earrings is an enjoyable process, especially once the buyer stumbles onto several pairs she likes. Shopping on eBay is so affordable, a buyer may be able to purchase several pairs of great earrings.
Stud Earrings
Studs are small earrings which do not hang down or dangle. A popular type of stud earring is the diamond or crystal stud. Stud earrings are also shaped like animals, fruit, balls, crosses, flowers, bows, and more. Heart-shaped studs, bow studs, and even whimsical studs shaped like hamburgers or pieces of candy are fun options.
Stud earrings are made of different metals, but are most commonly seen made of stainless steel. For a buyer who wants more luxurious stud earrings, diamond studs are lovely but not as affordable as silver studs. Shamballa studs are popular amongst young girls and look like sparkling disco balls on the earlobes. Studs are a subtle and feminine accessory which adds something special to a woman's look for a woman who enjoys simple types of earrings.
Hoop Earrings
Hoop earrings are very versatile, and many women like that aspect of wearing hoops. Not only do hoops come in various sizes, they also come embellished with sparkling crystals, engraved with designs or in shapes, such as squares or ovals. Hoop earrings are sometimes very thin and delicate, or they are thick and eye catching.
Some hoop earrings have dangling charms or beads on them. Crystal or rhinestone studded hoops add drama and sparkle to a woman's outfit and look a little bit dressier than traditional silver or gold hoops. Heart-shaped hoops are sweet, and some hoops have trendy embellishments, such as hanging feathers or spikes. Hoops do not have to be made of metal; they are sometimes made of plastic, are neon coloured, or they are shiny and coloured metallic hoops.
Dangle Earrings
Dangle earrings are any earrings which have dangling charm on them. Dangling earrings range from small to very large, and the charms are hearts, crystal beads, feathers, or any types of shaped charms such as animals, feathers, holiday-inspired dangling charms, or sparkly disco balls. Dangle earrings are also called drop earrings.
Dangle earrings are also made from a variety of metals and materials, and they are very simple or quite dramatic. Long dangling earrings may include pearls, stones, charms, or all of those elements for a visually interesting earrings.
Chandelier Earrings
Chandelier earrings are dangle earrings which are typically long and include several chains or strands studded with crystals, beads, or charms. They look similar to chandelier light fixtures, which is where the name comes from. These are a trendy, popular types of earrings which are made in all colours and styles. Colourful beads, stones, and charms comprise chandelier earrings, and they add glamour as well as drama to a look.
Chandelier earrings are perfect for evening wear. They include stones which are clear or any colour, or are simply made of different lengths of sparkling chains which may or may not include stones. Chandelier earrings are silver or gold and come in various lengths.
Ear Cuffs
Ear cuffs are fun earrings which simply secure to the cartilage of the ears or the earlobes without posts. They slip on easily and can be worn for extra decoration along with regular earrings, or they are worn on a user who does not have pierced ears but wants the look of earrings. Ear cuffs come in a myriad of styles and types, from animals to simple studs. Ear cuffs are dangling, or they wrap around the ears entirely.
Ear cuffs fit over the ear cartilage at the top of the ears, the lobes, or curl around the ears entirely. Some ear cuffs also involve posts which connect the cuffs to create interesting earring and ear cuff combination.
Clip-On Earrings
For a woman who does not have pierced ears, ear cuffs are not the only option. Clip-on earrings are widely available and come in all of the same styles that post earrings do. There are two types of clip-on earrings: those which are secured to the earlobes with clamps, and those which are magnetised and adhere to the ears with magnet-style posts and no clamps.
There are many styles of earrings which work for a woman without pierced ears, such as stud earrings, drop or dangle earrings, and hoop earrings, and each offers spring-style closures that look very much like standard post hoop earrings.
Selecting the Right Earrings
Choosing the right pair of earrings varies based on every different consumer. One consumer may want to find an inexpensive pair of earrings, while another is looking for the perfect pair of chandelier earrings to complement an evening or party dress. No matter what type of earrings the consumer is looking for, there are plenty of styles for every buyer to choose from.
Price
Buyers may want to select the right earrings based on price. Clearly, earrings made of real diamonds and stones along with precious metals such as gold are going to be more costly than costume jewellery or earrings made of sterling silver. Gold earrings are priced based on how pure the gold is and how many carats it is, as well as what other type of embellishments are on the earrings.
Most silver and costume earrings are quite affordable. Hoop earrings vary based on what they are made of and if they are studded with crystals, beads, or other charms.
Style
Earring style is the largest factor to consider when buying earrings. One consumer may only want to wear stud earrings, while another buyer might rather have a variety of earring styles ranging from drop earrings to hoop earrings or chandelier earrings. Kids enjoy earrings shaped like animals, characters, or charms such as angel wings, tiaras, and food items which are whimsical.
The buyer should select earrings that they can get a lot of wear and enjoyment from and earrings which complement existing clothing and personal style.
Colour
Earrings come in a variety of different colours. Whether they are made of metal or plastic, there are coloured embellishments on many types of earrings, such as crystals or stones, coloured beads, painted enamel earrings, or hoops which are made of coloured plastic. For a buyer who needs certain colours of earrings to match clothing, there are many colours involved, and this may be a big factor in the buying decision. When the buyer is searching for coloured earrings, she can search by colour to find the perfect shade of earrings that she needs.
How to Buy Earrings on eBay
Buy affordable and lovely earrings on eBay for a great price. Search for earrings, and then you can narrow the search based on the earring style. Or, search directly for drop earrings or hoop earrings. Clip-on earrings are found quite easily using eBay's simple, user-friendly search engine. Once you find a few pairs of earrings you really like, make an informed purchasing decision by comparing the jewellery based on important factors such as price, condition, and brand or style.
To communicate directly with the seller quite easily, click the "Ask the Seller" button to inquire about earring details or to see more images of the earrings. You can also ask if the seller is offering any other items you could purchase and add to your shipment to reduce shipping costs and get even more items. Do not forget to go back after you receive your earrings and add your own unique feedback to the seller's page. Feedback is a helpful tool for other buyers when they are shopping for earrings and can be a deciding factor when making purchasing decisions.
Conclusion
An outfit is not complete without the finishing touch: a set of earrings. Earrings add polish to a look whether they are small pearl studs, or elaborate, dramatic dangling chandelier earrings. Earrings add pizzazz to an evening or party dress, and they look lovely with a pair of jeans and a blouse. Whether a buyer has pierced ears or not, there is a wide selection of earrings to choose from on eBay that complement her personal style as well as her budget.
Earrings are appropriate for women of all ages, and a younger woman may enjoy ear cuffs, magnetised earrings, or trendy earrings such as Shamballa ball earrings which sparkle in the light. For the buyer who is looking for that special something to finish an outfit, earrings are a sure bet. The right pair of earrings brings a buyer enjoyment for years to come, and accessorising an outfit starts with the perfect pair of earrings.