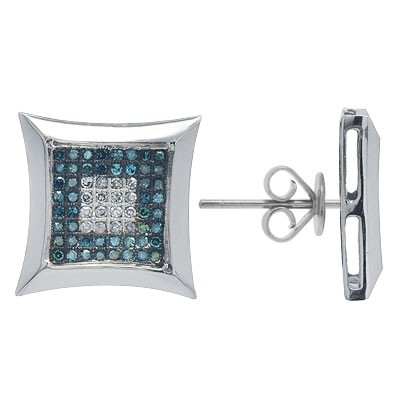 Contrary to popular opinion, 17th century pirates were not the only men to have historically worn earrings. Many men in various cultures and time periods wore earrings as a means to show their prowess in battle, their wealth, or simply as a fashion statement. Today, men are starting to wear earrings in greater numbers after a long period of being unpopular in western culture. Many jewellers make earrings specifically for men and these earrings can be found in many jewellery stores, as well as online via eBay. For men shopping for earrings for themselves, or those wanting to buy men's earrings as a gift, there are a few factors that make the buying process easier. These factors include knowing what styles of earrings are most popular for men, what materials these earrings are made from, and how what gemstones are available. Combining the knowledge of earring styles with one's personal preference, is a great way to ensure that the earrings purchased look their very best.
Choosing an Earring Style
While earrings are becoming an increasingly popular fashion choice for men, there are some styles that are mainly used by women. These earrings include dangle earrings, and those that are considered more gaudy or ostentatious. This is not to say that men's earrings cannot be colourful, as many earrings feature bright colours and logos or emblems for companies, musical groups, or superheroes. Still, there are several distinct styles of earrings for men that are quite popular and versatile enough that a man can find a unique earring or set of earrings to fit various outfits.
Stud Earrings
Stud earrings are those that are typically small, and feature a simple metal post that extends through the earlobe where an attachment holds the earring in place. In some cases, the attachment is held in place by threads. This is the most secure means available to keep an earring in place. Studs often have a precious gemstone, like a diamond in place, even on earrings designed for men.
Hoop Earrings
Hoop earrings for men are generally not as large as those for women. Still, they are more prominent than stud earrings. Men's hoop earrings are generally quite thin and consist mainly of a thin band of wire that wraps from one side of the earlobe to the other. There are two main kinds of hoop earrings: circular and semicircular. Circular earrings do not require a fastening device, as the earring connects with itself. Semicircular earrings need a fastener, much like a stud earring.
Huggie Earrings
While a hoop earring extends out from the earlobe, a huggie earring wraps very closely around the earlobe from one side to the other. Huggie earrings are a relatively new style and have been popularised by hip hop artists and other celebrities. Huggie earrings tend to be thicker than hoop earrings and are often set with gemstones, while hoop earrings tend to be devoid of gems.
Choosing Earring Materials
While men's earrings are commonly made from precious metals like gold, silver, and platinum, there are other options that are far more popular than others. Each metal is different in terms of appearance and cost, but each should be evaluated before making a purchase.
Gold
Gold is a popular and common metal used for all kinds of jewellery, including earrings. Gold is soft and malleable, but it does not rust or tarnish. This means that gold jewellery can last for many years. There are a few differences, however, within the world of gold jewellery. Not all gold jewellery is made with the same consistency of gold. Earrings that are made with a large concentration of gold are made with 24 karat gold. Gold with a lower karat rating is made with gold mixed with other metals, including copper, silver, and palladium. The mixture of gold with other metals also creates unique colours, such as white gold and rose gold.
Silver
Earrings made of silver are typically less expensive than those made with gold. Many men prefer silver jewellery to gold jewellery simple because of the way that silver is easier to match with belt buckles and different coloured outfits. The drawback to earrings made out of silver is that silver eventually tarnishes with time, and may require regular polishing in order to prevent this from occurring.
Platinum
Platinum is a very expensive metal that is white in colour and is far more rare than gold. It is very expensive, but still quite popular. Platinum loses shine over time, although this creates a unique look that many people quite enjoy.
Titanium
Titanium is a nontraditional option for men's earrings, but it is a hard, strong, and lightweight metal that is becoming increasingly popular. Titanium is darker than silver, but can be polished to a high shine. Titanium is not susceptible to rusting or corrosion and can last for decades if cared for properly. There is a layer of oxide that forms on titanium surfaces over time, but if this is unappealing, a jeweller can polish it off fairly easily.
Tungsten Carbide
Tungsten is another nontraditional form of metal used in men's jewellery. Similar to titanium, tungsten is very hard, and is extremely durable. In fact, tungsten is even harder than titanium. One of the benefits of tungsten carbide jewellery is that it does not react with skin in any way, so those who have problems wearing gold, silver, or steel jewellery can easily wear earrings made of tungsten carbide.
Choosing Gemstones
Many earrings for men feature gemstones. For the most part, stud earrings have a single gemstone, while huggie earrings have several, although both kinds are available without any gems. Hoop earrings usually do not contain any gems at all.
Diamonds
The most popular gemstone for men's earrings is the diamond, as it is hard, durable, scratch resistant, and is transparent or white in appearance, allowing it to match clothing more easily. Diamonds come in a variety of shapes and cuts, which should be matched to the shape of the wearer's face for the best effect. Diamonds are often more expensive than other gemstones, and any earrings with diamonds should be evaluated to make sure that the gem cannot come loose or fall out.
Cubic Zirconia
Cubic Zirconia is a cheaper manufactured gemstone that is used to replace diamonds in many pieces of jewellery. Cubic zirconia are very similar in appearance to diamonds, but they are made without any flaws or imperfections, unlike actual diamonds.
Coloured Gems and Precious Stones
Gems and other precious stones come in a variety of colours. Many different gems, and therefore, many different colours, are used frequently in earrings that are designed for men. This is helpful for those who wish to match their earrings to their clothing or to other pieces of jewellery, along with belt buckles and other clothing accessories.
| Gemstone | Colour |
| --- | --- |
| Amber | Yellow |
| Amethyst | Purple |
| Aventurine | Green |
| Emerald | Green |
| Garnet | Red |
| Jade | Green |
| Obsidian | Black |
| Ruby | Red |
| Sapphire | Blue |
| Turquoise | Green-Blue |
It should be noted that many gems, such as opal and topaz, are found in a variety of colours and shades. Even some of the more prominent gems, like Sapphires and Emeralds, can be found in rare alternate colours.
Buying Earrings For Men on eBay
There is a large selection of men's earrings available for purchase on eBay. Not only can they be found made from a number of different metals, but they also contain a huge variety of gems. Of course, they are also available without gems for men who prefer a simpler, more understated look. Earrings can be found in new condition or used. This may have an effect on price, and may allow those with limited budgets to still find the perfect earrings. The most efficient way to find earrings on eBay is to simply enter a term, like 'men's earrings' into the search bar on the eBay home page. Of course, the search can be modified by entering additional terms, such as those pertaining to the metal that an earring might be made from, or which gemstones it contains. As always with any products purchased on eBay, it is advisable to read the product description and seller feedback before making a purchase.
Conclusion
Earrings are an important fashion statement for many men, and sporting a pair is quickly becoming an extremely fashionable trend. Earrings for men come in a variety of styles, ranging from simple studs that are smaller and less obtrusive to hoop earrings and huggie earrings, which stay close to the earlobe as they wrap around it. Each style has a different means of being fastened, and can be made from various metals.
Popular metals include gold and silver, along with platinum, titanium, and tungsten carbide. Titanium and tungsten carbide are metals that are very popular with men as they do not usually cost as much and they are very hard and can last for decades. Earrings for men are commonly made with gemstones, at times a single gemstone and at others multiple gems. While diamonds have lasting appeal, and are durable, there are coloured stones that can be used to go with certain clothing. Taking all of these factors into consideration makes it possible for anyone to find the earrings that they need, either for themselves, or as a great gift for someone else.