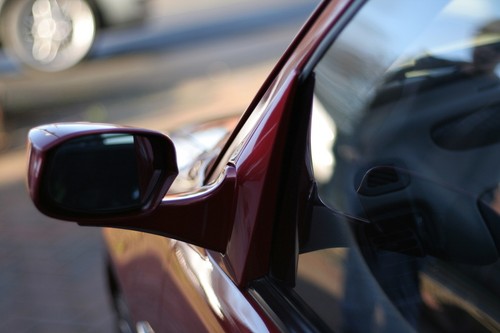 Wing mirrors, also referred to as door mirrors or side mirrors, help the driver navigate safely by being able to see exactly what is in his or her blind spot while driving. Electric wing mirrors can be adjusted with the touch of a switch or button and fall into place quickly for easy positioning. Wing mirrors vary from different makes of cars and types of mirrors which are available, so a buyer should shop for the right electric door wing mirrors according to the exact specifications needed for the vehicle he or she is purchasing the mirrors for. Wing mirrors can be adjusted to make it simpler for a driver to see everything around him or her, unlike rearview mirrors which just show the rear view of the automobile.
Every driver has to have up-to-date and safe wing mirrors to stay safe while driving. Sometimes mirrors need to be replaced if they become cracked or damaged, or a driver may simply want to update manual wing mirrors to the more modern and easily operated electric door wing mirrors. Increase visibility and have access to everything around with the perfect door wing mirrors.
Find Electric Door Wing Mirrors by Car Make and Model
Since door wing mirrors are different from vehicle to vehicle, a buyer needs to ensure he or she is getting the correct wing mirrors for the particular vehicle. To successfully purchase the right electric door wing mirrors, a buyer can select the make of the vehicle when browsing the wing mirrors section to only see the mirrors which fit with those selected car makes, such as Ford or BMW. Once the buyer has selected a car make, he or she can then browse door wing mirrors by car model or mirror model. The wing mirrors must fit the exact car or they are not going to work properly.
Driver Side or Passenger Side Electric Door Wing Mirrors
The other detail a buyer needs to look for is whether the wing mirrors are for the driver side or the passenger side, because there are two different types of mirrors made for each side of the car. Some sellers may offer a set of both mirrors, and some may only offer driver or passenger side wing mirrors to fit the vehicle selected.
Find Electric Door Wing Mirrors by Model or Part Number
Every mirror has a model or part number, which is found on the existing door wing mirror. Check the part to see what the model number is, and look up the wing mirror needed by model number, such as S, N, or 2002. Once the model number is selected, it is additionally helpful for a buyer to enter the make of the car to narrow down the selections properly, in order to find the wing mirror needed for the vehicle.
Some vehicles from different model years still use the same door wing mirrors, so check carefully to ensure that the car the mirrors are being purchased for falls into that range before buying door wing mirrors. Mirrors are created to fit a specific car model, such as the Land Cruiser or Accord. These certain mirrors are made to fit those specific cars and cannot be installed on other makes and models of vehicles, and therefore are not going to fit safely and properly.
Find Electric Door Wing Mirrors by Manufacturer
For a buyer who has a particular brand in mind or wants to purchase a brand of door wing mirrors that he or she is familiar with, it is simple to search by manufacturer on eBay. Some brands the buyer may want to consider are Drivemaster, TEX, Lucas, or Renault.
Electric Door Wing Mirrors with Additional Features
Brands may vary in price due to additional features of the door mirrors, such as whether or not they include the mirror glass or just the external part, if the wing mirrors are new or used. A manufacturer may also offer mirror covers for added protection. For hard-to-find mirrors, there may be an extra expense, but most electric door wing mirrors are affordable to purchase either alone or in a set of two.
Some other features a buyer might see when selecting electric door wing mirrors are heated mirrors, which means that the mirrors offer a heating component that helps keep them defrosted so the driver can see in any type of weather. Other wing mirrors may include presets and memory to restore the settings to the ones the user prefers. Additionally, other door wing mirrors include signal lights built right into the parts. Check the seller's listing to see if the wing mirrors offer any of the mentioned additional features.
Additional Items Needed When Buying Electric Door Wing Mirrors
When a consumer is purchasing electric door wing mirrors, there are a few items that he or she needs. If the seller is offering the entire mirror assembly, then no extra parts are necessary, however, the consumer does need tools to install the wing mirrors properly. These tools include a wrench, a screwdriver, the owner's manual to the vehicle, and pry tools. These can be purchased at the same time the consumer buys the replacement door wing mirrors.
The consumer may need glass covers for the mirrors or internal switches to control the electrical components of the mirrors. Search for mirror switches to find replacement or new switches for door wing mirrors to easily adjust them electrically.
Select the Right Electric Door Wing Mirrors
When it comes to purchasing electric door wing mirrors, there are several ways in which a buyer can go about selecting the right door wing mirrors for his or her vehicle. Pay close attention to the make and model of the car and the mirrors, because the wrong type of mirrors are not going to fit, and then the buyer may be stuck with parts that do not work. Check the listings carefully to see how many mirrors come with the purchase and what other parts may be needed to successfully install the door wing mirrors.
Below is a chart indicating some car makes, car models, part numbers, and part manufacturers. Note that the list is not exhaustive.
| By Car Make | By Car Model | By Part Number | By Part Manufacturer |
| --- | --- | --- | --- |
| Common car makes are Ford, Vauxhall, BMW, Peugeot, and VW | Common car models are Hummer, Jetta, Focus, and Sedona | Part numbers include S, N, 2002, 2000, 99, and 95 | Common part manufacturers are Lucas, Renault, Holts, and Drivemaster |
It is generally simple to purchase replacement door wing mirrors for a buyer who needs to update or replace broken door wing mirrors. Electric door wing mirrors are created to fit a variety of common models and makes of vehicles, and some mirrors can even be further customised by the buyer by adding a paint job or other enhancements to the mirrors. However, most mirrors come in either black or white, but they can be painted after purchase if the buyer desires matching mirrors that correspond with the colour of the vehicle.
How to Buy Electric Door Wing Mirrors on eBay
Purchasing electric door wing mirrors on eBay does not have to be a hassle. If you know the make and model of the mirrors or your car, or preferably both, you can easily select the options you need to narrow down the available items, so you can then pick door wing mirrors that fit perfectly. Read all of the sellers' listings carefully, and compare sellers by brand of wing mirrors, model types, and the additional features the mirrors offer. Make sure if you only need one mirror you are buying the correct one, and if you need the driver side and passenger side mirror, ensure you are buying a complete set of matching right and left side mirrors.
If you need the whole assembly as well as the mirror glass, see what the seller has to offer to complete your purchase and get a good deal on bundled items from the same seller. Purchase electric door wing mirrors from a merchant who is a Top-rated seller to get the best price and shipping satisfaction for your door wing mirrors. Leave feedback once your purchase is completed to let the buyer know how he or she can tailor the buying experience, and make it even better for future purchasers.
Conclusion
Replacing door wing mirrors is something that has to be done at times. Finding new mirrors on eBay takes the hassle out of this project, which each buyer can typically do themselves. Search for a set of door wing mirrors that offers simple electric adjustment as well as provides safety while driving and helping a driver see peripherally as well as through blind spots. While selecting door wing mirrors, make sure the mirrors have the "EU Compliant" markings to show that they have passed inspection for UK safety standards in door mirrors.
Another detail to look for is to make sure that the mirrors which are OE or OEM are compatible with originally manufactured parts, which may be important to a consumer looking for the perfect electric door wing mirrors. Replace cracked or dented mirrors immediately to make driving a safe experience, and find door wing mirrors for an affordable price and which can be shipped directly to the buyer for the utmost in convenience on eBay.