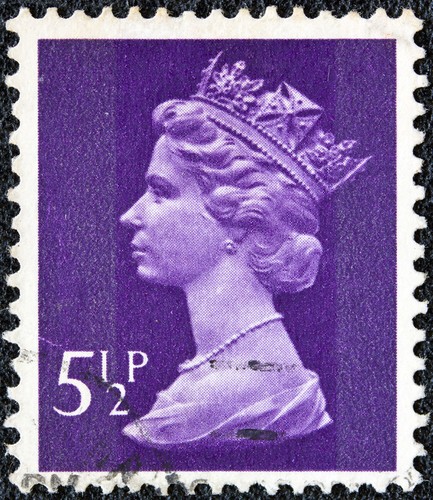 Stamp collectors who are serious about royal memorabilia, should take a look at the extensive stamp collection on eBay before spending an unnecessary fortune elsewhere. Aficionados of the British Monarch are likely find all they need on eBay, and for those with a penchant for Queen Elizabeth II collectibles, there is no shortage of stamps commemorating the various milestones of her reign. These stamps vary enormously, ranging from the common and virtually valueless, to rare and highly prized, such as the various issues featuring Elizabeth II, Monarch of the British territory of Gibraltar.
The postal stamp is a British invention that Rowland Hill founded in 1840. The first adhesive stamp, used on the first of May of that year, was the famous "penny black". British stamps do not bear its country's name, which makes them unique throughout the world as being the only nation not to do so.
Furthermore, Queen Elizabeth II is an iconic figure, and her image on the postal stamp has attracted all sorts of sentiments from people the world over, well beyond the Commonwealth. The range of Elizabeth II stamp listings on eBay are numerous and cover the entire period of her reign as Queen. Whether stamp collectors wish to begin, or add to an existing collection, some background information on the release of each stamp can go a long way in edifying those with an interest in stamp collecting.
Elizabeth II Stamp Releases
From the time of the coronation of Queen Elizabeth II, there have been successive stamp releases throughout the commonwealth commemorating various achievements, events, and jubilees. The primary stamp issues of Elizabeth II display a history of her reign, but there are also lesser known collections that depict her childhood and young life. Of course, some of these may be difficult or virtually impossible to find.
Other collections that may be of interest to individuals and philatelic societies alike are stamp releases either directly or indirectly related to the Royal family or other English institutions. These stamps do not necessarily depict Queen Elizabeth but nevertheless bear a royal imprimatur. It is the Queen, after all, who approves all regular British stamps before they are issued and distributed.
Definitive Stamp Series
In 1952, Elizabeth II stamps were released as definitive, in other words, as "regular issue" stamps for approved and continued distribution throughout Great Britain although her portrait did not appear on them until after her accession to the throne a year later. Definitive stamps of Elizabeth II have been released in many different issues during her reign. The first releases belonged to what became known as the Wilding Series, which lasted until 1967 when the Machin Series replaced it.
The Wilding Series 1952-1967
The Wilding Series is named after Dorothy Wilding, the photographer who took the portrait of the Queen featured on the stamp. The Wilding series portray Elizabeth wearing the diadem designed for her father, King George IV. She is presented inside an oval frame looking out at a three-quarter angle, often with the inscription ER (Elizabeth Regina) on each side. The bottom of the stamp contains the currency value, which at the time was pre-decimal.
The stamps throughout the Wilding period were released in various colours, but each set was a single colours. These stamps are perhaps the most highly treasured as they represent the first pictorial high value British stamps and were also the first to depict regional and national emblems. The series includes issues of both low and high value stamp sets.
The Machin Series
The Machin Series is the current series of stamps depicting Elizabeth II, which replaced the Wilding in 1967. This series still depicts the Queen with her father's diadem but this time as a sculptured profile. This series has been released in various issues of different colours, but each set is still produced in a single colour. The Machin series covered both the pre-decimal and decimal periods, the currency depicted on the stamps having changed in 1971 when decimal currency was introduced to the United Kingdom.
Commemorative Stamp Series
For those with a desire to purchase small, one-off editions, eBay contains many listings of Commemorative Elizabeth II stamps. Commemorative Elizabeth II stamp releases can be found from both the Wilding and Machin period. Unlike authorised definitive print runs, commemorative releases are limited editions, and are only sold until a batch runs out. Commemorative stamps mark special occasions and events, of which there has been many throughout the reign of Queen Elizabeth II. The most recent commemorative series was released in 2012 for the Queen's Diamond Jubilee celebrations.
Queen Elizabeth's Diamond Jubilee
Royal Mail released a sheet of first class stamps in 2012 to mark the Queen's diamond jubilee.. This set of special commemorative stamps depicts several official portraits of the queen produced over the course of her reign. These portraits have been previously used on banknotes and coins for many years.
Rare Elizabeth II Stamps
Throughout Elizabeth's reign, there have been many stamp releases that stand out from the rest in terms of their collectability. These stamps are some of the rarest and therefore most highly sought after, making them a collector's prize. Below are a few examples of rare Elizabeth II stamps that can be found on eBay. Some of these are extremely valuable, and most can be found unmounted. It is important to remember, however, that not all supposedly rare stamps found online are necessarily genuine.
SG598a
An example of a very rare and beautiful stamp is the SG598a.. Printed in 1963, this stamp is exquisitely rendered yet never issued.
SG624Aa
The SG623Aa is an example of another pre-decimal stamp of the Wildings period that remains unused. It was designed for the Post Office Savings Bank in 1961.
SG596a
This is a watermarked red single colour stamp. The SG596a was first produced in 1959 and had successive reruns although it was never issued for use.
SG576
The SG576 is an ultramarine stamp of Elizabeth II in the format of the Wildings series. Some have multiple crown watermarks. The image was first designed in 1958 but reprinted in 1965.
Coronation Stamp Set
The stamp details in the below chart pertain to a set released on the occasion of Her Majesty's accession to the throne in 1953. This chart demonstrates the technical language and numbering system used to identify and collate stamp collections.
| Cat Ref | Stamp Description |
| --- | --- |
| SG532 | 2 1/2d red |
| SG533 | 4d blue |
| SG534 | 1s 3d green |
| SG535 | 1s 6d indigo |
Although these stamps refer to a set of four, other stamp releases contain both larger and smaller sets. Nevertheless, they are all so numbered to help keep order, avoid duplication, and improve efficiency for both professional and domestic purposes.
How to Buy Elizabeth II Stamps on eBay
The best way to purchase Elizabeth II stamps on eBay is to search for your desired stamps by code name. Alternatively, if you are not sure which stamp to search for, you could conduct a broad search to get an overview of what is available. The entire listing of stamps on the subject of royalty is huge, and those pertaining specifically to Queen Elizabeth II are many. A typical search string could therefore be simply "Elizabeth II stamps&".
After locating your sought after stamps, it is time to dig for some verifiable truth. Some of the listed stamps of Elizabeth II are commonplace and not particularly valuable; yet others are extremely rare. Be a little suspect of sellers who are prepared to let go of valuable and rare items very cheaply; they may not be telling the whole truth. You would want to be even more certain of the authenticity of a highly priced stamp because there is no guarantee that an expensive item is the real thing either.
Many sellers generally include substantial technical information about their listed stamps, but if you feel the seller is withholding important information, be patient and keep asking questions until you are satisfied of the item's authenticity. Open communication with sellers encourages transparency and builds your confidence as a buyer. Additionally, it is a good idea to conduct your own research from independent sources.
Conclusion
With a royal stamp collection as large and extensive as that on eBay,, stamp buying enthusiasts find themselves in the ideal marketplace for Elizabeth II collectibles. Other supporting royal merchandise and memorabilia can also be found eBay, which can enhance a collector's portfolio and bring their stamp collection to life.
Stamp collecting is a hobby for just about anyone, and monarchists and anglophiles the world over revel in the mystique of collectible royal stamps. Portrait images of Queen Elizabeth II in particular capture the romantic imagination for many royalists as perhaps no other portrayed public figure does. Seeing these images translated onto coins and notes can, for some, weaken sentimental association through the cheapened overproduction of her image. Hardly a second glance is offered to the banknote or coin bearing Her Majesty's portrayal, yet the postage stamp, for all its low-profile and small scale, continues to quicken the heart of collectors who chance upon a rare or obscure set produced in her honour.