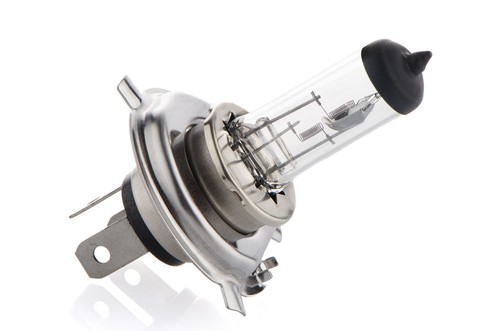 External lights on a vehicle are an essential safety feature. The majority of owners put top priority on replacing a burnt out headlight or taillight. But finding and purchasing the precise external light you need often brings unexpected challenges to car owners. The vast selection of standard car replacement bulbs, coupled with a large number of upgrade products, can make buying exactly the right external car light bulb a chore. Whether it is a headlight bulb, a sidelight bulb, or an indicator bulb, it is easy to find exactly the right bulb you need on eBay. eBay's extensive inventory and simple site navigation tools turn shopping for an external car light bulb into an easy venture. Shoppers can find everything from halogen bulbs to xenon bulbs, and from original equipment bulbs to top quality E1 tested replacement bulbs on eBay. Learn the best method to determine exactly which external car light bulb you need before navigating to eBay to make a purchase.
Determine Which Bulb You Need
There are several ways to search for external car light bulbs on eBay. First, you can search by the vehicle make and model. Otherwise, you can search by where the bulb is located on the vehicle. Also, if you know the type and model number of the bulb, this is another easy, convenient way to find a replacement. Each type of search is discussed below.
By Vehicle Make and Model
The fastest way to find an external car light bulb is to search by car make and model. With enhanced search and straightforward navigation features, shoppers can quickly locate a headlight bulb for their Volvo, or an indicator light for their Land Rover. Simply select the make and model of the vehicle to find light bulbs and other parts specific to that car.
By Placement on Vehicle
Shoppers can also search for external car light bulbs according to their placement on the vehicle. Choose from bulbs for the front, rear, or side of the car. Alternatively, consumers can search using a keyword such as "headlight", "sidelight", or "indicator light".
By Type of Bulb
Owners who know the model number of the bulb they need can search quickly search for a bulb that matches. The bulb model number can be found by consulting the vehicle owner's manual, or by removing the old bulb and locating the model number on it. The most widely used headlight bulbs are H7 and H1.
There are many different types of external car light bulbs available. The chart below lists some of the most common headlights, side lights, and indicator lights.
| Type of Light | Common Model Numbers |
| --- | --- |
| Headlight | H1, H3, H4, H7, H11, HB3, HB4 |
| Side Light | 233 clear, 433, 501 clear |
| Indicator Light | 233 orange, 382, 501 clear |
These are only a few of the many types of external car light bulbs available. When shopping for indicator and side lights, you should be aware that the same model bulbs come in different colours.
Shop by Brand
eBay gives car owners the option to shop for external car light bulbs by brand. Whilst there are dozens of different car light bulb manufacturers, some of the most common brands include Osram, Philips, PIAA, Alpina, and Bosch.
Select Which Type of Bulb You Want
Most cars come equipped with halogen bulbs. Although they are more expensive than halogen bulbs, many drivers prefer xenon or LED bulbs when changing the external lights on their cars. Both of these types last longer and burn brighter than halogen. eBay has a large inventory of all three types of bulbs. Each is discussed in detail in the following sections.
Halogen
Halogen bulbs are the standard for external car lights. They use a tungsten filament, and are filled with halogen gas. The metal background reflects the light efficiently, creating a brighter light than a traditional incandescent bulb produces. These bulbs are both economical and durable, and have been in use since the early 1960s. The lifespan of a halogen headlight is approximately 500 hours.
Xenon
Xenon bulbs are filled with pressurized xenon gas instead of halogen. For this reason, they last many times longer and burn much brighter and whiter, but are also more expensive than halogen bulbs. Xenon bulbs project light up to 30 metres further than standard halogen bulbs, giving drivers increased visibility. Xenon bulbs are identical in size and shape to halogen bulbs, so they can directly replace halogens. High-intensity discharge (HID) xenon lights are a special type of xenon bulb that do not use filaments. They emit more light and burn longer than regular xenon lights, but they can create a harsh glare if mounted improperly.
LED
Light emitting diodes (LEDs) produce strongly-coloured, intensely-focused light in a small band of wavelengths. Uncoloured LEDs emit a pure white light. LED car light bulbs are available as replacement bulbs for brake lights, indicator lights, reverse lights, and sidelights. LED headlights are rare, but a handful of cars come equipped with them. LED bulbs last up to 50,000 hours. They burn cooler than other bulbs, and consume less power.
Headlight Testing and Ratings
Car light bulbs are tested to ensure they meet certain standards. Each country tests differently and has different standards. Whilst all certified headlights meet the minimum safety and performance requirements, Germany has a reputation for the most rigorous standards and thorough testing.
Every headlight bears an "E" mark, indicating the country in which it was tested. The table below identifies several of these marks and their corresponding testing locations.
| E Mark | Location of Testing |
| --- | --- |
| E1 | Germany |
| E2 | France |
| E4 | Holland |
| E8 | Slovakia |
| E11 | United Kingdom |
| E13 | Luxembourg |
| E19 | Romania |
| E22 | Russia |
The term "E approved" means the light meets European requirements for performance. The "E" mark is a code that refers to the country where the light was tested and approved, and which indicates that it complies with specific regulations.
Finding the Right External Car Light Bulb on eBay
Car owners can search from amongst a wide inventory of vehicle parts and accessories on eBay. eBay Motors, an eBay site devoted specifically to motor vehicles, parts, and accessories, offers shoppers several options to find the right external car light bulb. eBay Shops is another convenient way consumers can find a specific car light bulb.
eBay brings value and security to the online shopping experience, and shoppers can benefit in many ways. For example, some sellers offer free shipping. Moreover, because customers can leave feedback after a transaction, it encourages sellers to place customer satisfaction at the forefront.
Searching for an External Car Light Bulb
eBay offers several ways to locate the external car light bulb you need. Begin a search for an external car light bulb by selecting a car make and model, or search for a part by name or brand. Choose from several different options to narrow search results, or browse through the categories to find external car light bulbs.
Narrowing Search Results
Often, a general search for an item on eBay results in thousands of listings. One quick way to narrow down these search results is to use specific, target keywords that describe precisely what you want. Alternatively, shoppers can use the provided filters on the listings pages to reduce the number of results returned on a search.
Search by Keyword
Searching by keyword is simple. Just type a description of the item you are looking for into the search box on any eBay page. This should return targeted, relevant results that match the description you entered. The more specific the keywords, the fewer search results you must weed through.
Search by Location
Some buyers prefer to limit their searches by location, to find listings by local sellers, or sellers within a specific country. Listings can also be sorted by distance from a specific postcode. By buying from a local seller, shoppers can arrange for a local pick up and avoid postage charges.
Shopping on eBay Shops
Shoppers who do not want to bid on an item and wait for the auction to end can instead peruse the inventories of numerous eBay Shops.. Consumers can search by item name or shop name. eBay Shops offer consumers the benefit of buying from experienced sellers with expanded listings.
Free Postage
Many sellers offer free postage on their items. If offered, free postage is noted within the details of the item listing. Some sellers offer expedited delivery for an upcharge, and others offer free local pickup, especially for large items.
Leaving Feedback
Buyers can leave seller feedback,, so that new buyers can determine how well a seller is likely to serve their needs. This is an important part of the eBay experience. Look next to a seller's ID for his or her feedback score. A high feedback number generally indicates a seller with a reputation for delivering items in a timely manner and in good condition. Buyers can also read comments from recent buyers to see whether previous customers were satisfied with their transactions.
Conclusion
Drivers depend on their car's external lights to provide visibility in at night and in bad weather. Over the last century, external lights on cars have evolved from inefficient lamps fuelled by expensive acetylene and oil mixtures, into high-output, low-wattage bulbs that burn for thousands of hours. Properly working external lights are an important safety feature, since they allow drivers to both see and be seen. When your external car light bulbs burn out, find replacement bulbs quickly on eBay. Drivers who must replace one or more external car light bulbs should visit eBay to use convenient search tools to find a vast selection of items. Shop by type or brand, or search by vehicle make and model using the search features on eBay Motors. Whether replacing an original part or upgrading to xenon bulb, you can locate exactly the right external car light bulb quickly and easily when you shop on eBay.