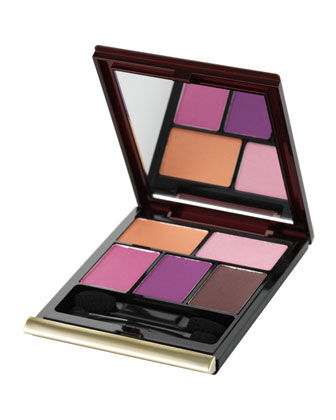 Eye shadow is one of the most prominent pieces in a make-up artist's kit. By blending and layering colours almost any effect can be created, from a subtle day time look that is suitable for the office, to the more dramatic evening statement needed for a night out.
Eye shadow is a fantastic enhancement, but knowing which type to select can be tricky, especially on the Internet. This guides aims to inform the buyer how to find and buy the many different types of eye shadow that are available on eBay.
Types of Eye Shadow and Their Finishes
Historically, eye shadow has been used for thousands of years to enhance natural beauty. In the last few decades, eye shadows have become more readily available due to the wide range of colours and good quality ingredients being manufactured. Eye shadow can be used by anyone and is widely adopted by creative professions, such as the film and theatre businesses, to create dramatic effects.

There is a great range of effects or 'finishes' sought after by buyers. The 'finish' is the term used to describe how the eye shadow looks when applied. As the range of eye shadows is vast, knowing what finish each will produce could take hours of experimentation and be costly for the buyer.

These are the three most common finishes that describe how the colour will look on the skin:
Sheer: most commonly comes in a pressed power. This finish will have a hint of colour and may need a few layers to produce a strong effect, depending on the shade and brand of eye shadow.
Shimmer: eye shadows with this finish come with some type of lustre or sparkle.
Matte:this is the basic colour without anything to make it shimmery or shiny.
The following table breaks down the range of eye shadows which can be found on eBay:
| Eyeshadow | Description |
| --- | --- |
| Pressed Powder | Most common type of eye shadow found; these can come in all colours and all brands will have a wide range of Pressed Powder eye shadows. |
| Cream | These have a creamy consistency and go on smoothly with a slight 'shimmer' effect. Cream eye shadows can be used as a base layer for loose powder eye shadows. |
| Liquid | Liquid eye shadows come in tubes like lip-gloss and can seem to be the same, but they are applied wet and dry quickly. Often this type comes in bright colours with a shimmery finish. |
| Baked Powder | Eye shadows that are Baked are like pressed powder eye shadows but can be applied wet or dry to the eye area. |
| Eye Pencil | Much like a larger version of eyeliner, these pencils deliver strong colour with more precision than traditional sponge applicators. Some may have a sponge tool on the end to help smudge and blend the pencil lines. |
| Loose Powder/Pigment | A fine, loose powder that is often strong in colour and applies well with the use of a brush. |
Tips for Selecting Eye Shadow on eBay
The choice of eye shadow anywhere is overwhelming; particularly the vast range eBay has to offer. The buyer may enjoy browsing but it can soon become frustrating looking for the perfect eye shadow. Ideally the buyer should have an idea of the look they wish to achieve, for instance a glamorous evening look. The buyer should consider such questions as:
Is brand important? Does the buyer wish to purchase a particular brand of eye shadow, or are they willing to experiment with new brands? There is a range of brands such as Avon and M.A.C available on eBay.
Palette or single eyeshadows? Palettes offer good value for money with a wide range of colours for the buyer to try out, but the buyer may need to think realistically will they use all of the colours? In some cases single eye shadows may be ideal for trying out a new type or a particular brand. Professional eyeshadow palettes are available to purchase but these can be quite expensive and again the buyer may want to think realistically about the number of colours they are likely to use.
Themed coloured sets are ideal for looks such as 'smoky eyes' and some sets will come with a description of the steps needed to apply the colours.
Study the picture of the eye shadow closely. The light may vary from the photograph compared to the shade in real life and the buyer should be prepared for the shade to be a little different. Many sellers will offer returns policies which is great if a buyer is not happy with the purchase.
A good eye shadow will have qualities such as staying power and will not need touching up during the course of the day or evening. To test the quality of the eye shadow it is best to use the little finger and smooth some on to the back of the hand to see how well it applies. Mineral based eye shadows can be used as a tinted base layer for other eye shadows.
How to Buy Eye Shadow on eBay
Once buyers have come to a decision about the type of eye shadow that would be perfect for their needs, they should go onto the eBay homepage and select the Health & Beauty portal and click on the Make-up & Tools category, then select Eyeshadows.
The buyer has a few ways of searching on eBay. These are:
Categories: The categories option is ideal for buyers looking to view a range of listings. Categories allow the buyer to narrow down the listings by including those based on specific aspects such as brand, condition and price.
Keyword Search: this option allows the buyer to put in certain search terms such as 'purple shimmer eyeshadow'. Given the wide range of eye shadow available, this search is ideal for buyers who know exactly what they are after. Advanced keyword search is good for buyers who can't find anything on a basic keyword search.
Suggested Popular Search Terms: These appear below the search box, and can be based on what the buyer has entered before, thus helping the buyer to find more listings.
eBay Stores: these are sellers who operate like small retailers and generally offer a variety of items. If buyers have any questions about a particular listing then they shouldn't hesitate to contact the seller.
Buyers also have the option to post up particular items they are looking for such as particular brands of eye shadow or a discontinued shade.
Once buyers have found an eye shadow they are interested in, it is important to consider some factors such as price of postage which needs to be factored into the overall cost of the item. Items such as eye shadow and make-up might not need insurance but this is an aspect worth considering if purchasing bulk amounts of make-up from one seller.
Storing and Keeping Eye Shadow in Top Condition
Eye shadow is a vital part of any make-up kit, but it does need some basic care. The buyer should consider the following suggestions:
Never share eye shadow brushes or applicators with another person, especially if they've had an eye infection in the past.
Clean brushes on a regular basis; this can be done by using mild baby soap and rinsing the brushes under warm water. Leave to dry naturally for few hours before using again.
Keep eye shadow in a padded case as any drops will prevent it from cracking and breaking.
Powdered cosmetics such as eye shadow can last for several years, but if they begin to crumble suddenly, it is advisable to replace them.
Avoid storing eye shadows near extreme sources of heat, such as radiators. Storing liquid or cream eye shadows in the fridge may help prevent them from drying out over time.
Tips on How to Apply Eye Shadow
Learning how to apply eye shadow is easy and enjoyable. The following tips are easy to remember and can be used for nearly any type of eye shadow:
Remove any old make-up with a gentle make-up remover. Allow to dry naturally. Take some primer and smooth over the eye area and blend with a foundation sponge. Primers can be found on eBay but foundation and pressed powder can be used instead.
Take the brush/applicator and rub lightly across the surface of the eye shadow. Apply some to the back of the hand to see how the eye shadow spreads. Once the desired texture has been achieved, apply the eye shadow carefully over the eyelid.
Some eye shadows can be applied wet by wiping the eye shadow brush over a damp cloth and then rubbing over the eye shadow.
If using shades of the same colour it is advisable to begin with the lighter colours then use the darker colours.
If using liquid eye shadow, a little goes a long way and it is best to apply a little at a time until the desired effect has been achieved.
If using strong-coloured eye make-up, avoid wearing strong-coloured lipsticks or lip-gloss as this can detract from the eye make-up. Always apply lipstick last when using make-up as it could be smudged when applying make-up to other areas of the face.
Conclusion
Experimenting with new textured eye shadows is fun, but finding new ones can seem difficult on the Internet. Buyers may have a favourite brand they wish to find on eBay, and thanks to the comprehensive search options they can find their favourite eye shadows within a few clicks. If looking for some brighter colours to try, or looking for an old favourite, this guide can help to find the perfect eye shadow on eBay.