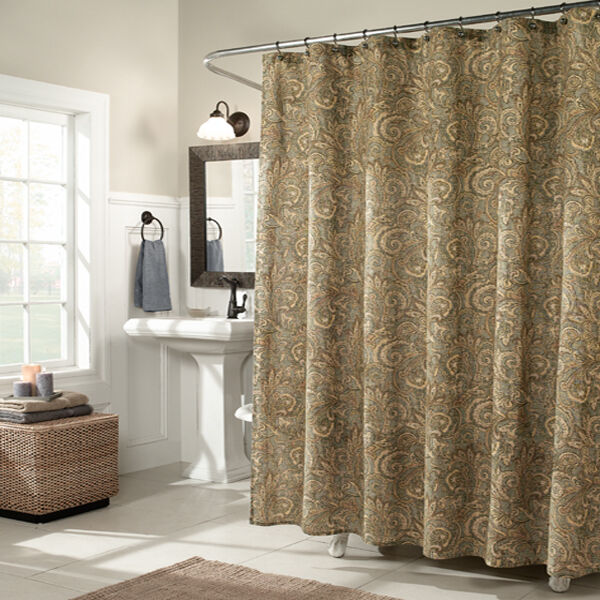 Some homeowners prefer to have custom curtains made to match the rest of their rooms' décor. Choosing the colours of patterns only fulfils part of the criteria for buying fabric for curtains. First and foremost, shoppers should be familiar with all the types of fabric used when making window treatments. Additionally, buyers should have an idea of what style of curtain headings they envision in their room. The heading directly affects how much fabric needs to be purchased.
The heading is also not the only consideration seamstresses must account for when buying fabrics. Homeowners should have an idea of how they want their curtains to hang. From the total length to fullness factor, even accessories, such as matching valances and swag, must be measured and accounted for. Buying fabric for curtains is not complicated as long as the customer knows what type of fabric to look for, the style of curtains, and total amount of material needed.
Types of Fabrics
Colours and patterns are important aesthetic choices, but equally as important is the type of fabric used when making the drapes. Not all fabrics are alike; some are light and airy and designed to allow light in while maintaining privacy. Other dark, heavy fabrics are used to block out light and nosy passers-by. Knowing the features of each material can assist shoppers in purchasing a fabric that functions as well as it looks. The chart below provides a comprehensive list of fabrics used for making curtains.
| Style or Accent | Descriptions |
| --- | --- |
| Appliqué | Stitching a cut out pattern from one fabric flat onto another |
| | Typically made from cotton; tightly woven fabric in plain weave or twill |
| | Soft, light fabric made from chenille yarn |
| Colour Woven | Fabric with the design woven in using several colours of yarn |
| | All natural, easy to clean fabric; available in a variety of weights, colours and patterns |
| Dobby | Method for weaving small patterned designs into material |
| Embellished | Sequins, beads, buttons, or any other sewn on accessory to accent material |
| Embroidered | Pattern or design stitched into the fabric |
| | Silk-like feel but made from polyester, viscose, or other synthetic blends |
| | Suede-like look achieves by brushing or sanding synthetic blend material |
| Flock | Finely chopped threads are glued to one fabric and the design is applied to fabric |
| | Any fabric made from a Jacquard loom attachment; common examples of Jacquard for damasks, brocades, and tapestries |
| | Often called sheers; thin, mesh fabric that lets in light |
| Pattern | Also called print, refers to a non-solid fabric; common curtain patterns include stripes, floral, paisley, and so on |
| Plain | Solid coloured fabric with no detail |
| | Soft, slinky fabric with smooth finish |
| | Smooth, luxurious fabric; difficult to clean |
| | Smooth, crisp fabric made with a plain weave |
| | Special weave that creates diagonally ribbing across the fabric; generally use cotton |
| | Similar to velvet; soft, extravagant finish |
| | Woven with tiny, compressed piles that create a fine finish |
| | Thin, sheer fabric with a crisp feel; perfect for filtering lights |
Becoming familiar with the different fabrics also helps shoppers save money. For example, decorators who want the look of silk without paying the full price can opt for faux silk. Similarly, although appliqué and embroidery both are applied to fabrics for accents, each style has its own unique look and price tag.
Styles of Curtain Headings
Picking out fabric for curtains involves knowing how the curtains should hang. The tops of the curtains are referred to as curtain headings. All curtains are suspended by some sort of curtain rod or track, so if the rods or tracks have already been purchased, then it is important to buy enough fabric to accommodate the curtain rod.
Eyelets are a clean attractive option for decorators who want an easy-to-arrange option. Pencil pleats refers to the style of curtain heading that looks like a row of pencils, and pinch pleats are a more relaxed version of the pencil pleat. Slotted pockets are designed to slip right onto a curtain rod. Tabs are similar to eyelet heading but hang slightly lower.
Eyelet
Eyelet curtains are characterised by the 4 centimetre metal rings at the top of the curtains. Homeowners simply need to slip the rings through the curtain rod. Eyelets are favoured by people who like to regularly open and close their curtains. If making this type of curtain, shoppers must also purchase the eyelets. Though the sizing is standard, there are a variety of metal finishes available.
Pencil Pleat
Pencil pleat curtain headings are recognised by the closely gathered fabric at the top of the treatment. Pleats are stitched tightly together, and the end result is material pulled together to look like a row of pencils.
Pinch Pleat
The pinch pleat is the relaxed version of the pencil pleat. These curtain headings have deep folds and are popular for traditional interiors.
Slotted Pocket
Slotted pocket curtains are perhaps some of the easiest curtains to make since they are designed to slide directly onto a rod. This style of curtain is difficult to slide on the rod, so curtains are usually adjusted with tie-backs.
Tab
Tab curtains are another simple option for those who like to draw their shades on a daily basis. Instead of eyelets, tab curtains have fabric loops sewn into the top and the rod is fed through.
Measuring Fabrics
The benefit of making curtains from fabric is shoppers get precisely what they want. The downside is they must know everything, down to the very last centimetre of how much fabric they need. Taking measurements before shopping for curtain fabric is essential.
First, decorators must measure the length of the curtains. After factoring the type of curtain head and the amount of fabric needed above the curtain rod, buyers must determine how far the curtain should hang for a total length. The second factor to consider is the fullness of the curtains. Those who want many folds and pleats must double the width of the curtain rod to get the right measurement.
Curtain Options and Accessories
The final consideration when choosing fabric for curtains are the special features and accessories. These finite details optimise window treatments, making them both functional and fashionable. Blackout curtains keep out light, allowing day sleepers to snooze at any hour. Thermal lining curtains are a smart investment for those who want to better insulate the room. Curtain panels are only part of the window treatment. Decorators who are interested in creating coordinating valances and swags also need to account for those in the final measurements. Lastly, matching tie-backs can be made from fabric or can be bought to complement the décor.
Blackout
Blackout curtains do exactly what the name says: they block light from the outside. People with small children or those who sleep during the day can greatly improve their sleep by blocking out pesky sunlight. There are some fabrics for curtains on the market that are designed to get the job done. Should shoppers find a fabric they like that does not block out light, they can buy blackout lining to be sewn to the fabric. Buyers should keep in mind this doubles the fabric requirement, which also affects the cost and weight.
Thermal
Thermal curtains are similar to blackout curtains, except these are designed to trap heat, not light. Windows are not insulated like the rest of the walls in the house; they are much thinner and therefore allow heat and cool air to escape. Thermal fabric is designed to help keep the room cool during the summer and warm during the winters. These panels are generally made of heavy, thick materials for optimum results.
Swag
Curtain swag can be made from the same material or another coordinating colour. Swag is just one option for hiding the appearance of curtain rods. When shopping for fabric to make swags, it is important to have the measurements on hand. Although swags are shorter than hanging panels, the folds and pleats require a moderate amount of fabric.
Tie-Backs
Tie-backs are one option to draw curtains during the day. Although some tie-backs come pre-manufactured, decorators often like to use the same fabric as the curtains. Most shoppers should not have to buy extra fabric for tie-backs since there should be some scraps left over. Seamstresses typically need one to make one tie-back per panel.
Valances
Valances, like swags, are a great way to hide curtain rods, but they are often less formal looking than the alternative. Valances typically have folds and pleats, so buyers should purchase fabric twice the amount of the width of the window.
Buying Fabric for Curtains on eBay
Shopping for fabric on eBay is a breeze, and no matter what you are looking for, eBay has thousands of options to help you create the perfect look in your home. All shoppers have an idea to some degree of what look they are trying to achieve; include these concepts by entering a few keywords into the search bar. Whether you are searching for "blue velvet fabric" or "copper eyelet hooks", eBay has something to fit nearly every budget.
Get to Know the Seller
Once you have found a few items that have piqued your interest, take a few moments to get to know your seller before proceeding. Pay specific attention to each seller's approval score and feedback; a seller with an excellent reputation has a high rating and positive comments from many sellers. For superior customer service and satisfaction, buy fabric from one of eBay's top rated sellers. eBay awards this honour to sellers with a long record for making customers happy.
Conclusion
Although there are a host of factors to entertain when buying fabric for curtains, it is best to have all the details hammered out before searching. In addition to finding the perfect print or colour, shoppers must know what type of fabric they want. Moreover, they should consider any functional features, such as blackout and thermal protection, when looking for fabrics. While some fabrics come pre-engineered, other fabrics can have panels sewn into regular fabrics. Fabric buyers must also account for swags, valances, and tie-backs in the final measurements.
If wanting to err on the side of simplicity, decorators should lean towards fabrics that are easy to manipulate and care for. Those looking for an extravagant way to tie the room together should opt for luxurious fabrics and give the window treatment the works: panels, valances, and tie-backs. Customers can find material for curtains at local fabric and craft stores or shop online from home on websites, such as eBay.