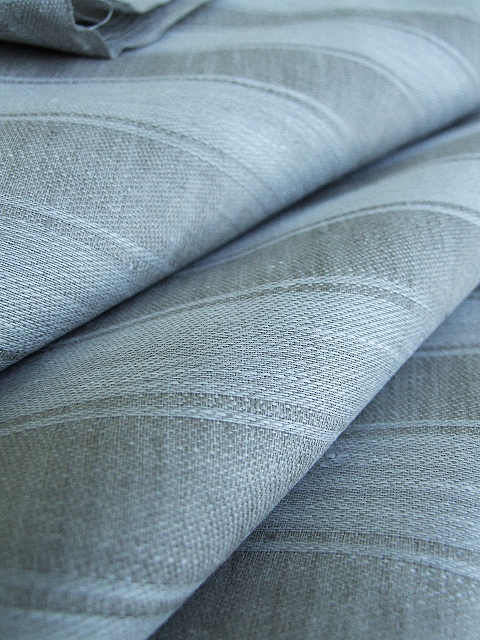 People come in contact with a variety of fabrics every day. Whether covering a couch or in the form of trousers, fabric has an infinite number of uses. There are infinite colour, pattern, and material combinations to choose from. eBay has numerous listings of fabrics to choose from at any given time, but finding the right one involves knowing a myriad of factors before beginning a search. The first initiative one should take when shopping on the Internet is learning differences among the types of fabrics in order to fully understand what is being offered. There is also some additional terminology shoppers should become familiar with.
Once the appropriate types of fabric have been identified, there are more factors to consider before starting a search on eBay. Fabric is often chosen based on colour. If matching another item, buyers can either try for a perfect match or a coordinating hue. Shoppers should have an estimate of how much fabric is needed to complete a project prior to purchasing. A full understanding of the types of fabrics and features available allows customers to make more informed online purchases.
Types of Fabrics
Any person in the market for fabrics should at least be familiar with the most common types for sale. Fabrics are derived from a variety of materials and techniques; therefore, knowing the features of and differences among popular fabrics is important. Fabrics can be made of natural or synthetic materials, and some contain both. The sections below have the key characteristics for common fabrics.
Chiffon
Chiffon is a light, sheer fabric used for spring and summer apparel. Chiffon is generally made from cotton, silk, or synthetic materials. Garments made from this fabric are often layered for a more opaque result.
Cotton
Cotton is a popular fabric made from natural fibre. Its long fibres are spun into threads and then woven into breathable, comfortable material. Cotton fabric can be stretchy or hold its shape; it also comes in various weights, hues, and patterns. Cotton can be mixed with other fibres to create blended fabrics.
Denim
Denim is a type of twill fabric most often used for pants, shorts, skirts, and jackets. Although various shades of blue are the most popular option, denim fabric can be purchased in nearly any colour. Denim is favoured since it is tough and durable.
Duck Fabric
Duck fabric or duck cloth, often referred to as canvas, is most popularly used for outdoor furniture and coverings. Duck fabric is generally water resistant, and high-end options should also be fade resistant.
Linen
Linen is another natural fibre made from flax and is more breathable and comfortable than cotton. Although linen is light and keeps wearers cooler, it is stronger than cotton. Linen is a prime candidate for a summer wardrobe and airy sheets.
Polyester
Polyester is a popular synthetic material often used in lieu of cotton. It can be mixed with cotton as a blended thread and can be woven and treated to achieve a variety of looks. People with sensitive skin may show signs of an allergic reaction if in constant contact with polyester.
Satin
Satin is a fabric made from silk threads with a varied weave from traditional silk, although it maintains a similar soft feel. Satin is used in tops, dresses, and curtains. It can be dyed to match.
Silk
Silk is one of the most luxurious, natural fabrics available for purchase. The feel of silk is smooth to the touch and sold in a myriad of shades. Although this fabric is not particularly breathable and often difficult to clean, it is an extravagant choice for drapes, dresses, tops, and skirts.
Twill
Twill has a distinctive diagonally-ribbed pattern with a soft hand. It can be medium to heavy weight material; denim is one type of twill.
Other Fabric Terms
Besides knowing the differences among the various types of fabric, it is important to have a basic understand of the terminology. For example, some people have allergies to synthetic fabrics, so those with sensitive skin should read labels before picking fabrics.
A cotton fabric might be the best option, but if a shopper assumes "cotton blend" is the same, then it could be an uncomfortable purchase. The chart below includes terms related to fabric, and knowing them can help shoppers buy a fabric that fits their needs.
| Term | Definition |
| --- | --- |
| Blend | Two or more types of fibre in a single yarn; for example, poly-cotton blend is polyester and cotton blend |
| Dye | Staining the thread a solid colour before knitting or weaving |
| Eco- | Prefix for fabrics claimed to be manufactured with environmentally friendly tactics, such as eco-friendly, eco-made, and so on |
| Embroidery | Stitching patterns, such as words, stripes, or flowers, with needle and thread |
| Flame Resistant | Treated with chemicals to keep fabric from burning |
| Flame Retardant | Chemical process that reduces the chance of fabric burning |
| Jacquard | Weaving method used to create to create complex fabrics; polyester, rayon, and silk are often used |
| Plain Weave | Basic weave that produces a smooth, even finish |
| | Covering furniture with fabric; upholstery fabric should be durable and stain and water resistant |
| Warp | Vertical threads of the fabric |
| Weft | Horizontal threads of the fabric |
| Weave | The method the warp and weft and interlaced; various types of weaves used to create different fabrics |
| Yarn | Also knows as thread, and many strands are woven together to make fabric; natural and synthetic options available |
Learning these additional terms better helps buyers understand the fabric they are purchasing. Once buyers have the lingo down and familiar with the major types of fabrics, they are ready to start their search on eBay.
Choosing the Right Fabric
There are many avenues shoppers explore when searching for the right fabric on eBay. Knowing the terminology is only half of the information needed for a successful purchase. Buyers often consider the purpose when choosing fabric. Jersey cotton might be a good option for sheets and T-shirts, but it is a poor choice for upholstery.
The look of the fabric also plays a role in choosing the best one. With an infinite array of colours and patterns to choose from, shoppers have an enormous selection. No matter if shoppers are purchasing 1 or 100 metres, it is always important to set and stick to a budget. Larger quantities and certain fabrics cost more, but it is possible to get a discount if buying in bulk. The sections below offer helpful hints when selecting fabric on eBay.
Purpose
Shoppers should always purchase a fabric that is compatible with the item's purpose. For example, duck cloth is the best fabric for outdoor furniture and coverings. Cotton and linens are perfect for sheets and apparel as these fabrics are machine washable and soft to the touch. Home decorating projects require heavy fabrics, which are typically more durable.
Colour and Pattern
One of the first criteria many fabric shoppers have is a specific colour or pattern. When shopping for fabric on eBay, buyers can search for a specific colour and pattern. Whether looking for solid hues, stripes, paisley, or polka dots, shoppers have many options to choose from.
Weight
A fabric's weight is another important factor to consider when searching on eBay. Although it is impossible to feel the fabric prior to buying it, shoppers can go to local fabric stores to evaluate fabrics prior to buying. Lightweight fabrics tend to be less durable, but they are often premier choices for apparel and accessories. From recovering the dining rooms seats to adding a valance to drapes, thick, heavy fabrics are popular with home decorators.
Budget
Just as important as how the fabric looks or feels is the cost. While it is important to purchase fabric according to the intended purpose, it should be done within one's budget. Before looking for fabric on eBay, customers should check local fabric stores to determine the average price for various fabrics. Affording enough fabric for a small project is manageable; however, customers in the market for large orders of fabric are encouraged to set a spending limit.
Quantity
Shoppers must estimate the amount of fabric they need when browsing eBay. If following a pattern, buyers simply need to apply basic math to determine the quantity. No matter if shopping for curtain panel fabric or pillow shams, it is always a good idea to buy a bit extra fabric to plan for the unexpected.
Buying Fabric on eBay
eBay has numerous amounts of fabric listings to wade through, and the only way to find what you are looking for is by including a few keywords in your search. Colour, material, or special patterns can really narrow down your results. For example, "yellow fabric" is a good start, but "yellow chiffon fabric" is even more specific. If you find you have too few results returning, try removing one keyword at a time to find a fabric that fits your needs.
Payment Methods
Before purchasing any fabric, check the seller's payment method to make sure you can pay for your items. There are four main methods of payment. The first, and most popular, is PayPal. A PayPal account is a safe and trackable way to pay for eBay purchases. Credit and debit card are often accepted, and like PayPal, money transfers are carefully monitored. Large ticket items may be held in escrow, although fabric purchasers do not need such an option. A handful of sellers may receive non-traditional payments such as personal cheque and direct wire transfer.
Conclusion
One of the best places to shop for fabric is from the comfort of home. Whether making pink polka dot curtains or reupholstering the sofa, savvy fabric shoppers take to eBay to find the best variety at the lowest price. Buyers must stay within the budget yet still be able to afford the quantity they need. Fortunately, customers can name a minimum and maximum price, and eBay can produce options within the scope.
eBay has tens of thousands of fabric options to choose from, and shoppers should have a few ideas in mind when looking for the right roll. The fabric must be durable enough for the job. Fabric used for furniture covering must be able to stand up to substantial wear and tear. If making clothing, the fabric should be soft to the touch and breathable. Shoppers familiar with both fabric terminology and the various types, colours, styles, and materials have the most success when shopping on eBay.