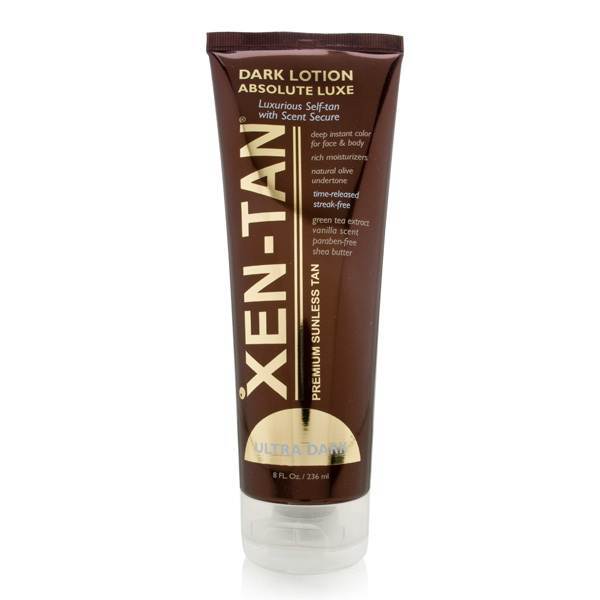 Fake tan lotion is a much safer way of achieving a healthy, sun kissed glow, than exposing the skin directly to the sun. Tanning naturally, even for short periods, can be dangerous as it is known to be a cause of skin cancer. Skin exposed to the sun also ages considerably quicker as the sun causes damage resulting in unsightly wrinkles and a leathery appearance. For these reasons, the use of fake tan lotion is becoming increasingly popular. Fake tan lotion uses a chemical that stains the top layer of dead skin cells, which means that no exposure to sunlight is required to achieve the look.
Before buying fake tan lotion, buyers have a number of choices to make, including how dark the lotion is, the formulation, the duration of the tanning, how many applications are required, and whether the lotion contains moisturisers or a sunscreen. Taking all of these factors into account allows buyers to select the most appropriate fake tan lotion that achieves the best results, without looking, patchy, unnatural, or orange. For the largest selection and the best value for money, buyers can purchase fake tan lotion on eBay..
How Does Fake Tan Lotion Work?
The vast majority of fake tan lotions contain an ingredient called dihydroxyacetone, or DHA. This chemical has natural staining properties that are used to alter the appearance of the skin. The skin staining properties of DHA were discovered by scientists accidentally in the 1920s after a spillage. DHA reacts with and stains the dead skin cells that are located at the very top of the epidermis, producing a tanned appearance. Dead skin cells continually shed, so the tanning is only temporary, lasting for approximately one week. As the cells shed and make way for new cells, the tan fades gradually, until the last layer of tanned cells are replaced, returning the skin to its natural colour.
Features of Fake Tan Lotion
There are features of fake tan lotion that buyers need to consider. The right colour must be chosen to achieve the overall look and coverage required. The formulation needs to be chosen to match the buyer's skin type. Finally the buyer needs to consider the natural effects of the sun when wearing a fake tan lotion.
Colour of Fake Tan Lotion
Fake tan lotion comes in a variety of colours, most commonly light,, medium,, and dark.. Some brands also offer further, intermediate colour grades. Many people make the mistake of choosing the darkest colour immediately. Fair skinned people who have pale, untanned skin, should avoid choosing the darkest fake tan lotion that is available. Instead, those with pale skin should choose the lightest shade of fake tan lotion. This helps to ensure that they acquire a natural looking tan rather than a very orange or oddly dark tan that is obviously not from the sun. Those with olive skin or a darker complexion may not get enough of a tan from lighter shades, even when used frequently. So, buyers with darker skin tones can move immediately onto a medium or dark shade of fake tan.
Formulation of Fake Tan Lotion
The purpose of fake tan lotion is to add colour to the natural pigmentation of the skin. Therefore, most buyers want the most natural result possible. The lotion's formulation has an important role to play. Oil based fake tan lotions are advisable for those with dry skin, but should be avoided by those with normal or oily skin. When used on oily skin, oil based fake tan can retain a greasy sheen that looks unnatural, but when used on dry skin, it can help to hide any excessively dry or flaky patches. Formulations that contain effective moisturisers help to rehydrate dry skin and repair the damage caused by dehydration.
Buyers are advised to check the ingredients and formulation of fake tan lotions before use to make sure that none of the ingredients can cause sensitivity.
Sun Protection Factor for Fake Tan Lotion
Some fake tan lotions have a sun protection factor included in the formulation. If the product is to be worn during the day, then having a built-in sunscreen is very beneficial. It means that the skin tans without being exposed to harmful UV rays. If the fake tan lotion does not have sun protection factor, then it is necessary to apply a layer of sunscreen before going outdoors during the day. Even if the fake tan lotion does have a sunscreen, it is still advisable to apply a separate sunscreen every hour to all body parts that are exposed to the sun.
Factors to Consider when Buying Fake Tan Lotion
There are several factors that buyers needs to consider to ensure that they purchase the right fake tan lotion.. It is important to find a self-tanning product that meets all of the criteria to successfully suit the buyer's skin.
Duration of Fake Tan Lotion
The duration of a fake tan lotion is the length of time that it takes for the tanned appearance to fade. Some products, such as bronzers, only last until the wearer washes them off. Other fake tan lotions can last for a week or more: they change the colour of the upper layer of skin cells and so do not fade until those skin cells are shed.
Some buyers have a limited amount of time for their beauty regime, so fitting a lengthy full body tan into their schedule may be difficult if the tanning product needs topping up every few days. In this situation, where time is limited, it is advisable to choose a longer lasting fake tan lotion, although those inexperienced with applying fake tan are advised to use a light, product that lasts for a shorter time to mitigate any problems caused by not applying it evenly.
Application of Fake Tan Lotion
Before applying the fake tan lotion all over the face and body, buyers should do a discreet patch test. Performing a patch test allows buyers to see if they have any kind of allergic reaction to the product. Some fake tanning products require only one application, while others require many layers added daily. To get the best results, before applying the lotion, buyers should have a bath or shower and prepare the skin by exfoliating it. Buyers should wearing disposable gloves as a precaution to avoid getting the lotion on the palms of their hands. The fake tan lotion should be used sparingly, working it into the skin evenly.
Only very small amounts should be used on dry areas such as the elbows and knees, as the lotion tends to lay in the cracks and creases. It is advisable to add a layer of moisturiser after the fake tan lotion has dried to help to replenish the skin's natural moisture.
How to Buy Fake Tan Lotion on eBay
eBay has a range of fake tan lotion available to purchase. Buyers can enter a keyword, such as "fake tan lotion&", into the search box on the eBay home page,, and then use the filters that eBay provides to narrow down their search results. These filters give the buyer the ability to find the best results for their needs. These filters include the price range for the product and whether it is new or used. Buyers should look at the description of the item carefully before purchasing fake tan lotion. Ensure that the fake tan is described clearly and the instructions for applying the lotion are included with the product. The cost of postage should be taken into account when calculating the total cost.
Seller Feedback
Buyers can use the eBay feedback system to ensure that their transaction is smooth and straightforward. Feedback is left for sellers once the transaction has been completed. Feedback can be positive, negative, or neutral. Sellers who have a high percentage of positive feedback are more likely to offer a high quality service. Feedback is based on several criteria, including communication, price of postage, speed of delivery, and packaging.
Conclusion
Fake tan lotion is a very popular method of achieving a tan without exposing the skin to harmful UV rays. DHA, the active ingredient in fake tan lotion, reacts with dead skin cells to stain them brown. The degree of staining, or the depth of the tan, depends on the amount of DHA in the lotion and the number of times that it has been applied. Fake tan lotions are most commonly available in light, medium, or dark shades, each with a differing amount of DHA.
Buyers with oily skin should avoid fake tan lotion with a greasy texture or that are oil based. Buyers with dry skin should select a lotion with an oil base or containing a moisturiser to help to hydrate their skin. In order to avoid looking unnaturally dark or orange, buyers should also start with a light shade, relative to their natural skin colour, and add extra layers, if necessary, rather than purchasing the darkest possible shade. It is also important to consider whether the fake tan lotion has added properties, such as a sunscreen. If not, wearers need to apply a separate sunscreen after the fake tan lotion has dried. Fake tan lotions of all types can be found on eBay.