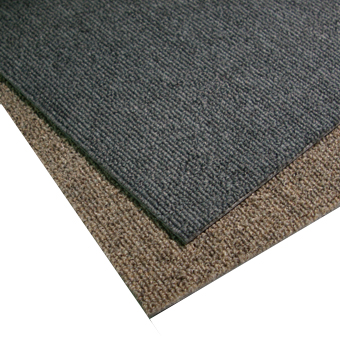 A fitted carpet can enliven an otherwise dull bathroom into a state of grace and comfort. While fitted carpeting, also called wall-to-wall carpeting, can be rather unusual in a bathroom, actual users swear by the sense of comfort, elegance, and cleanliness it lends to their home. Buying a fitted carpet for the bathroom can be challenging, however, given the wide variety of available materials and styles.
About Fitted Carpets
The earliest carpets were made by hand by knotting and weaving individual strands of wool fibre onto a backing material. Historically, carpets were manufactured as early as 2000 BC in west Asian countries. The oldest surviving carpet, called the 'Pazyrynk Carpet', dates back to the 5th century BC. Carpet making techniques became prevalent in Europe in the 15-16th centuries. Today, carpets are a staple of most homes in the Western world, with fitted carpets often replacing hardwood floors in modern houses. Fitted carpets, so called because they 'fit' the walls of a room, increase comfort and insulation, make a house appear more luxurious, and provide a viable alternative to hardwood/stone flooring. Fitted carpets are increasingly being used in bathrooms to provide comfort and add a dash of elegance and grace.
Types of Bathroom Carpets
There are two broad methods of carpet manufacture: woven or tufted. The quality, strength, and cost of the carpet depend on the type of manufacturing process used. Woven carpets are more expensive and better suited for formal areas, while tufted carpets are more appropriate for high traffic areas, including bathrooms. Two other manufacturing processes: knotted and needlefelt, find far fewer uses in residential settings.
| | |
| --- | --- |
| Woven | This is the traditional method to manufacture carpets. In woven carpets, pile yarn and backing fabric are woven together in a lengthy process. Woven carpets are more expensive, but richer looking. Woven carpets are usually available in a wide range of colors and patterns. Patterned woven carpets are called Axminsters, while plain carpets are called Wiltons. |
| Tufted | Majority of the carpets sold in the UK are tufted. To manufacture tufted carpets, pile yarn is inserted into backing fabric. An extra backing layer is added to this carpet for reinforcement and sturdiness. Tufted carpets are cheaper than woven carpets, though they suffer from a lack of choice in patterns and colours. |
| Needlefelt | A more technologically advanced alternative to tufted carpets, needlefelt carpets are manufactured by felting individual fibres using forked needles. The end result is an extremely durable carpet that is generally used in commercial establishments. |
| Knotted | Knotted carpets are usually made by knotting individual fibres onto a warp. This is a long and laborious process, usually done by hand. Knotted carpets are extremely expensive, but also the most luxurious. This is the process used in most oriental rugs. |
Types of Carpet Fibres
Traditionally, carpets were made from natural fibres such as wool. The advent of affordable and durable synthetic fibres such as nylon changed all that. Today, a majority of the carpets are made from synthetic fibres, while natural fibres are usually reserved for high-end, expensive carpets. Among synthetic fibres, nylon and polypropylene are the most popular. Most carpets used in homes are usually made from blends of synthetic and natural fibres.
| | |
| --- | --- |
| Wool | Easy to clean, soft, and rich in appearance, wool is the most widely used fabric for carpets in the UK. However, wool is not waterproof and can spoil very easily in the humidity of a bathroom. |
| Acrylic | Acrylic mimics the look and feel of wool, without the high cost. Carpets made from acrylic fibre are soft with low to moderate durability. On the plus side, acrylic fibre is stain, water, and crushing resistant, making it ideal for bathroom floors. |
| Nylon | Nylon is the most widely used fibre in bathroom carpets. Nylon is durable and water-resistant, making it perfect for humid areas with heavy foot traffic, such as bathrooms. Nylon is usually blended with 20 per cent wool for a more luxurious finish and increased softness. |
| Polypropylene (Olefin) | The most popular fibre after Nylon, polypropylene resists moisture and mildew, and also retains colour more uniformly. Polypropylene carpets can be made in a variety of colours. Because of their high durability and water-resistance properties, polypropylene carpets are perfect for use in bathrooms. |
| Polyester | A durable fibre used widely in bathroom carpets, polyester can withstand heavy foot traffic and resist stains easily. On the downside, it flattens rather quickly and is more expensive than most nylon blends. |
| Recycled | A new trend in eco-friendly carpeting is the use of recycled material in the manufacture of carpets. PET (Polyethylene Terephthalate) is one of the most commonly used materials, made from recycled plastics. PET carpets are strong and resist water damage. Because of their low cost, PET carpets work exceptionally well in bathrooms. |
More often than not, most carpets use a variety of blends.
Types of Bathroom Carpet Texture
The texture of a carpet depends on how the fibres are woven in the yarn. Texture plays an important role in the look, feel, strength, and performance of the carpet. Consumers have the option to choose from a variety of texture types. As a rule of the thumb, shorter pile types resist dirt and moisture better than longer piles. For bathroom floors, purchasing short pile types (such as Frieze, Cut and Loop Pile) is recommended.
| | |
| --- | --- |
| Cut Pile | The most popular type of carpet, cut pile (also called 'plush') is soft and strong with a luxurious appearance. Cut pile resists crushing, making it ideal for heavy foot-traffic areas in the house. |
| Saxony | The Saxony texture is made by twisting together two or more fibres in a yarn. While soft and comfortable, Saxonies show every footprint and vacuum cleaner mark on the surface. Moderately durable, Saxony is better for low foot-traffic areas. |
| Frieze | A popular carpet variety for heavy traffic areas, Frieze is made by twisting cut pile carpet fibres in different directions. This tends to hide footprints better and offers greater durability. |
| Berber | Highly durable, Berber carpets have been increasing in popularity over the last few years, especially in high traffic informal areas since they tend to hide footprints very well. This texture type retains dirt and water, making in inappropriate for bathroom floors. |
| Velvet | Soft and luxurious, Velvets tend to retain colour uniformly, making them perfect for highly formal areas. |
| Cut and Loop Pile | A combination of cut and looped fibres, this variety tends to hide footprints and dirt, making it ideal for high traffic areas. The cut and loop design offers a wide range of textures and good durability. |
Types of Bathroom Carpet Underlay
Underlay is the backing material used in a carpet. It increases the durability, water-resistance, and heat/sound insulation of the carpet. Most carpets used in UK homes utilise synthetic rubber based underlays, although consumers today have a much wider variety of options to choose from, some of which are listed below:
| | |
| --- | --- |
| Sponge Rubber | Sponge rubber is the most widely used underlay in the world. It is made from synthetic rubber, which is flexible, durable and waterproof. The thickness of the underlay is a crucial element as it controls the strength, comfort and insulation properties of the carpet. The thickness of varies from Luxury, which is the highest quality, to Light Domestic, the lowest quality. On the downside, sponge rubber tends to be heavy, thereby adding to the total weight of the carpet. |
| Crumb Rubber | Crumb rubber underlay is made from recycled tyres, and thus, it is exceptionally tough and durable. Crumb rubber underlays work best in areas with heavy traffic such as halls and stairways. It is also the underlay of choice for areas with heavy furniture as it retains its shape, even under pressure. |
| PU Foam | PU foam is manufactured from lightweight recycled furniture foam. This gives the carpet a more luxurious, softer finish at the cost of durability. PU foam is perfect for areas with low foot traffic, such as bedrooms. |
| Wool Felt | Wool felt underlay is made from recycled carpet fibres. It tends is usually used in commercial installations as it is very robust and retains its shape even under heavy foot-traffic. |
How to Select a Bathroom Carpet
Selecting a fitted carpet for the bathroom requires due diligence and research. Choose from the different manufacture methods, bearing in mind tufted is recommended over woven, and fibre type, texture type and choice of underlay. After that, consider the patterns and colours. Plain carpets are usually more popular than patterned carpets since they can be mixed and matched with a variety of furniture types. For a fitted bathroom carpet, however, pattern carpets are also quite appropriate as they can add a hint of style and grace to an otherwise drab environment. Furthermore, patterned carpets do a better job of concealing spills and mold. Ideally, the carpet should tie up the decor of the bathroom and complement the colour of the walls and plumbing.
Find Fitted Bathroom Carpets on eBay
To buy bathroom carpets, head over to eBay and select from one of the several available sorting options. Consider searching under both broad categories, such as carpets, as well as narrow categories like Axminster carpets. Looking under bathroom carpets and fitted carpets will yield good results. Sorting by price and looking under categories such as cheap carpets is also a viable option. eBay is also a great place to find carpet fitting tools, rugs, and even DIY material such as carpet underlays.
Conclusion
A fitted bathroom carpet can transform a bathroom instantly. It can make the bathroom more comfortable, warmer, and easier to maintain. A fitted carpet is quite affordable and there are plenty of options to choose from in terms of design and construction material. Nothing ties a bathroom together better than a quality, durable fitted carpet.