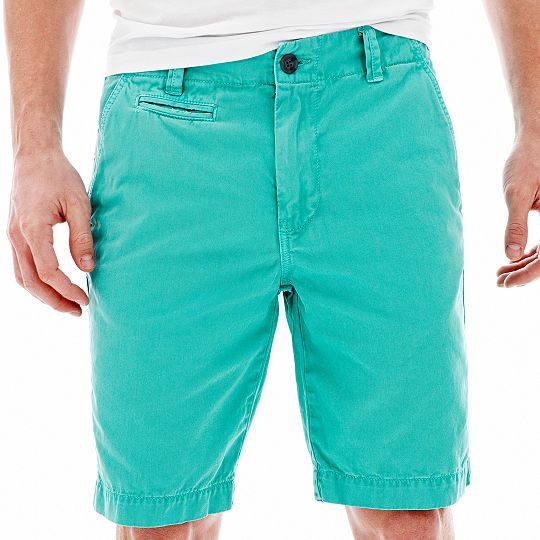 Before buying a pair of flat front shorts, it is worth spending time getting to know a little more about this versatile item in the world of men's fashion. Flat front shorts are a type of shorts worn by men in a slightly more formal way than sports shorts, and they are tailored to give a clean sharp line whilst they are worn. Flat front shorts are mostly identified by the type of fabric and the tailoring used to create the garment. They are usually created from fabric that is absorbent in order to make them more comfortable for men to wear in warmer climates. The fabric is also more substantial in its look and therefore emphasises a degree of formality.
Flat front shorts are styled to present clean tailored lines, and they have several features that assist in delivering this effect. The shorts are cut without any form of pleating and are designed with longer, thinner lines than those achieved with pleats. Although flat front shorts are available at major clothing retailers, one may find a wider selection at the online auction site, eBay.
Types of Flat Front Shorts
The term flat front short is used to identify men's shorts that have been tailored to present a clean uncluttered line at the waist. Flat front shorts have become popular as part of the revival in the clean sharp lines associated with the 1960s, and this new tailoring has been used to refresh several more dated styles of shorts.
Bermuda Shorts
When living in a warmer climate, the type of clothing worn in formal or business environments can make life extremely uncomfortable, especially when there is a lack of air conditioning. The term bermuda shorts was first coined to refer to a style of shorts worn by men working in Bermuda. Due to the warm and humid conditions, it was uncomfortable for men working in offices, and a new dress code was defined. Providing the shorts were made from suit-like material and worn with no more than a 1-inch, or 2.54-cm, gap above the knee, the new shorts could be worn in formal circumstances. In order to enforce the formality of these shorts, they were traditionally worn with long socks for business meetings.
Bermuda shorts are famously worn in formal colours such as navy blue for office work and in various shades of pastel colours on the island of Bermuda itself.
Capri Pants
Capri pants are a form of flat front shorts that are identified by them extending below the knee, usually to half-way between the knee and the ankle. These shorts are more often seen on women, but they are also worn by men in Europe. They were recently popularised outside of Europe when tennis player Rafa Nadal wore them for his tennis matches during the 2009 season.
Cargo Shorts
Men's cargo shorts can be a type of flat front shorts. Many cargo shorts are cut with external pockets and are tailored to be more baggy, and this has been frequently achieved by including multiple pleats at the waist band. These days, cargo shorts are being cut as flat fronted shorts to create a mens short that is stylish and informal at the same time. The presence of external pockets rather than flash pockets cut into the front of the shorts also add to the informality of the garment.
Golfing Shorts
Men's golf shorts are usually designed with all the sartorial elegance required by the golf course, and this means they are frequently tailored as flat front shorts. The lack of pleats and slash pockets cut to the front of the shorts means an especially clean line that gives the wearer all the room needed to perfect and execute his swing.
Chino Shorts
Chino is a term that refers to a type of mens shorts made from chino cloth. This is a twill fabric traditionally made from 100 percent cotton but more likely to be a combination of cotton and synthetic blends these days. The fabric was originally developed for the French and British military in the mid-1850s. The cotton content makes this fabric comfortable to wear when temperatures climb. A pair of men's flat front chino shorts is seen to be a particularly elegant solution to semi-formal wear, especially when combined with a polo shirt and a pair of Italian leather loafers. It is worth remembering that one of the mistakes that can be made from a fashion perspective is for a man to wear chino shorts with loafers and to then spoil the line with socks.
Colour Choices in Flat Front Shorts
As an item of clothing, men's flat front shorts come in all sorts of shapes and sizes that are rendered sharp by the pleatless fronts.
In common with the origin of bermuda shorts, flat front shorts are frequently to be found in dark colours that one would not normally expect of shorts to be worn in warm conditions. Dark colours such as navy blue lend a formal tone to the garments, but many shorts are now to be found in brighter, lighter colours and even fashionable prints such as camouflage.
For the more adventurous, flat front shorts are frequently found in brightly coloured plaid patterns which make them ideal for the golf course, even if they are not strictly golf shorts.
Fabrics Used in Flat Front Shorts
Mens flat front shorts are generally made from fabrics that are absorbent. This makes the shorts ideal for wearing in warm weather.
Cotton
Cotton is a natural fibre that is cool to wear. Because it is absorbent, it draws moisture away from the skin, keeping the wearer cool and comfortable. It is a soft fabric that is hard wearing but unfortunately, because of its absorbency, it creases easily.
Polyester
Polyester is a synthetic fibre that is recognised as being particularly comfortable to wear. It is especially hard wearing and, in particular, it does not crease. This feature makes polyester a fabric of interest in the creation of men's shorts and trousers but, unfortunately, it does not absorb moisture.
Viscose
Viscose is a synthetic fibre made from cellulose. It is a cool fabric to wear, making it a useful material to make mens flat front shorts from. Viscose is soft to wear and absorbent but has the disadvantage of creasing easily.
Mixed Fibre Fabrics
One way in which manufacturers have dealt with the disadvantages of a natural fibre such as cotton and a synthetic fibre such as polyester is to create a fabric from a combination of both fibres. Twill is a textile weave using two fibres, and it lends itself to being woven from a blend of fibres and polyester. Cotton mixtures of twill are frequently used to make men's flat front shorts.
Buying Men's Flat Front Shorts on eBay
One of the quick ways of buying a pair of men's flat front shorts is to head for the homepage on eBay and key in the search phrase "men's flat front shorts". This generates a listing of all of the shorts available on eBay that have no pleats across the front or rear waistband. It may be that you are looking for a more specific type of flat front short, perhaps a pair of bermuda shorts or a pair of golf shorts. Using either of these terms in the search bar can start to reduce the number of listings you have to review.
eBay also provides a variety of advanced search tools. The website also tries to suggest ways of helping you make your search more effective. You may also save your search details when you have generated the type of listings you are looking for. Before you make your purchase, it is a good idea to check the cost of delivery to your home. If you live close to a seller, the seller may even be allow you to collect your purchase in person. eBay's numerous search features make finding that pair of flat front shorts easy.
Conclusion
A versatile article of clothing, flat front shorts represent an elegant addition to a man's wardrobe. Finding the right pair of flat front shorts is not a difficult proposition if one is aware of the choices in the marketplace. Men's flat fronted shorts are comfortable to wear in social circumstances, no matter how formal or informal they might be. Careful choice of colour, along with the sharp tailoring associated with the flat front lines of these shorts means that this article of clothing may be worn in semi-formal occasions as well as in warm locations.
With its numerous listings of flat front shorts for men, eBay is a great retail option for purchasing these shorts. The wide range of products available on eBay makes it unlikely that a traditional brick-and-mortar store is able to stock a similar range. With its numerous user-friendly functionalities, eBay makes it easy and cost-effective for a man to find that right pair of flat front shorts that he can add to the wardrobe.