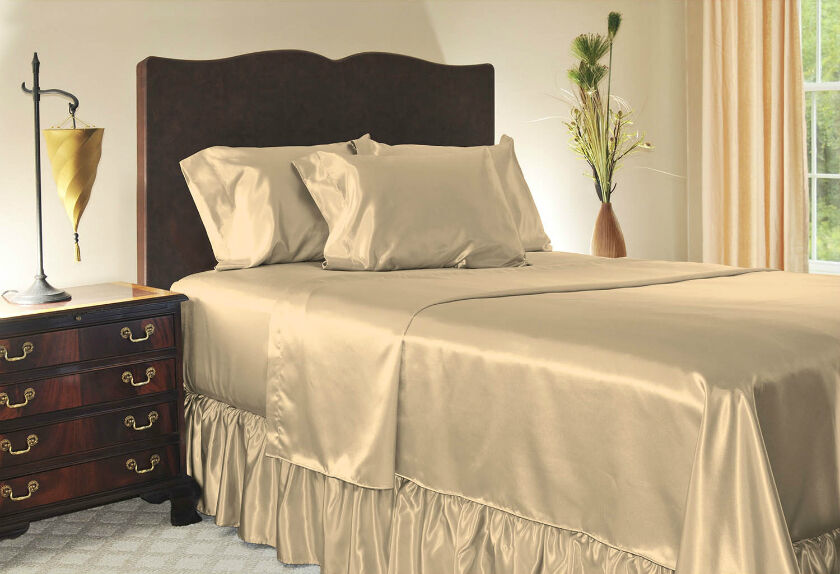 A great pair of flat sheets can make for a great night's sleep for virtually anyone. A great night of sleep has a great effect on how we function throughout the day. Additionally, a quality pair of flat sheets can help to protect a mattress from everyday wear and tear. But where does one start on the search for a pair of flat sheets that will not only offer comfort for a great night's sleep but also help to provide protection from the daily elements to one's mattress? Finding the right selection of flat sheets for one's bed doesn't have to be a hassle or cause unwanted stress. With the correct information, and right research it's possible to determine the right size of flat sheets to purchase as well as ensure they are not only comfortable, but provide protection to the mattress. With proper knowledge of the correct size, fibres used in manufacturing of flat sheets, colours, and other information on quality features, choosing the correct flat sheets can be a breeze.
What to Consider Before Purchasing Flat Sheets
When it comes to deciding on exactly what type of flat sheets to purchase, there are a few factors that should be considered prior to making that decision. It's important to make an informed decision before jumping out and just buying on a whim.
What Makes a Flat Sheet Comfortable and Durable?
The comfort and durability of a flat sheet, like any bed linen, begins with the fibres that are used, how they are woven, and the thread count this entails.
A Breathable fibre
Fibres often favoured for breathability in bed linens include Pima cotton, which is sometimes referred to as Supima, Egyptian cotton, linen, and silk. Egyptian cotton is today grown in many parts of the world. Real silk sheets are as expensive as they are luxurious and must be dry-cleaned. Cotton-polyester blends are popular for their no-wrinkle ease, but are less breathable than all-cotton sheets, which can make them less comfortable in warm weather. The most comfortable cotton-polyester blends will be those that are at least 50 percent cotton. Polyester is also blended with cotton to make microfibre, which wicks moisture, making it a comfortable fabric for people who tend to become warm at night. It is prone to accumulate static in the dryer so the use of a dryer sheet may be helpful.
Eco-Friendly Bamboo Sheets
When buyers see sheets labelled as made from eco-friendly bamboo, the fabric is what has traditionally been known as rayon. This soft, comfortable fibre is considered "dry clean only" in garments. On its own, it can be prone to wrinkle and shrink in the dryer if not carefully handled. It is best blended with cotton to create a sheet with breathability and comfort. The most comparable fibre frequently recommended for sheets is modal, a cellulose-based fibre made from beech trees.
The Weave
A smooth weave makes for a comfortable sheet. The classic percale always is well regarded, as are sateen and flannel. Jacquard and damask weaves will be smooth and comfortable when woven by the best manufacturers with the best looms, which means they will cost more.
The traditional weaves for sheets are percale or, for cold seasons, flannel. Because of how it is constructed, thread counts do not apply to flannel. Look instead for a sheet that weighs at least 4 ounces per square yard. More than 5 ounces per yard is better. Sateen weaves achieve higher thread counts with some loss of durability. Jacquard and damask weaves have higher thread counts and may be very durable, but depending on the specific weave, may or may not feel smooth. Jersey knits are relatively recent to the market and feel as comfy as a T-shirt. Because they are knit, the traditional thread count measures do not apply.
Thread Count
When flat sheets come with thread counts that range from 100 to 1,500 threads per inch, it can be difficult to decide which ones are good, or even good enough.
The way textile threads are counted has changed dramatically since 1990 as a result of the globalisation of the textile industry. The American standards for counting threads in textiles have had to be replaced by international standards. These standards increase the thread count when certain weaving techniques are used, even though by the traditional American standard, the number of actual threads in a square inch of fabric is the same.
Without detailing the new standards, we'll simply say that sheets from 200 to 400 threads per inch are very comfortable and durable. Sheets up to 500 threads per inch are likewise comfortable and durable. Beyond 500 threads per inch: sheets are likewise comfortable and durable. The difference, in most cases, is related to how threads are counted under international regulations, not the actual number of threads in the sheet.
So while a sheet with fewer than 150 threads per inch will certainly feel rough to many people, most people will not experience a difference in comfort or durability over 500 threads per inch.
Stitch Quality is Important in Flat Sheets
The main additional factor affecting the quality of flat sheet is stitching. Silk sheets, with the exception of the very highest quality seamless silk sheets, will have seams in the body of the sheet to assemble narrower strips of silk fabric. All sheets have stitched hems and may also have sewn border details. Hems should lie flat and be double-stitched for durability.
Sewn Border Details
Flat sheets often have fine sewing or embroidery details on the top border that may distinguish them. These details are entirely the choice of the owner. They will not affect the sheet's usability or durability.
Flat Sheet Sizes
Flat sheets are being offered in sizes larger than the standard to better fit the new pillowtop mattresses. A potential buyer can use the measurements below to find the correct size of flat sheets to purchase.
| UK Bed Size | UK Mattress Size (cm) | Flat Sheet (cm) |
| --- | --- | --- |
| UK Single | 90 x 190 | 180 x 260 |
| Double/Full | 135 x 190 | 220 x 260 |
| Euro Double | 140 x 200 | 220 x 260 |
| King (Standard) | 150 x 200 | 265 x 275 |
| Euro King | 150 x 200 | 265 x 275 |
| Super King | 183 x 200 | 280 x 290 |
Compare the size of any sheets considered for purchase to the dimensions of the bed where they will be used. The width should be sufficient to go across the bed and reach to the box spring on both sides, then tuck between the spring and mattress. The length should be sufficient to extend from the top of the bed to the bottom, down to the box spring, and then tuck. This should allow for an ordinary border to be folded over. If an unusually wide border pattern is involved, extra length may be required.
Flat Sheets Can Make a Unique Duvet Cover
Flat sheets can become the makings of a custom duvet cover. With three simple steps it can be fairly simple to transform a quality pair of flat sheets into a duvet cover. The first step is to select two flat sheets, some people prefer to use two different but complementary sheets to that they may change their decor later on, with just a flip of the duvet cover.
Next, it's important to stitch together three of the sides. For the fourth side, there are a few different methods that one can use. The first method would be to grommet both of the sheets and attach a pretty ribbon together. However this method only will work until it's time to wash. The next method would be to stitch buttonholes on one side and buttons on the other, and button together. If neither of these methods seem to strike a fancy, one can fasten snaps in place on each side by hand sewing or using a snap fastener tool, and snap together. The assembly is easy and no one else will have exactly the same duvet cover.
How to Buy Flat Sheets on eBay
When shopping for flat sheets on eBay, it's very easy to select among a wide number of options. To limit the number of options, you will probably want to begin by identifying the bed size and pieces you are seeking: for instance, queen bed flat sheet or full bed flat sheet. You may then further specify any colour or fibre preferences. If you wish, you may specify the thread count you desire. With thousands of selections available, sorting search results by price is one way to start comparing "apples to apples" in your sheet search. You will be able to see the range of thread counts and fibres, such as Egyptian cotton, available at a given price point.
On eBay, another useful way to compare among products is to compare the sellers. On eBay you can see whether most prior customers have left positive Feedback about a seller. This allows you to know whether the seller has a track record of successful transactions with prior customers. You can also check to see if a seller is considered a top-rated seller. These sellers offer the highest levels of reliability and customer service, demonstrated over many prior transactions.
Conclusion
Finding the best set of flat sheets available can help to ensure that a great nights sleep is had and allow the mattress to last much longer. The thread count will help a buyer judge the quality of the sheets. The thread count can be seen alongside the product name. Thread counts between 80 and 190 mean that the sheets are a bit rough. Sheets between 200 and 280 are considered as adequate. Wider flat sheets are now available to help end the "blanket wars" after a thick, pillowtop mattress or a cosy mattress topper has made a bed thicker and the bedding seem less commodious. Since comfort was the goal of the mattress purchase, it only makes sense to assure that the sheet isn't battling with that comfort initiative. Flat sheets are the perfect complement to any mattress, and can go along way to help ensure comfort and quality