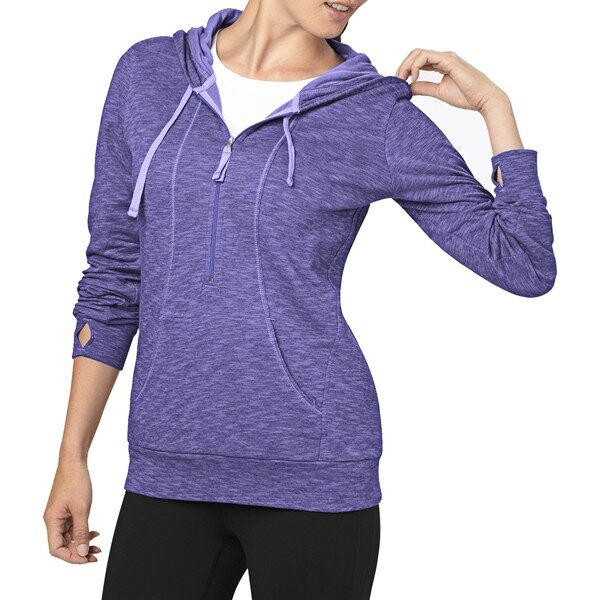 Sweatshirts are comfortable, warm, and tend to be pretty affordable. They can be dressed up or dressed down, with the addition of a few key accessories and a nice pair of paints. However, many people avoid wearing or buying sweatshirts out of an unwarranted fear. This fear originates with the misnomer that sweatshirts are largely unflattering. In fact, many people consider them an article of clothing that is just thrown on without any consideration to style or fashion.
In reality, sweatshirts, like nearly any popular form of clothing, come in several cuts with multiple fabric options. Finding the right cut, fit, colour, and fabric for one's body can mean acquiring a surprisingly flattering sweatshirt. This information not only helps consumers find the perfect, flattering sweatshirt, but it also can be carried throughout life, making it possible for a person to always cultivate a flattering, attractive wardrobe with minimal effort.
Getting a Good Fit
First and foremost, the sweatshirt must fit to flatter. Sweatshirts that are too large appear sloppy, and those that are too small make the wearer seem larger and are certainly far from flattering. The first step to finding a sweatshirt, or any article of clothing for that matter, is being honest about one's size and choosing an option that fits appropriately. Even if the size is a number slightly higher than one would like, it is important to be honest and accept it.
Additionally, height should be taken into consideration. Though most women fall into the "average" category, those who are taller than 170.18 centimetres should seek clothing, including tops, that are cut specially for the tall. Those who are shorter than 157.48 centimetres should seek pieces out of the petite section. This helps ensure that the sweatshirt appropriately falls as it should on the waist or hips, with the sleeves long enough to reach the base of the wrist.
Selecting an Accommodating Cut
One of the first steps to finding the perfect sweatshirt is becoming acquainted with one's body type, as well as the cuts of sweatshirt that best accentuate it. Individuals who know what body shape they have can often select clothing that look phenomenal with minimal effort. This is because there are some relatively hard and fast rules for selecting fashion pieces to suit a particular body type or shape, as well as rules for which pieces do not suit that same body type. The chart below dissects the five common body types. Knowing which body type a person has will put her on the right path to selecting comfortable, flattering clothing.
| Body Type | Description | Weight Gain |
| --- | --- | --- |
| Rectangle | Lacks defined waist or clear curves | Fairly even weight gain, though some pool weight around the waist |
| Pear | Shoulders narrow in comparison to the hips; shirt size often smaller than trousers size | Tendency to gain weight in the hips and bottom |
| Hourglass | Balanced hips and shoulders with a nipped in waist | Weight gain tends to be evenly dispersed |
| Oval | Features a wide hipline and heavy frame; large bust | Weight disproportionately develops in the stomach region |
| Wedge | Classic athletic build with broad shoulders and smaller hips | Weight disproportionately gathers in the arms and shoulders |
The chart above can help a consumer determine their body shape, which will most assuredly fall in one of the five basic categories listed above. Once a consumer is sure, then finding flattering sweatshirts and other clothing should be a breeze.
Sweatshirts for the Rectangle Shape
Women with a rectangle shape should seek sweatshirts featuring a fitted waist. The inward nipping of the waistline creates the illusion of having curves, making the rectangular shape appear more balanced.
Sweatshirts for the Pear Shape
Sweatshirts that feature wide, rounded necklines and fall a few inches above the hipline look good on the pear shaped. The wide, rounded neckline helps to balance the disparity between the top and bottom.
Sweatshirts for the Hourglass Figure
The hourglass figure is naturally curvaceous. Fitted sweatshirts take advantage of curves by accentuating them. Low necklines draw the eyes upward. Elongated sweatshirts that fall just below the hips help extend the shape and look great paired with complementary tights.
Sweatshirts for the Oval Shape
Flowy, non-tapered sweatshirts look good on the oval shape. Finding a sweatshirt that flows out at the bottom helps to create the illusion of curves. Empire waists, which are nipped right below the bust only to flow out around the waist, look particularly fetching on the oval shape.
Sweatshirts for the Wedge Shape
Sweatshirts made out of thin, flowy, non-rigid material look best on a wedge-shaped body. Wedge-shaped individuals should avoid sweatshirts that add a lot of additional bulk. Vertical details and a nipped waist are a plus.
Colours and Skin Tones
Everyone has certain shades that look good on them and others that do not. This is no accident; it is a simple matter of finding shades that bring out the best features of one's complexion. In addition to seeking sweatshirts with a flattering cut, it helps to look for sweatshirts in shades that are meant to complement one's natural skin colour and complexion.
To determine what type of complexion one has, it is best to examine the skin in bright, natural light or while standing beneath an incandescent bulb. Nearly everyone, regardless of race, when free of make-up, will have undertones that are pink, red, blue, or yellow. Knowing these undertones makes it easy to find one's signature colour. Individuals who cannot seem to determine their undertones from their face should inspect instead the inside of their wrist or their stomach.
Colours for Warm Undertones
Warm undertones are red, yellow, or peach. They should be matched with sweatshirts of similar or complementary shades. So red, yellow, or peach-coloured sweatshirts look good on these complexion, as do green and purple, the complements of red and yellow.
Colours for Cool Undertones
Individuals with blue or pink undertones have what is known as a cool complexion. As a result, they look best in cool colours like blue, pink, as well as complementary colours like green and orange.
Other Considerations
Apart from finding one's undertones and seeking sweatshirts and other clothing that complement or match those undertones, there are a few other guidelines that should be followed when matching clothing for the express purpose of complementing one's skin tone.
Dealing with Uncharacteristic Colour Variations
Modern dyes and screen-printing have afforded the manufacturers of clothing and textiles infinite variations from which to draw. For this reason, it is important to be aware of colours and how they affect one's appearance. Shades that make the skin appear washed out should be avoided. Those that make the eyes sparkle and the skin shine should be used frequently.
Avoiding Bright, Intense Colours for Blondes and Neutrals
The undertones of the skin play a significant part in determining signature colour, but the eyes and hair should not be ignored. Individuals with light blond hair, for example, should avoid bright, intense colours, even in complementary shades. The same goes for those individuals whose complexions are relatively neutral, seemingly falling somewhere between warm and cool.
Making an Unbecoming Coloured Sweatshirt More Becoming
If one has the misfortune of ending up with a sweatshirt in an unbecoming colour, all is not lost. Adding accessories, especially near the face, which complement the skin and work to balance the tones in one's complexion can help to improve the way the odd-coloured sweatshirt looks and thereby make it an acceptable part of one's fall wardrobe.
Finding Flattering Sweatshirts on eBay
To uncover the massive amount of sweatshirts available on eBay, one only has to input the term "sweatshirt" into the site's reliable search engine. This vague term is sure to uncover a near-infinite supply of options. However, to get search results that are more specifically tailored to your needs, try using more precise terms in the search. For example, you may look for "blue women's sweatshirt small" or "boat neck sweatshirt pink". After the results roll in, use the refinement options eBay provides to reduce them to a more manageable level and hone in on the specific type of sweatshirt you hope to obtain.
Getting to Know the Seller
Questions about a seller or the item you intend to purchase can frequently be answered with a simple visit to the seller's eBay profile. From there you can contact the seller via a private message regarding any question you may have about a particular item. You can also read feedback from the seller's previous eBay patrons and see what other items they currently have available.
Conclusion
The masses have long regarded sweatshirts as frumpy and unfashionable. Some people even swear that they would never be caught in public wearing one. However, these comfortable, cool weather pieces are hard to resist when the temperature drops, and with the right fashion sense they can flatter nearly any shape, complexion, and size. Furthermore, since sweatshirts are a basic staple, they are easy to find.
Selecting a sweatshirt in the right size, cut, and in a shade the complements one's personal complexion is sure to flatter the wearer. Learning tips for finding the best cut and right shade of clothing is important for anyone who hopes to improve their wardrobe and the way they feel when wearing it. Knowing what colours and cuts look good is something that does not change, regardless of fashion trends. It is knowledge that can help anyone look and feel their very best in clothing of every type, even sweatshirts.