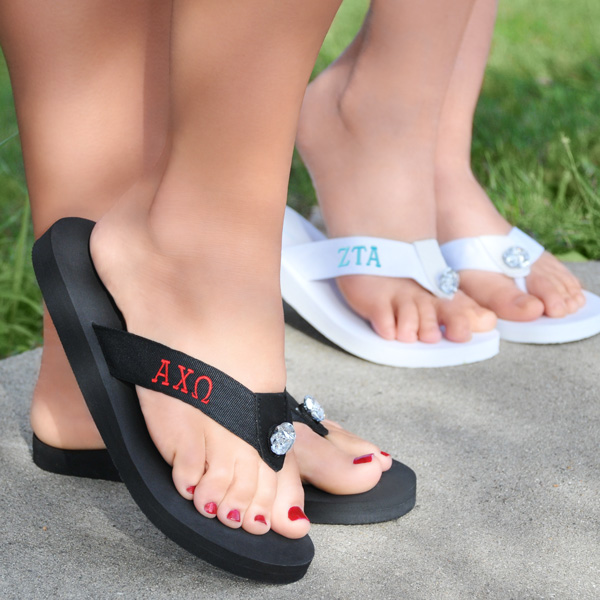 Flip flops date back to 1500 B.C., and in their long history have been popular with Ancient Egyptians and surfers alike. In contemporary fashion, they can be spotted at the poolside, on city streets, and in tourist destinations worldwide. Yet in spite of their enduring use, many flip flops are very bad for the human foot. They can lead to problems with the feet, skeletal alignment, and more. However, there is hope for flip flop enthusiasts: some models adequately support and fit to the foot, reducing the risk of injury.
When shopping for quality, foot-friendly flip flops, shoppers should look for several different things, including supportive insoles, wide straps, traction, and limited flexibility. They should also be certain to purchase a pair in the right size for them, since compromising in this area may increase the chance of injury. Lastly, it is important to understand that even quality flip flops are not meant to replace a walking shoe or pair of trainers, so people should limit when and where they wear their flip flops. Following these guidelines makes it easier to find a stylish pair of flip flops that will be comfortable all summer long.
Common Problems Associated with Flip Flops
Some chiropodists may argue that the concept of healthy flip flops is an oxymoron. The healthiest shoes, they contend, are lace-up trainers: they offer high shock absorption and a good level of support, and allow the walker to keep their natural stride. Others point out, however, that flip flops' breathability, comfort, and ease of taking on and off are significant advantages, including for people with certain health conditions.
The major problems with many flip flops are that they do not provide adequate shock absorption for hard surfaces like concrete, offer minimal support, and that their loose fit forces the toes, feet, and legs to compensate by trying to grip them. In addition, many people take shorter strides when wearing flip flops, which may strain the lower leg. All these issues put undue stress on the toes, feet, knees, hips, and back, and can cause pain and even injury. Common problems include exacerbation of foot issues like over-pronation when the arch flattens without support, tendonitis, hammer toe, and misalignment. Not to mention, flip flops leave the foot vulnerable to stubbed toes, bruises, and cuts from objects in the vicinity.
That said, all is not lost when it comes to flip flops. The key to wearing them, experts advise, is to choose quality flip flops that provide support and protection, as well as being judicious about when and where to wear them.
Choosing a Flip Flip to Support Your Foot
Generally speaking, more structured flip flops tend to be much better for feet than the ubiquitous flat varieties. There are certain specific things shoppers should look for in flip flop construction to ensure they are getting a healthier model.
Contour
Flip flops that have a slight wedge under the arch of the foot and cup the heel and toes are likely to be much more foot-friendly than the flat-soled versions. They offer support, particularly in cases of pronation.
Wide Straps
Experts advise shoppers to look for the widest straps possible. They hold the shoe in place, reducing the foot's need to grip, which makes for a much better walking experience. In addition, broad, comfortable straps are less likely to cause blisters and callouses.
Limited Flexibility
Many cheaper flip flops have flimsy soles, which often cause the walker to take shorter strides. Good flip flops flex only where the foot does, at the ball of the foot. Stiffer soles improve balance, arch support, and alignment. When considering a pair of flip flops, test how they bend. Forego ones that bend in half or twist easily, and opt instead for minimal flex.
Sole Material
Cork soles tend to be best for shock absorption and comfort. Other supportive, durable options include Ethylene vinyl acetate (EVA), polyurethane (PU), or synthetic rubber.
Traction
Adequate traction prevents slips and falls, thus reducing the risk of injury. Shoppers should check for tread designs on the bottom of the flip flops, and avoid ones that are entirely smooth.
Chiropodist's Approval
Some chiropodists recommend certain brands, including Clark's, Born, Birkenstock, and others. Researching a particular brand may help shoppers assess quality. Models with an APMA Seal of Acceptance, for example, have been approved by the American Podiatric Medical Association.
Find a Pair of Flip Flops That Fit
Chiropodists emphasise the importance of fit when selecting footwear, and this is as true for flip flops as for any other style. Heels and toes should not hang off the edge of the shoe, nor should there be extra room between the foot and the edges of the sole. Flip flops that are too small may result in blisters and bruises, while ones that are too large may cause trips and falls, and can be hazardous while driving. In short, the foot should fit comfortably on the surface of the shoe, and the straps should feel secure across the foot without being too tight.
Sizing
Shoe sizing varies depending on the manufacturer, and sizing systems differ in the UK, Europe, and the US. The following chart is a conversion guide based on foot length in centimeters.
| Foot Length (cm) | UK Women's Size | Euro Women's Size | US Women's Size |
| --- | --- | --- | --- |
| 20.8 | 2 | 35 | 4 |
| 21.3 | 2.5 | 35 | 4.5 |
| 21.6 | 3 | 35-36 | 5 |
| 22.2 | 3.5 | 36 | 5.5 |
| 22.5 | 4 | 36-37 | 6 |
| 23 | 4.5 | 37 | 6.5 |
| 23.5 | 5 | 37-38 | 7 |
| 23.8 | 5.5 | 38 | 7.5 |
| 24.1 | 6 | 38-39 | 8 |
| 24.6 | 6.5 | 39 | 8.5 |
| 25.1 | 7 | 39-40 | 9 |
| 25.4 | 7.5 | 40 | 9.5 |
| 25.9 | 8 | 40-41 | 10 |
| 26.2 | 8.5 | 41 | 10.5 |
| 26.7 | 9 | 41-42 | 11 |
| 27.1 | 9.5 | 42 | 11.5 |
| 27.6 | 10 | 42-43 | 12 |
Because manufacturers may have slightly different sizing, shoppers should consult information for the individual brand they are interested in. Remember that the foot is three-dimensional, and factors like height and width play a role in sizing as well. It may take extra time to find the right fit, but the benefits make doing so worthwhile.
When and Where to Wear Flip Flops
Another part of the problem with flip flops is that people tend to overwear them. Vacationers may spend an entire day plodding around in them, while some city dwellers opt for flip flops as their basic summer shoe. Experts caution people against wearing them on long walks and hikes, and suggest that even structured flip flops be limited to the beach, poolside, or other activities that require a minimum amount of walking. For errands, shopping, and more, a better option are some basic trainers.
How to Buy Flip Flops That are Good for Your Feet
Quality, supportive flip flops are available in footwear shops, sporting goods shops, department stores, orthopedic supply shops, and online from Internet merchants and through auction sites like eBay. When buying in-store, consumers should take advantage of the opportunity to have the shoe expertly fitted. If purchasing online, they should research manufacturer's sizing charts before ordering, and consider buying from a seller with a return or exchange policy.
How to Buy Flip Flops That are Good for Your Feet on eBay
If you've decided to look for flip flops online, eBay has a wide selection of high-quality flip flops, both new and used, from which to choose. Beginning on eBay's home page, enter keywords into the search bar. For example, you can search for "black leather flip flops" or do a more general search. Keep in mind that some items may be listed as "sandals" rather than "flip flops". You can refine your search results by selecting size, brand, seller location, and more. To find out more about efficient searching, go to eBay's Search Tips page.
Before Bidding on an Item
Before bidding on a pair of flip flops, read the product description carefully, checking details like size, material, manufacturer, and the seller's return policy. Make sure the sizing is UK, or convert to UK sizing using the conversion chart above. You may also want to check the specific manufacturer's website for sizing details. See what the shipping costs and conditions are, and remember to keep them in mind when deciding how much to bid.
In addition, it's a good idea to look at the seller's feedback rating and read comments left by previous customers, especially those who have bought footwear from them. Top-rated sellers have a consistent track record of providing the highest level of customer service.
Conclusion
Flip flops may be a favourite summer shoe, but they can wreak havoc on one's feet, knees, hips, and back. The average flip flop offers minimal support, fits loosely, and thus puts the wearer at risk for injury and health problems. However, there are flip flops available that are more supportive and better-fitting, and experts recommend choosing these for better comfort and less bodily strain.
There are several things to look for when shopping for flip flops. First, they should have arch support, and cup the heel and toes. Next, the strap should be wide and fit closely over the foot. The soles should be flexible only at the ball of the foot, made of durable material, and have adequate traction. Looking for brands recommended by chiropodists is another way to find a quality pair of flip flops. Finding the right size is another important step, since shoes that are too small or too large can cause problems. Finally, experts caution that flip flops are not meant to be everyday footwear, so people should limit their use. By following these recommendations, women can find a comfortable pair of flip flops that treat their feet gently.