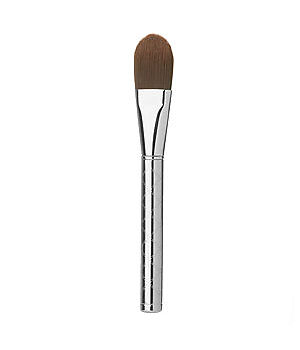 Foundation is one of the most popular cosmetic products sold worldwide. It's a beauty product which comes in a range of skin colours and is applied to the face to create an even skin-tone and to cover any flaws. It can also be used to change or enhance the natural skin tone in some instances.
There are many different types of foundation and it has developed significantly from its earliest known use in Ancient Egypt. Although not essential, beauty experts recommend applying foundation with specific foundation brushes as they are designed to ensure the right amount of product is applied and that it is applied evenly and completely.
Foundation brushes come in a number of different styles and individuals have their own preferences as to which type is best. Using eBay to browse the range of foundation brushes available is a sensible place to start and often the best place to find a wide variety of products.
What defines a Foundation Brush?
A foundation brush is usually a medium-sized make-up brush, which can be used for applying liquid, cream or powder foundations to the face or other areas of skin. Different types of brush are needed for different types of product, but they are designed as a rule with very soft bristles so as not to aggravate the skin.
Brushes can be designed with different bristle lengths and this is often dependent on the product they're designed for use with. The brush is designed to ensure an even coverage of product is applied across the cheeks, nose, forehead and chin. The tip of the bristles should be able to reach into hard to cover areas, including the crevices around the mouth and below the nose.
Foundation brushes are often bought in kits with brushes for other make-up applications but they also be bought singularly. Single foundation brushes can be found at a range of prices with some luxury branded products on the market as well as basic entry-level synthetic flat foundation brushes. Choosing which is best is completely dependent on the individual buyer's budget, the regularity of use and what type of foundation they use.
Different Types of Foundation Brush
There are four main types of foundation brush:
Each of these brushes has their own advantages and disadvantages and work best with different types of product. Flat foundation brushes made from synthetic fibres are the most commonly found and are perfect for liquid foundation application. Buffer brushes have dense bristles and are small and round in comparison to others. They tend to provide a quicker, flawless application of any foundation product. Duo fibre brushes combine synthetic and natural fibres with natural fibres below the synthetic to allow the wearer to apply the foundation in a stippling motion. Finally, flat top brushes are ideal for thick cream or mineral powder foundations.
The right brush will make all the difference to the chosen product so looking in depth at the right one for the preferred foundation will ensure the buyer gets the right product for their requirements.
Types of Foundation
There are different types of foundation on the market which require different types of brushes. The main foundation types are:
Foundations are matched to individual skin tones but it's important to find out which is right for yours. Mineral foundations in particular are gaining in popularity and in turn this has meant that more demand for larger foundation brushes has occurred. Understanding the types of foundation on the market will help buyers ensure they buy the right brush for their chosen type.
Tips for Applying Foundation
There are endless tips offered by experts to ensure the perfect application of foundation. Below is a look at some of the most useful tips, including how foundation brushes can play a key role in the perfect application of the product.
| Tip | How it Helps |
| --- | --- |
| Prepare your Skin | Keeping the skin in the best possible condition makes applying foundation much simpler. Cleansing and moisturising should be part of a daily routine, and exfoliation should be regularly carried out too. |
| Use a Primer | Many wearers find foundation slips throughout the day and a primer can stop this. A new development, they have a jelly-like consistency and help hold make-up in place. |
| Use a Colour Correction Primer | On top of a regular primer many wearers consider a green colour-correction primer too as they help to tone down flushed cheeks and red sores. They can also help with age spots. The green pigment in the primer cancels out the reddened hue in the skin. |
| Always use a Foundation Brush | Foundation brushes are essential for ensuring the product isn't wasted and should help guarantee an even application. |
This is just an introduction to some of the ways of ensuring foundation is applied perfectly and how utilising a foundation brush can help ensure the best possible application.
Finding budget-friendly Foundation Brushes on eBay
Once the right brush has been chosen for the appropriate type of foundation, eBay is the place to be for finding the right product at an affordable price. There are a wide variety of different products available online and it's just up to the individual buyer which product suits their needs.
Many foundation brushes come in sets, which are often the most budget-friendly option and are a great idea for somebody first starting out with their foundation and make-up. Alternatively, eBay is a prime location for finding sought after products or luxury branded items that haven't been able to be sourced elsewhere. These types of product are highly in demand and should be watched closely if required.
Bulk buying foundation brushes can be a good idea if they're used regularly and sometimes when purchased in kit-form the buyer gets a range of different brushes to choose from. So there is no need to make an initial decision and a range of different brush types can be trialled before a final selection is made.
How to buy Foundation Brushes on eBay
One of the best places to buy a foundation brush is online and via eBay buyers are provided with the widest range of choice imaginable. Beginning a search for foundation brushes on eBay is simple - visit the homepage and then locate the health and beauty section. From there, find the make-up and tools section and then there are a number of choices. Most of the foundation brushes are found under the brushes and applicators subcategory, although they can also be found under the foundations category too.
In the foundations category it is also possible to locate multi-buy items including a foundation and appropriate brush, which can be a sensible option if the preferred product is sold in this way.
Alternatively, buyers have the option of using eBay's search function. This is accessible via the search bar at the top of each page and into this bar the search term can be entered. This term can be a particular brand or as generic as 'foundation brushes', dependent on what particularly is needed. The search will show a wide range of results and some will be irrelevant but it's likely with a little more browsing and narrowing down the results via the navigation panel to the left of the screen. Further information regarding the eBay search facility is found on the Search Tips page.
Conclusion
Foundation is as commonplace as any make-up item and developers and producers are always looking to adapt and enhance their products to ensure better and more even coverage is offered. As the foundations develop with liquids, creams, powders and more so does the range of applicators and brushes. Many products come with a generic applicator but this is rarely the best quality brush for the job.
With four main types of brush on the market it is simply down to the individual buyer to find the right product for them. The range and variety offered by eBay means every type of buyer can find a product to suit their needs. Using eBay gives buyers the widest possible range and as the cosmetics develop so do the applicators and brushesto apply them. With endless demand for foundations there is similar demand for brushes and applicators.