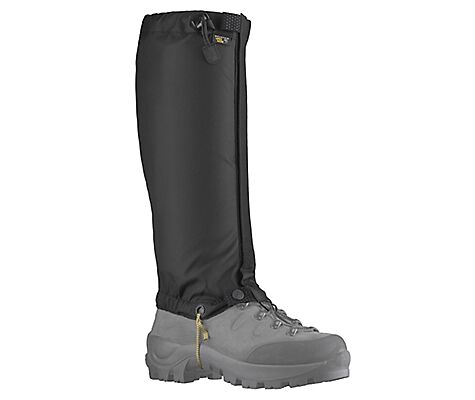 Though they may seem like an explicitly military piece of equipment, many people around the world use gaiters as walking, hiking and climbing aids. There are many different kinds of gaiter available, buying collectable gaiters as militaria pieces, or new gaiters for working use.
This guide will help buyers find the perfect gaiters for them in terms of material, country, period and more, and even help them understand why they should use gaiters and how to purchase them on eBay.
About Gaiters
Gaiters have vastly changed in material, design and appearance since their first use, but whether antique or modern they serve the same purpose. This is to cover up the leg from the shoe to below the knee, keeping out dust, water or sand whilst also preventing injury that may be caused by the shoes worn. In most militaries, gaiters must cover the bootlaces as well to be called gaiters, otherwise they are just leggings.
Gaiters are not only used by militaries posted in desert and jungle areas to protect the legs of soldiers, they are also used by hikers, climbers and even horse riders. They use them to protect their legs from thorns as well as to keep their bootlaces from untangling and getting caught. They are also used to prevent damage to legs – in particular with hikers and climbers, who may be using studded boots or crampons.
Buying Gaiters by Type
There are many different kinds of military gaiter available online, and it may be easier for the buyer, rather than searching through every available listing, to search for gaiters by type. The types of gaiters can be split into:
Material
The material used in gaiters has varied over the years, from wool to the modern Gore-Tex employed by militaries and most domestic users. The four basic materials used for gaiters are:
Gore-Tex
Gore-Tex is the material the buyer is most likely to encounter when they start looking for gaiters, as it is a common material for both military and domestic gaiters. Gore-Tex is durable, hard-wearing and also very weather resistant whilst still being breathable. If buying modern army surplus, this is likely to be the item the buyer will focus on, not only as a piece of militaria but also as a helpful aid whilst walking, hiking or climbing.
Leather
Leather gaiters are not a material that is commonly used anymore for commercial gaiters; they are still used as part of military parade uniforms as well as gaiters for horse riders. Leather is more formal in appearance than Gore-Tex items, and can be made more comfortable through frequent use. However, due to their rigid shape they cannot be tucked conveniently away into a pocket or the bottom of bags like Gore-Tex gaiters, and leather items are not waterproof unless treated.
Canvas
Canvas is a more traditional material used for gaiters, and is not generally used since the creation of Gore-Tex. Canvas is very durable and wear-resistant, and is slightly water-repellent on its own – though it does require further treatment to be completely water-repellent. Canvas is an organic material, however, and therefore is vulnerable to mildew.
Wool
Wool gaiters are quite rare now, as wool was one of the earliest materials used for gaiters and it does not usually last as long as canvas or leather – degrading quickly or succumbing to mould or mildew damage far more quickly than other materials. Wool gaiters are typically from the WW II period or earlier, and are more likely to appeal to antique militaria collectors rather than those buying gaiters for practical use.
Whichever the material chosen by the buyer, they should make sure it will suit whatever use they want to put it too. Those buyers who are going to use gaiters for a purpose like hiking or climbing should focus on more modern gaiters such as Gore-Tex, whereas those buyers who wish to purchase collectable items or antiques will find that most older items are likely to be leather, canvas or wool.
Country
Gaiters are a useful piece of uniform whatever the country, and many armies have their own design, look and colour of gaiters – making them a great item of interest for buyers wishing to have a collection of gaiters with an international tone.
Particularly well-represented countries on eBay include the German, U.S and British armies, though there are many more available. These countries will have original, period pieces alongside surplus, so the buyer should consider not only the country but the type of gaiter they would like to purchase.
Period
The period of gaiters will be of particular interest to those buyers focused on purchasing military antiques, as the shape, style and material of gaiters have changed a great deal since their initial use. Many gaiters are identified by the exact point in military history they saw service rather than by a date, with gaiters labelled by conflict such as WW II.
In older gaiters, such features as string ties are common instead of modern drawstrings, though some slightly more recent vintage items may have zips instead.
Surplus
The buyer should consider whether they would prefer an item that has seen service, or a pair of gaiters sold as surplus. Though there are some surplus vintage items, surplus gaiters are more likely to be modern items – and therefore more suitable for buyers who wish to put the items to use rather than just collecting them.
An item that has seen service may still be serviceable if modern, and may indeed be less costly than an unused pair of gaiters. Used gaiters may be vintage or antiques and may be a better choice for collectors of old and period gaiters who do not wish to actually use the gaiters.
Why Use Gaiters
It may seem like a rather obvious question, but some buyers seem unaware of the benefits of using gaiters besides having an interest in military uniforms and history. Some of the benefits of using gaiters include:
Comfort – gaiters are designed to make any outdoor activity like hiking, climbing or mountaineering as comfortable as possible, keeping out any stones, sand or dirt out of shoes and ensuring that feet stay dry. Gaiters are also made thick to stop any scratches or scrapes from rocks or plants, keeping any activity as comfortable as possible.
Safety – for many activities, gaiters are a very important safety item. The gaiter will cover up shoelaces to prevent them from untying and being trodden or tripped on, and the thickness and strength of the material prevents knocks or cuts from any crampons or spikes worn on the opposite foot. This is vital for activities such as ice or mountain climbing, where it is easy to cut legs or lose grip due to unsecured shoes.
Durability – army gaiters are designed to be as durable as possible. They are made to be resistant to most wear and tear from use, including wear from bad weather as well as tear from scratches and bumps.
Convenience – gaiters are a good way of keeping legs dry and undamaged, with extra added items to make the gaiters as convenient to use as possible, including such things as drawstrings to tighten gaiters around the legs, zips and even camouflage designs.
Collectable – though many people pay no thought to the idea of collecting gaiters, they have quite a long history as a uniform part and display the same range of designs, colours and ages as other military uniform articles. Gaiters can be of particular interest to collectors as antiques due to the wide range available online.
Gaiters can be useful to anyone from a military collector to a climbing enthusiast, and these are just a handful of the reasons why. Gaiters are durable, comfortable and designed to be as helpful to their wearer as possible, and with a long history of various designs and materials their appeal is universal.
Buying Gaiters on eBay
Now that the buyer has a sense of the various ways and reasons they can choose gaiters, they must begin to search for gaiters online. When searching for gaiters on eBay, the buyer should make sure to consider:
Price – for many people, the cost of items is often the make or break of a deal, and there are many items available online at a variety of prices. The buyer can use the search preferences to adjust search results to match their budget, and with items available at both Auction and Buy It Now there is a great deal of flexibility whilst purchasing.
Material – while searching, the buyer will likely find that Gore-Tex gaiters are the most ubiquitous. If looking for a different material, they should make sure to use the search bar.
Period – if the buyer is searching for gaiters from a specific period, they should make sure to use the search preferences to adjust results, as well as the search bar.
Local Seller – purchasing gaiters from local sellers is the ideal way to keep shipping prices down.
If the buyer requires any further advice, they should consult eBay's Search Tips page for more guidance on how to achieve the perfect search result. If they have any questions about any of the items they see listed, they should not hesitate to Ask the Seller.
Conclusion
Army gaiters are a piece of military uniform useful to many, whether they are interested in military items or in a piece of activity clothing. Many people purchase military surplus items as they know they will be durable, hardwearing and do exactly as they are supposed to.
When searching for gaiters on eBay, buyers should bear in mind the added benefits of purchasing items using PayPal, eBay's preferred way to pay with additional eBay Buyer Protection.