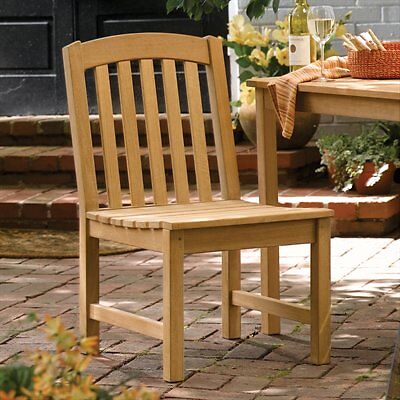 Most people like to be able to sit outside in the garden or on the patio and relax under the sunshine when the weather is pleasant. A garden can also be the perfect place to have lunch with the family, entertain a group of friends at a barbecue, or just to read a good book. For those looking for ways to enjoy their garden better, getting some garden chairs can be a wise investment. The garden is an important part of the home and, just like the rooms, it needs furniture, like tables, benches, and chairs.
Garden chairs are a good addition to any garden as there are various styles of chairs to suit anyone's taste. For those looking for garden chairs and wanting to buy them online from the comfort of their own home, eBay is good place to shop. Buyers wanting to buy the perfect garden chairs on eBay must first know the types and main features of garden chairs available and how to make use of eBay's features when shopping.
Things to Consider before Buying Garden Chairs
Before purchasing garden chairs or any other type of garden furniture for that matter, the buyers should have an idea of what they want. When buying garden chairs, it is important to consider the space that is available in the garden. Some homes have a garden which can hold fifty people, while others just have a cosy patio. In order to choose the right material for the garden chairs, it is important to determine if the chairs will be stored somewhere indoors or left outside when not in use.
Buyers should also consider how big a group they want to have in their garden at any one time. If they plan to entertain more people, getting more garden chairs and maybe a table is a good idea. Besides that, if they have children, they should consider getting chairs which are also comfortable and safe for kids, or even buying some kids' chairs. Lastly, another thing to decide on is the design of the garden chairs, including the chairs' material and colour.
Material of Garden Chairs
Garden chairs come in a vast range of styles and materials, including plastic, wood, cast iron, and aluminium. The material of the chair can greatly influence its look, price, and durability. Therefore, it is crucial for the buyers to determine what material they want their chairs to be made of. Choosing the chairs' material is also important if one has in mind a specific decor for their garden, such as modern, classical, or vintage.
Plastic Garden Chairs
Plastic garden chairs are a popular choice especially among those who are on a budget or want some low-maintenance chairs. Plastic chairs come in a very wide range of designs and colours, so they can look good in any garden. They are also very durable and easy to clean. Plastic chairs generally do not have sharp edges and are very light, making them safe especially for children. However, they should be stored in a secure place if they are to be used in an area with storms or strong winds as they can get blown away quite easily. Also, when kept for longer periods under direct sunlight, the plastic can become brittle and the chairs get damaged.
Cast Iron Garden Chairs
Cast iron chairs can come in many simple or intricate designs and can give a garden either a classical or an art deco look, depending on their style. They are also very durable and can be kept in the garden the whole year due to their weight, without worrying that they can get blown away by the wind. Cast iron chairs are easy to maintain, but they are prone to rust especially when used in humid areas or in places which get a lot of rain. Therefore, they need to be repainted every once in awhile with anti-rust paints to protect them. Some cast iron chairs are powder coated by the manufacturers to further increase the chairs' rust resistance.
Aluminium Garden Chairs
Aluminium garden chairs are a good choice for anyone who wants a modern look for their garden or patio. These chairs are very stylish, but do not usually have intricate designs like those of cast iron chairs. Aluminium chairs are also very lightweight, so they can be easily moved from the storage place to the garden. They are very easy to maintain since they are durable and do not rust. However, they should be stored indoors when it is very windy since they can get blown away, similar to plastic chairs. Some aluminium garden chairs are also coated with powder to make them shinier and easier to clean.
Wooden Garden Chairs
Wooden garden chairs are very popular as they can match the decor of any garden and help users feel closer to nature. There are various designs of wooden garden chairs, not to mention many types of wood that the buyer can choose from including teak, beech, mahogany, oak, and more. Wooden chairs are generally very solid and durable. However, since they are made of natural materials, they can age and thus require proper maintenance. The basic maintenance for wooden garden chairs is to treat them with wood preservatives yearly or, if the chairs are exposed to harsher weather, as often as needed. Wooden garden chairs look better as they age because the fading natural colour and minor cracks of the wood can give the furniture a vintage and unique look.
Helpful Features on eBay
Buying garden chairs on eBay is a straightforward process. However, those shopping on eBay for the first time may not know how to navigate through the website. Luckily, eBay is a buyer-friendly online store which has various features to help users.
eBay Search Function
It is very easy for buyers to search for anything they want on eBay. The basic way to look for garden chairs on this website is to browse its list of garden furniture. eBay has divided various items, including garden chairs, into their respective categories. To look at garden chairs, buyers can select the appropriate category to view various pieces of garden furniture, both used and new. Buyers can then browse through all the furniture items or narrow down their search by selecting only garden chairs.
If buyers want to search directly for garden chairs, all they need to do is type "garden chairs" into the search bar on the eBay home page. To make the search more specific, it is also possible to type in other keywords such as "rocking garden chair" or "oak garden chair". Once the list of products appears, the buyer can then look at them and decide which one to buy. The list of garden chairs can be further refined by price, condition, or location of the seller.
Seller Feedback Score
Some buyers might be wary when shopping online, but eBay has a feature called the feedback score. This feature enables customers to rate the seller which they purchase items from based on the seller's service and products. A high score means that the seller has a good reputation. This score can be seen on any seller's profile page and also on their product page. After a buyer has received the product, he or she can give the seller a rating to help other customers on their future purchases.
Nectar Points
By purchasing products, including garden chairs, on eBay, customers can earn Nectar points, which can be collected and exchanged for prizes from food to gadgets, and even travel deals. If the buyer already has a Nectar account, they can link it with their eBay account so they can redeem the points whenever they purchase things on eBay. If the customer does not have a Nectar account yet and is planning to buy more items on eBay, it is a good idea to set up a new Nectar account so purchasing on eBay can be more rewarding.
Buying Garden Chairs on eBay
When you are familiar with the search features on eBay, it should be very easy to search for the perfect garden chair. You can choose to either browse eBay by selecting the category which has garden chairs or by just typing what you want into the search bar. Both ways can be used to find a good garden chair. After you have come to the list of garden chairs, you can look at all the items and select the one you like. On this list, you can view information on the chair including the image, price, and postage fee.
If you see any chair that you like, you can click on it to go to the product's page. On this page you can access all available details on the garden chair. What you should look at are the full item description, price, delivery charge, condition of the item, and the return policy. You can also view the seller's feedback score and how many Nectar points you can get by purchasing the product. If you are not sure of anything regarding the chair, ask the seller.
Conclusion
When shopping for garden chairs on eBay, buyers should know the different types of garden chairs, the features that eBay has to help customers, and the ways to search and purchase garden chairs for a smooth shopping experience. Before buying a garden chair, buyers should always consider a few things. These include the size of the garden, the number of people that will be using the garden, and more. With a clear understanding of what they want from their garden chairs, buyers can then make informed decisions when choosing garden furniture.
It is also important to know the main characteristics of the different materials that are used to make garden chairs. Each material has its own advantages and disadvantages and these should be considered before making a decision. For example, plastic chairs are cheap, light, and durable, but are less classy than chairs made of other materials. Lastly, when buying from eBay, it is good to make use of the various features that eBay has provided for their customers. By using all the information in this guide, buyers are likely to find the perfect chairs for their garden while enjoying a hassle-free shopping experience.