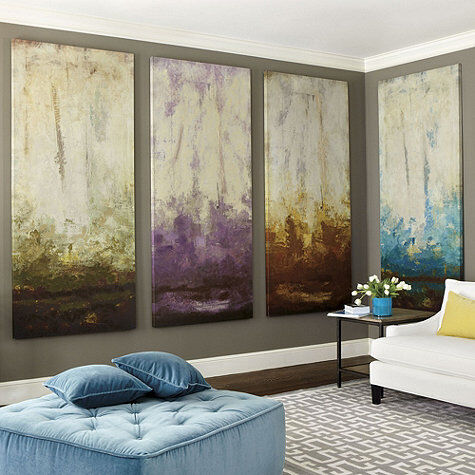 On eBay there are hundreds of giclée prints to choose from at any given time.
Famous artists
Up-and-coming artists
Landscape or portrait
Impressionist or abstract
Affordable price or limited edition
Colour theme
Investment potential
You'll find every variation on eBay. The question is how to go about making the right buying decision.
In the first place:
Is it a good idea to be considering giclée prints?
For that matter, what exactly is a giclée print?
Having been attracted by the giclee concept and used eBay to settle on a short-list of prints, how can buyers use eBay to satisfy themselves that they've made not only the right choice aesthetically and financially, but a safe choice in terms of getting the genuine article?
This guide will take a broad look at:
giclée prints as a category
how buyers can make maximum use of eBay to make a choice they are happy with, and will continue to be happy about as their purchase becomes part of their life at home
What Makes Giclee Different
To understand why giclée prints are rising in popularity and why time-honoured offset litho produced prints are on the way out, simply set one against the other.
The giclée print should appear vibrant in tonality and hue with every detail evident; whereas the mass produced prints will look somewhat dull and lifeless by comparison. Basically that's because the giclée process is digital and the conventional process is mechanical.
It all started when Jack Duganne a California based printmaker was using new IRIS large format inkjet printers to produce proofs of advertisements and illustrations for magazines on the actual paper on which they would finally be printed. He then experimented using these same printing devices to reproduce works of art on quality paper and real canvas with great success. To avoid the dull connotation of computer generated or inkjet printing, in 1991 he christened the new prints 'giclée', a term derived from a French word meaning to spray, squirt or spurt.
The crucial point of difference in the giclée method is that it is digital. The original painting, drawing or photograph is scanned; the image is proofed then inputted to a large format inkjet printer with eight or more heads to be printed on demand onto the same kind of medium as the original.
Digitising
Scanning or origination is the most crucial step in producing exceptional prints. The original is placed in a high resolution flatbed scanner. Each aspect of colour and tone of the digitised image has to be examined individually and as a whole. This requires understanding of:
Highlight
Shade
Sharpness
Chroma
Hu
Colour management expertise is then used to scan, to screen and then finally to print. This detailed colour correcting demands:
skill
experience
advanced Photoshop masking techniques
Perfecting
Proofing is done on-screen using a colour calibrated monitor. This provides a good reference for fine tuning and digitally editing the image. Once the scanner operator (and often, the artist, too) is satisfied with the on-screen representation, a hard copy is made onto the desired, previously selected medium:
digital fine art paper
canvas
cotton rag (or "watercolour") paper
photographic material
Any further adjustments in tone and hue are then made.
Printing
A giclée printer differs greatly from a standard desktop inkjet printer. Over a metre wide and made by companies such as:
Epson
Colorspan
Hewlett Packard
These large format printers are sometimes referred to as a 'knitting machine' because of the resemblance. Using eight to twelve different coloured inks they are able to produce a far wider range and depth of colour than conventional printing.
Microscopic dots of ink are sprayed or squirted on to the medium. Rather than simply arranging inks together to form the illusion of 'continuous tone' colour, giclée print devices actually mix a wide palette of colours together to produce vivid, accurate colour reproductions with tonal ranges as wide as the eye can perceive.
Buying Criteria
The rising popularity of giclée prints stems primarily from the ability to print onto canvas. If the original artist painted on canvas, whether it were Constable or contemporary painter, the buyer can have a reproduction on their walls which is indistinguishable save for the texture of brush strokes. Soft cotton rag papers are also used which give a closer feel of the original if it is a watercolour.
Printed canvas art, whilst more widely available, is still a relatively new product.
Misinformation can often give buyers expectations that don't match the picture when it arrives home. Here are some of the key things to check.
Colour range: Conventional offset lithographic printing process employ 4 coloured printing inks (CMYK) - Cyan, Magenta, Yellow and Black (K) - applied in small dots of varying size 'offset' from one another on the surface. Look in a magazine; look very closely and it's clear to see that what is apparently an image with a wide range of colours is in fact produced using only four coloured inks. By contrast, with giclée printing no screen or other mechanical devices are used and therefore there is no visible dot screen pattern. The image has all the tones and hues of the original painting.
Archival quality: There are two kinds of inks used in giclee printing – dye inks or UV inks. Dye inks are often used in smaller models of printers capable of giclée printing. Although a little brighter in colour, they have a tendency to fade, especially on walls subject to sun shining on them. UV inks contain light stabilisers, combining the best of pigment and dye based inks to produce and maintain authentic colour. They are both light-fast and non-water soluble. These 'archive quality' inks have been tested to show they will resist any visible fading for a projected 100 years. Sellers who are confident of the quality and durability of their prints will promote the type of ink in their item listing.
Colour management: Colour calibration ensures that the colour of the printed canvas closely matches the preview image – the picture on which the decision to buy is based. Colour management not only requires skill, judgement and experimentation but technology such as spectrophotometer devices. Why not ask the seller how they implement colour management?
Genuine article: There is no universal standard of authentication for giclée prints. Some prints which are claimed to be giclée prints are reproductions using conventional four colour (CYMK) printing processes. It's not hard to tell the difference in a shop or gallery, but difficult when buying online. If the print is cheap, it may have been printed abroad (e.g. "from China", from Israel") and it may be impossible to verify the process used with the seller. Good sellers will be pleased to provide provenance and certificates of authenticity.
Value: The more expensive prints will be listed as limited editions. Giclée is a good value route to creating a limited edition. Traditional printmakers using hand-made lithography, etching or silk screen techniques will destroy the plate or "matrix" once the last print of the edition is made. In the same way, the scanned file is deleted from the giclée printer's archive. It's up to the artist to determine how many prints there will be in a limited edition. Unlike fine art print making, there is no deterioration in definition or colour. The 500th print will be identical to the first. But buyers should still expect the print to be numbered and signed, and be satisfied with the description of its origin.
Delivery Always check the methods the chosen supplier uses to pack and ship the work. Generous layers of bubble wrapping inside a dual walled cardboard cartoon should be sufficient.
Buying Giclee Prints on eBay
The benefits of buying from eBay include access to hundreds of trusted sellers, as well as PayPal secure payment systems. This offers choice as well as protection. Read carefully over the listings that are a good match and study the photographs and details given. To answer any queries, or to have certain details clarified, do not hesitate to Ask the Seller. To buy the chosen product, either place a Bid, Buy it Now or put down a Best Offer.
To begin an eBay search for limited edition prints go to the Art portal under the Collectables heading. Then navigate to the Prints section where there are sub-sections for Antique, Modern and Contemporary prints.
Results can be filtered using the boxes in the left-hand side panel. This will reduce the number of results. Check the box 'Limited Edition' as well as in any other sections such as 'Subject', 'Condition', 'Price', 'Style', 'Medium' or 'Signed/Unsigned'. When the search has been narrowed down enough, and there are several suitable options, the search is still not complete. It is important to spend some time researching the product and gathering as much information as possible before thinking of buying or placing a bid.
There is a search box on every page and also an advanced feature where the search category can be specified. To find prints quicker for limited edition prints search in the "Art" category. For more search tips use eBay's Search Tips page. Use key words to narrow down preferences and carefully read through the search results to check that they are suitable.
If the searches are unsuccessful then save a search on My eBay which will send an email notification when the search is matched.
Making Certain
Carefully read the details in item listings.
Factor delivery costs into your final price.
If more information, is desired ask by clicking the "Ask seller a question" link under the seller's profile.
Always make sure to complete your transaction on eBay (with a bid, Buy It Now, or Best Offer). Transactions conducted outside of eBay are not covered by eBay protection programs.
Research the seller in order to feel positive and secure about the transaction.
What is the seller's Feedback rating?
How many transactions have they completed?
What percentage of positive responses do they have?
What do buyers say in their Feedback?
Did the seller receive praise?
Most top eBay sellers operate like retail stores and have return policies.
Do they offer a money-back guarantee? What are the terms and conditions?
Conclusion
Be satisfied that a giclée print offers the desired qualities, and then take a few simple steps on eBay to arrive unerringly at the picture that's perfect.