Glass bead bracelets are classic accessories that go well with a variety of outfits. The natural brilliancy of the glass beads makes them the perfect accessories you need to compliment an outfit without overpowering. Whether you are wearing your favourite pair of jeans and a T-shirt or an evening dress, there is certainly a glass bead bracelet available to complete your ensemble. Reading more about the different types of glass bead bracelets can be of help every time you make a purchase.
What to Look For When Shopping For Glass Bead Bracelets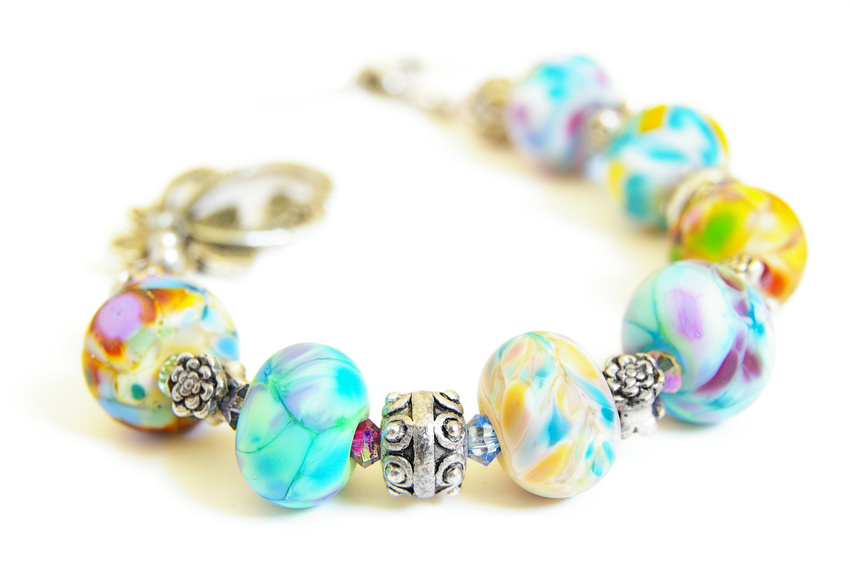 Glass beaded jewellery is one of the oldest types of jewellery, with its roots going back to the ancient Egyptians, Greeks, and Romans. The glass beads used for making this form of jewellery come in a wide variety of sizes, shapes, and colours. When shopping for glass bead bracelets, pay attention to the style of the bracelet, its size, colour palette, and type of glass used to create it. Because most glass bead bracelets are handcrafted, no two bracelets are exactly alike. Some of them feature materials other than glass beads, including Swarovski crystals and sterling silver beads. The use of such materials often adds to the value and distinctiveness of a glass bead bracelet.
Types of Glass Bead Bracelets

There are several types of glass bead bracelets to choose from, depending on your preferences regarding materials and bead shapes. The most popular types of glass beads include millefiori, crystal, pearl, Murano, and lampwork beads. Millefiori beads present a mosaic-like pattern in their design, which creates unique multi-coloured beads. Murano beads are some of the highest quality glass beads. They are suitable for elegant jewellery designs and come in a variety of colours, including blue, green, and red. Also known as the Swarovski beads, crystal glass beads contain lead, which refracts light and gives them a bright appearance. As their name suggests, pearl glass beads have the appearance of natural pearls and they feature a surface coating in shades such as white, black, beige, silver, gold, or pink.
Buying a Glass Bead Bracelet in the Correct Size
Many glass bead bracelets feature an elasticated band that makes them adaptable to various wrist sizes. However, some of them are not adaptable and they often come with a clasp. In this case, take measurements of your wrist to determine whether the glass bead bracelet you intend to buy is a good fit for you. Most of the glass bead bracelets available on the market come in multiple sizes that are suitable for adults and children alike.