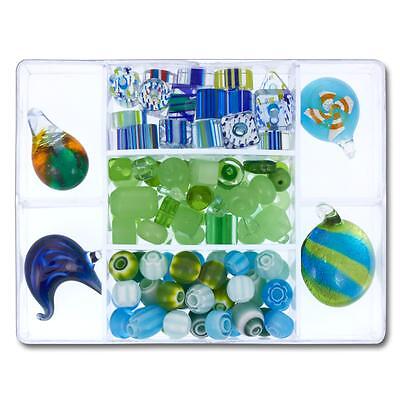 There is a lot of pleasure derived from making jewellery. It is not only fun but satisfying as well to create a unique masterpiece that no other person has and everyone else loves. Some people enjoy making jewellery as a hobby while others also use their enjoyment of creating jewellery as a business. Either way, a lot of items are used in this craft. One of the most popular items to use is glass beads.
There are glass beads to suit almost any fancy, but sometimes when it is a particular type of glass bead that is desired, it often takes a lot of searching to find it. That is why shopping on eBay is so easy. Not only can people find glass beads, but because there are so many sellers on this website, there is a wondrous variety of beads available. Learning tips on how to buy glass beads on eBay not only means that shopping is easier, but it also means that buyers have a large selection to choose from. They should know about the various kinds of glass beads to find the necessary ones for any type of project.
Shopping for Glass Beads on eBay
There is more than one way a person can buy glass beads on eBay. Out of all of the different ways to shop for beads, one of the simplest ways to find them is to perform a keyword search on the eBay home page. Depending on how many search results people want returned to them, a search can be very broad or it can also be very narrow. For example, if a person is only interested in a particular type of bead, like glass lampwork beads, type in "lampwork beads" and any item that is tagged with those keywords is displayed to view almost immediately.
When the search terms are broader, a wider array of bead styles is returned in the results. Sometimes, people are looking for a hard-to-find bead and do not really know the proper name, or maybe the seller has not identified it by the same keywords someone else might look under. In cases like these, it is important to look within various categories within eBay or try experimenting with various keyword searches.
Types of Glass Beads
For an avid glass bead collector or experienced jewellery maker, finding specific beads for items like charm bracelets may be very easy at times, but other times those one-of-a-kind beads are still very elusive. It helps other people who do not have a lot of experience with beads to be able to identify some of the various types that are available.
When novices are able to familiarise themselves with various styles and colours of beads, it is easier to make the right decision when it comes to purchasing them for crafting jewellery, especially if they plan to make a business out of creating jewellery with this accessory. Sometimes, a customer wants to have a bracelet or other piece of jewellery handcrafted for them, and often these customers expect the crafter to know what they are talking about when they call a bead by name or try to describe it. A few popular examples of glass beads that are commonly found on eBay are explained in order to assist people with just such a request.
Glass Lampwork Beads
There are various ways that lampwork beads can be fashioned. Some lampwork beads are created by fashioning them from moulds, or they can be created by polishing them and shaping them from a larger piece of glass.
Glassmaker artisans create this type of bead by pulling and twisting glass rods that have been heated by a blowtorch. When the rod reaches the proper temperature, the glass is set with special tools and bent into different styles while it is still warm and pliable.
Some of these beads can be highly decorative while others can have very simple designs. This type of bead usually has various colours that come from melting together various coloured glass rods. Floral patterns are usually created by pushing a different piece of coloured glass rod into the centre of a molten one, giving the bead the appearance of having a floral pattern. Other details can be set onto a glass bead by using several different techniques that basically paints the bead with molten glass.
Swarovski Glass Beads
The Swarovski style of bead is probably one of the most talked about beads when it comes to glass varieties. The Swarovski name is synonymous with the quality and brilliance of the crystal that goes into any of their beautiful handiwork. A Swarovski crystal or cut glass bead is one that is always crafted to the highest standards; therefore, this type of bead is often one of the ones most sought after by bead lovers.
There are many ways that these types of beads are cut as well, which helps to give them a multi-facet sparkle that people love. This type of glass bead is almost a must have for anyone who plans on going into the business of handcrafting unique jewellery that is high demand.
Czech Glass Beads
Another type of bead that a novice may want to become familiar with is the Czech glass bead. Created by craftsmen in the Czech Republic, this type of bead is popular because of skill of the craftsmen that put their artistic talents into making this a beautiful bead. It is always a highly sought after bead that is used in fashioning a lot of jewellery.
This kind of bead is popular because it is so easy to work with; therefore, it is often used in beginner jewellery making classes. They are popularly used in making bead and wire bracelets and are great for anyone to use who wants to become familiar with making bracelets and other types of jewellery.
Glass Beads Chart
There are many other types of beads available on eBay that are great for making jewellery and other types of crafts as well. Some other popular styles of glass beads are listed in the table below.
| Glass Bead Type | Notable Characteristics |
| --- | --- |
| | Silver foil encased inside bead gives multi-dimensional look |
| | Designed in purple hues to resemble gemstone |
| | Created with sterling silver centre to add durability and strength |
| | Bead with a unique black and orange marbled finish |
| | Small glass beads commonly used as separators between other beads |
One of the great things about glass beads is not only are they great for making jewellery, but they are also ideal for using in many other ways. Glass beads can be used for decorating crafts and are also used as decorative additions for clothing. They come in a large variety of shapes and colours, so the possibilities for using these beads are endless.
Plan in Advance
Because glass beads are such a popular item due to their versatility and beauty, it is a good idea to always plan ahead and keep a variety of glass beads and other items in stock. Not only does this help a person be prepared to make any type of jewellery on the fly, it is also helpful as a sales tool.
It is also helpful for a person who wants a piece of jewellery made that includes these glass beads to see them and inspect them. A lot of people may not necessarily know exactly what they want and may be willing to choose from just the stock a jewellery maker has on hand; however, there are also many people who know exactly what they want and keep shopping until they find it. In order to keep these customers and attract new ones, having a glass bead assortment is almost a necessity.
Process for Buying Glass Beads on eBay
Once you have determined what types of glass beads you want to have on hand and in what quantity, find the items by performing a keyword search. Once you see items you are interested in, click on the name of the item and scroll down to read the full item description. It is here where you have access to all of the information about the item that includes the packaging type, the condition, shipping information, and payment methods preferred by the seller.
Seller Information
In order to find out more about the person selling the item, click on the name of the seller that is listed for the item chosen. Here you are able to view specific details about the seller that include the seller's rating on eBay and feedback from previous customers as well. The feedback includes information from customers for the last 12 months, which is helpful in providing a snapshot of how the buyer has been completing the transactions on that end.
Reviewing a seller's feedback gives a buyer the chance to see if the seller is prompt in areas such as responding back to customer requests for additional information, shipping items purchased, and many other aspects of how the seller conducts business. The feedback provided by previous customers is helpful in determining if this could be the right seller for you to purchase from.
eBay Shops
Another great thing about eBay is that many sellers have their own eBay shops. There are many advantages to buying glass beads from individuals who have their own shops. Often, a seller is able to give special discounts to a buyer when they purchase more than one item from their store. Often, many items are also bundled together, which not only makes it convenient for a person who needs multiple items at one time but also makes it more affordable for the buyer. Buying items in bulk is another great way to get a variety of glass beads and save money in the process of doing so.
Conclusion
Glass beads are a wonderful item to use in so many different ways. Their versatility makes them a great choice not only for jewellery making but also for other activities, such as accessorising clothing or creating decorative crafts as well. Glass beads can be used in so many ways that they are an item that is typically in high demand.
Sometimes, it is difficult to find a particular type of glass bead desired, and therefore, many people go to eBay in order to obtain these items that would otherwise be almost impossible to find elsewhere. By performing simple keyword searches, people are able to find almost any type of glass bead that their heart desires.
Taking the time to review specific information on the glass beads gives the shopper valuable information about the item in more detail. Being able to inspect feedback from prior customers is also helpful in determining if a seller is the right one for a particular purchase, especially if an item is needed as soon as possible and shipping methods are a concern of the buyer. Buying glass beads on eBay is not only simple, it can also be very affordable and convenient as well.