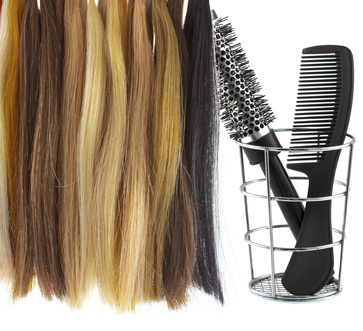 Hair extensions have been popularised by celebrities as a quick and easy way to change hairstyles or to add volume and length to hair. Due to the increased popularity of these hair accessories, buying hair extensions is becoming more affordable. However, not all hair extensions are good for the wearer's hair and some people suffer more negative effects than others. In some cases the damage caused is temporary and the condition of the hair improves, but in severe cases hair loss or damage can be permanent. Making an informed decision about hair extensions protects you and your hair.
Before buying hair extensions, learn about the potential problems that hair extensions can cause. The way in which extensions are applied to natural hair plays a significant role in whether the extensions cause damage to the wearer's hair. Find out which application methods potentially cause the most damage and which hair extensions are the safest to use. Hair extensions are available from specialist suppliers, hair salons, and online, from sites like eBay along with other popular hair care and styling products.
Common Problems Caused by Hair Extensions
Hair extensions have been known to cause hair to break or fall out. The glue that is used to bond extensions to hair during certain types of application processes can burn the hair and cause splits. Heat and hair do not mix well, so hot bonding can cause additional damage. The application of hair extensions that stay in place by being fixed to the wearer's natural hair can cause a form of hair loss known as traction alopecia. This is caused by the weight of the extensions pulling on the natural hair. Some wearers report headaches or sensitive scalps after having hair extensions applied. As in the case of traction alopecia, this is attributed to the weight of the extensions pulling on the wearer's natural hair. Some people are allergic to the glues and chemicals used to bond the extensions to their hair.
Who Should Avoid Hair Extensions?
People who are more prone to hair damage caused by extensions include those who have thin or weak hair and people with pre-existing medical conditions, such as anaemia, alopecia, eczema, or psoriasis. Skin conditions may be aggravated by extensions. Pregnant women or those who have given birth within the last six to nine months should also avoid extensions as hormonal changes may cause hair loss, which can be made worse by applying extensions. Similarly, people who are undergoing treatment for cancer should not wear hair extensions as the medication can cause hair loss, and extensions may speed up the process.
Hair Extension Application Methods
The way that hair extensions are applied plays the biggest role when considering damage to the hair. These are a number of application methods, which can be divided into two main categories: strand by strand and weft application.
Strand by Strand Hair Extensions
Strand by strand hair extensions can be applied in a number of ways and this type of application is usually done in a hair salon by a trained technician. As indicated by the name, individual extension strands are bonded to the natural hair. The table below lists a number of popular bonding methods with a short description.
Bonding Method

Description

Non-glue

Non-toxic, glue-free lipids are melted and used to secure the hair

Gentle application and removal that is unlikely to cause damage

No special chemicals or tools are needed for removal

Heat fusion

Keratin is heated to form a bond

Likely to damage hair

Must be removed with acetone and a special tool

Cold fusion

Hair is bonded with a keratin-based polymer and ultrasound waves

More expensive, less damaging method

Requires depolymerising tool to remove

Microtube

Cylinder or tube is crimped over the natural hair and extension to keep the extension in place

Damages hair, but this can be minimised by using silicone-lined cylinders

Heavier than non-glue or fused extensions

Special tool required for removal

Micro braids or sewing

No chemicals required for bonding

Small sections of natural hair and extensions are braided together at the roots and sewn into place

Not as damaging as chemical methods

No special tools or chemicals required to remove extensions
As can be seen from the table, some methods are more damaging than others. Those that use chemicals tend to cause more damage, while microtubes tend to add weight. In addition, micro braids could cause discomfort for some wearers.
Weft Hair Extensions
Weft hair extensions consist of tracks with free flowing hair attached. They can be applied using microtubes, tape, or glue, or by sewing them into the hair. These extensions are significantly heavier than strand by strand extensions, and tape applications leave residue in the hair, which makes it difficult to remove the extensions without pulling out some of the wearer's own hair.
Clip In Hair Extensions
Clip in hair extensions are the kindest to your hair. They are similar to weft extensions, but are temporarily attached. They can be applied and removed at home and must be removed before the wearer goes to bed. This means that the wearer's natural hair has time to rest as there is no constant pulling by the weight of the extensions. In addition, chemicals and heat are not required to apply these extensions and they can be removed easily if the wearer develops any discomfort or signs of hair damage.
Choosing Hair Extensions That Are Good for Your Hair
It is important to keep your natural hair looking as good as possible. If you want strand by strand extensions, have them applied by a reputable hair salon. This may cost more, but protecting your hair from long-term damage should be a priority. Ensure that the salon that you choose has experienced technicians who can advise you on the best option for your hair. Follow their advice and do not simply change hair salons if you do not like the advice that they give you, for example if they caution you about allowing your hair to rest between applications.
Choose the best quality extensions that you can afford, opting for non-glue bond or cold fusion strand by strand application where possible. If these application methods are too expensive or not available, then choose sew-in extensions. However, only consider these if you do not have thin or weak natural hair. Clip in hair extensions are the healthiest option of all and have the added benefit of being less expensive than bonded extensions.
Buying Hair Extensions on eBay
Finding hair extensions that are good for your hair on eBay is easy. Simply type a search phrase, such as "clip in human hair extensions", into the search field, which is located on every page, to see the items available from eBay sellers. Narrow your selection by choosing the most appropriate category and item characteristics. If you would like more control over your search, use the advanced search function. Alternatively, you can browse the Health & Beauty section.
Before You Buy on eBay
Before committing to a purchase on eBay, take the time to learn all that you can about the item and the seller. Clicking on an individual listing takes you the item listing page where you can view information such as the full item description, buying options, the seller's accepted payment methods, postage and packaging costs, and the seller's feedback history. If you have any questions about a listing, click on the "Ask a question&" link to get in touch with the seller.
eBay's seller feedback feature allows you to get to know the seller before you buy. Click on the number next to the seller's username to see what other buyers have to say about a particular seller's products and customer service. Detailed seller ratings provide additional information about aspects such as the reasonableness of postage costs and the accuracy of the item description in the listing.
Conclusion
While hair extensions offer an easy way to get full, lustrous locks, these hair accessories can damage your hair. Short-term damage includes split ends, broken and weakened hair shafts, hair loss, and bald patches. Long-term damage includes alopecia and weakened hair. To avoid damaging your natural hair, make an informed decision about applying extensions. Those with thin or weak hair, pregnant women or women who have recently given birth, and people with pre-existing medical conditions should not use hair extensions.
In general, damage is caused either by the weight of the extensions or by the way that they have been applied. Try to avoid chemical application methods or extensions that put stress on your natural hair. Even though extensions can be applied at home it is best to have them applied by a professional at a reputable salon, especially if you are considering using glue or warm fusion. Choose the best quality extensions that you can afford to keep your natural hair looking its best.
Clip in hair extensions are the healthiest option as they are removed before bed and are not applied with chemicals. These extensions allow the wearer to let the hair rest to decrease the amount of stress placed on the natural hair. They come in a wide variety of styles and colours, in synthetic and human hair varieties. eBay sellers offer a large selection of hair extensions, guaranteed to suit your budget and hair characteristics.