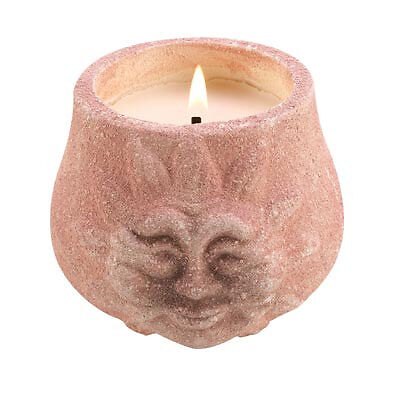 Handmade candles are an affordable luxury that consumers can purchase either as a unique gift, or as a personal indulgence. They are a simple way of adding atmosphere and perhaps aroma to a home. The materials used in the production can vary, with each variation effecting how the candle looks, the aromas it releases and the 'burn time', i.e. the lifespan of a lit candle in hours. As handmade candles are generally produced and sold on a small scale, the craftspeople that make them have the opportunity to offer very individual pieces in terms of shape, colour, and smell. This means buyers can be sure of finding a candle to suit their personal taste. Investigate which types are available and then specific products to find the ideal handmade candle.
About Handmade Candles
Before the industrialisation of candle production in the late 1800s all candles were handmade, using whatever products were available, from animal fat to whale oil. However, the advent of electricity and gas power meant the demand for candles became negligible until the 1990s, when there was an unexpected surge in their popularity. This encouraged experienced candle makers to transform their craft expertise or hobby into a business and increased homemade candle production. Over time, candle making classes also grew in popularity to parallel the trend, contributing to the abundance of homemade candles available on eBay now. Candles are handmade by melting wax to the correct temperature, then adding optional fragrance or colours and pouring the mixture into a heat proof vessel, with the wick already in position. This is a highly skilled procedure as the wax takes a considerable amount of time to melt, but the process cannot be rushed as it will catch alight if it gets too hot. Similarly, if too much dye is added to the melted wax, the texture of the candle will be spoiled and too much essential oil will not blend properly with the wax. When it cools, the candle is either drawn out of the mould, or left inside to burn. Handmade candles can be set in teacups, jam jars or any other heat proof vessel. Packaging varies from supplier to supplier and the appearance of the product is what makes it desirable and distinct for many customers. Therefore, the appeal of handmade candles lays in some part in the customisation of the product, made possible through small scale artistic preparation techniques.
Choosing a Handmade Candle
As with any creative process, there are a myriad of diversifications on the basic procedure. These influence the character of each item, giving handmade candles a unique quality which is rare in mass produced candles. Choose a handmade candle by taking into account the raw materials used, the look, the use of fragrance and the cost.
Handmade Candle Designs
Handmade candles are designed in many diverse and creative ways. Here is a table to illustrate the most common designs and themes.
Rolled Candle

Rolled candles are made by rolling honeycomb sheets of beeswax into a cylindrical shape, around the wick.

Novelty

Novelty candles in flower, cupcake or seashell designs involve the use of moulds or advanced wax carving skills.

Embedded

Flowers, paper inserts or other decorative items are embedded during the making process to enhance the finished piece.

Pillar

Pillar candles are wide and cylindrical, often made with dye for block colour or marbled. They can be used as a statement piece.

Container

The wax is poured into a heatproof container where a wick has been previously added and then left in the vessel to be used. The melting wax is contained during the burning process.

Votive

Votives are trial sized, they need a heatproof container to burn in.

Tea lights

Tea lights are small self contained candles, the thin casing of plastic or metal collects the melted wax. Place these on a heatproof surface to burn.
Materials Used to Produce Handmade Candles
As the popularity of homemade candles has increase, so has the amount of ingredients used in their production. Here is a table to shown the most widely used ingredients.
| | |
| --- | --- |
| Beeswax | Releases the aroma of honey naturally when burned, one of the oldest candle making materials. |
| Soy wax | Made from soy beans, a cheaper product with an increased burn time and less soot. Any spilled wax can be wiped away with warm water and soap. |
| Stearin or Stearic Acid | Including this additive hardens the wax and reduces wax drips. |
| Essential Oils | Scented candles fill a room with the chosen aroma. Essential oils are added to the wax during the heating process and release their perfume when heated. |
| Paraffin Wax | The most common wax used in homemade candle making, comes in bead or slab form. |
Handmade Candle Maintenance and Burn Time
The burn time of candles is often given as an approximate figure, spanning two hours. Handmade candles require very little aftercare, but to obtain the maximum burn time from them, follow a few tips. Remember to trim the wick, as a long wick will emit a larger flame and therefore more heat, to melt the wax at an increased rate. Also, use a specially designed candle extinguisher to save wax being blown around unevenly.
Using Handmade Candles in the Home
A handmade candle can enhance any home, it does not require a spacious room or the use of specialist equipment. After receiving a handmade candle, remove every item of packaging, then place it onto a heat proof surface and light using a gas lighter or match. For safety reasons do not stand a lit candle next to a draft or inflammable materials and never leave the room once it is lit. Ensure the surrounding area is protected in case there is any wax spillage. If the candle is scented, consider which room would most benefit from the aroma. A light zesty fragrance will serve living areas, whilst bedrooms may require a calming lavender smell to set them off. Try a few different locations in each room and discover how the aura of each area changes. A handmade candle on the dinner table will convey an air of elegance, whilst in the bathroom a warm glow can feel luxurious and cosy. In the summer handmade candles can be arranged in a garden, to make the space look inviting and attractive for a party or special event. At Christmas, a handmade candle can enhance the festive decor, especially if it is scented with a seasonal fragrance.
Find Handmade Candles on eBay
In order to buy a handmade candle, navigate to the eBay homepage. Start a search by clicking on the All Categories button, next select the tab for Home & Garden, then Furniture & Living and next choose Home Decor. From this section, select Candles & Tea Lights and then enter handmade into the search box on the left hand side of the screen. This will display the many handmade candles available. Use the list of search criteria on the left to refine these results by scent, colour, or design for example. Alternatively to find a specific handmade candle, enter a more precise search term such as handmade candle apple and only items that match this search will be shown. Sellers will often offer free shipping if a certain amount of candles are bought, some will even personalise candles, so be sure to examine all the options.
Conclusion
Handmade candles are the work of skilled crafts people, the individual products are not widely available on the high streets of local towns. Therefore, eBay is a good tool for locating the right handmade candle, however far away the seller maybe. The wide range of colours, designs, and aromas on offer can be refined to reflect the requirements of the buyer. When shopping on eBay, examine a variety of products and sellers to be sure of obtaining the ideal item at a reasonable price.