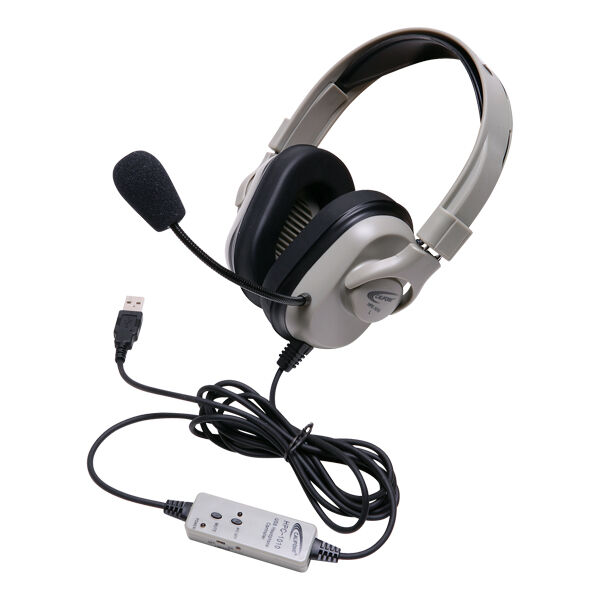 Buying headphones with a long cord provides freedom of movement and versatility. Aside from the length of the cord, the type of headphones chosen is an important decision. The headphones effect the audio quality, comfort, durability, and the environment in which they can be used most effectively without causing annoyance to others or hindering the listener's experience.
Headphones are available that sit over the ear or inside the ear. Each type has different benefits and drawbacks. Some, such as closed back and in-ear sound isolating headphones effectively block ambient sounds from entering the ear and prevent audio from the headphones escaping into the surroundings. Others, such as earbuds and open back headphones are less effective at blocking ambient sounds, but offer other advantages. Buying headphones with long cords on eBay is a simple process for even the most inexperienced buyers. When buying headphones with a long cord, it is helpful to consider the benefits of the long cord and the type of headphones.
Benefits of Headphones With a Long Cord
Buying headphones with a long cord allows the listener to move around freely while using their audio device. Those with portable audio devices who jog, for example, can carry their device anywhere on their body, such as a waistband, in a backpack, or an armband, while having total freedom of movement, with the headphones staying firmly in or on the ear.
For buyers with fixed, stationary audio systems, purchasing headphones with long cords reduces the risk of pulling the headphones out of the socket abruptly as the greater length allows more distance between the listener and the device. Long corded headphones are much more versatile than those with a short, restrictive cord. It the headphones do not come with a long cord, then an adaptor can be purchased to extend the length.
Types of Headphones
When purchasing headphones with a long cord, buyers should consider which type they require. Headphones can be divided into roughly two categories: over-ear and in-ear. Several types exist within each of these categories that offer different features and levels of isolation and comfort.
Over-Ear Noise Cancelling Headphones
Over-ear noise cancelling headphones use active electronics to control noise in the surroundings. When the noise cancelling function is switched on, ambient noise is filtered and cancelled out by the electronics. This drastically reduces the noise from outside, allowing buyers to enjoy their music, recorded lecture, or talking book without many distractions. Over-ear noise cancelling headphones are particularly successful at filtering out low and mid range frequencies. They work very well at removing constant, droning noises, such as the sound of an engine. However, sudden or higher pitched noises are not so effectively cancelled out, such as a noisy child or a secondary music source.
Closed Back Headphones
Closed back headphones sit over the ear, and are often called sealed headphones. They create a very effective sound barrier between the listener and external noise. The seal also prevents the sound from the headphones from escaping and disturbing other people. The headphones have a thick roll of isolating padding around the outer rim of the closed back cup unit that prevents sound entering or escaping. They are very effective at blocking out noise of any frequency and provide an effective, isolated environment. The shape and construction of lower quality closed back headphones can cause the internal sounds to resonate and reverberate, so these models may create a boxy sound quality.
Open Back Headphones
Open back headphones sit over the ears, but have an open, or vented back. Unlike closed back earphones, they do not have any isolating padding around the rim of the ear cups. The vented style of the back of the ear cup allows sound to escape, preventing reverberation and resonance, thereby creating a more natural, accurate sound. However, sound escapes into the surrounding area, which can irritate other people. This means that open back headphones are not necessarily appropriate for use in areas where they may disturb others.
Open back headphones are designed for quality and accuracy of sound, rather than for isolating sound, so ambient noise can penetrate through the vented back and the unsealed ear cups. This can be distracting, as it prevents the listener from concentrating fully on the audio. Open back headphones are most appropriate for use in locations where there are very few ambient sounds and where listeners are not annoyed by other people.
Earbud Headphones
Earbud headphones are an in-ear style that are popular because they are small, lightweight, compact, and convenient to use. They sit loosely inside the ear, outside the ear canal. The loose fit, means that much of the sound is lost to the surroundings, and the ambient noise easily penetrates and is mixed with the audio from the device. The excessive ambient noise that penetrates the earbud headphones, means that listeners try to compensate by increasing the volume dramatically. This causes distortion, poor audio quality, and puts the listener at risk of damaging their hearing. Many buyers find that earbuds are uncomfortable with extended periods of use. Earbuds are not particularly appropriate for noisy environments, or in areas where the noise from the headphones disturbs others. They are, however, very economical, and are reasonably durable, able to withstand being tucked away in a backpack or a pocket.
In-Ear Sound Isolating Headphones
In-ear sound isolating headphones are lightweight, compact, and portable. They sit inside the ear, and have a flexible rubber tip that seals the ear canal. This isolates the ear, preventing any ambient noise from penetrating. It also prevents audio from escaping into the surrounding area. These headphones completely isolate the listener, and because there are no ear cups, the audio does not resonate or become distorted. Their isolating ability, small size and portability, means that they are very popular. They do not distract others in the vicinity, and they allow the listener to devote all of their concentration to the audio. Their intense isolation, means that they can be hazardous if used when listeners need to pay attention to their surroundings, for example, when jogging or walking along a road.
Buying Headphones With a Long Cord on eBay
eBay stock a range of headphones with long cords, including both in-ear and over-ear models. They can be found easily by searching from the eBay home page or by navigating to the appropriate category. If buyers know what type of headphones they wish to acquire, or the desired length of the cord, including this information in the search yields the fewest, most accurate results. Price and condition filters can further reduce the number of results to the most relevant.
Buying From Private Sellers or eBay Stores
Buyers can purchase their headphones from private sellers from an eBay store. Many eBay stores specialise in an area, such as audio items, and have sellers who may be knowledgeable about the items they stock, and able to provide help or advice to buyers who are unsure of which type or model of headphones would best meet their needs.
Buying Used Headphones With a Long Cord
When purchasing used headphones with a long cord, buyers should check the condition of the cord, to make sure that it is in good condition, with no splits or breaks. The connector should be straight and free of corrosion, grime, or damage. The cord should fit securely into the headphones, with no wire visible between the sheathing and the point at which it connects into the headphones.
Selecting a Seller
Selecting a seller is an important part of the eBay buying process. Before confirming a purchase, buyers should always check the reputation of the seller. Looking at their feedback scores is the best indication of the reliability of a seller. Feedback scores provide information left by other buyers regarding the quality of the product and the performance of the seller. This information is valuable as it enables prospective buyers to choose the best product from the very best sellers.
Refunds and Returns
Buyers are strongly advised to check the refunds and returns policy of a seller before they purchase. Every seller has their own policy. Many sellers require that buyers contact them before returning an item, others stipulate that the item must be returned within a certain number of days, and others only offer exchanges instead of refunds.
Conclusion
Using eBay to buy headphones with a long cord is simple. Buying headphones of any type with a long cord allows for mobility while connected to the audio device, which means that the headphones stay in place. On eBay, buyers can find headphones of any type, from inexpensive earbuds to high quality open or closed back models. For sporting endeavours, such as jogging, or for buyers who need a compact pair of headphones, earbuds, and in-ear sound isolating headphones are the best choice, as they are considerably smaller than other types.
Once a buyer decides on the type of headphones that best suits their requirements, they are able to find the product quickly on eBay, using the range of features and tools offered on the user-friendly website. eBay sellers provide good quality headphones of all types with long cords at competitive prices, catering to every type of buyer and budget.