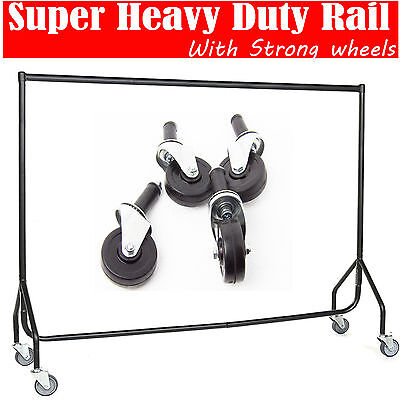 Super Heavy Duty Rail
The best way to find the heavy duty rails is below:-
1) The heavy duty rails comes with 32mm dia meter poles.
2)The heavy duty rail comes click and lock mechanism(Not comes with so many nut bolts)
3) Most important part of the garment rail is wheels, suppose you bought a rail for shop/market and if you put 120-140kg weight on it and you need to use iy everyday then if the wheel is ordinary then it'll break in few days,but if you bought the rail with heavy duty wheel as shown in the picture then your rail will never break in use of years.
4)The rails always comes with 5ft standard height and length is very from 2ft to 6ft, but height you can increase with the help of extension poles upto 8ft.
5) Heavy duty mechanism is so strong this you'll feel during assembling, you no need to drill the hole into rail because rails vertical poles is made outward and once you insert centre bar you'll see cente bar only need little tightness which will give the screw comes with it, the centre bar is adjustable in height you can place it anywhere on the rail.
You can have a look the rail below:-
http://www.ebay.co.uk/itm/REINFORCED-BLACK-GARMENT-CLOTHES-RAIL-CENTRE-BAR-HEAVY-DUTY-3ft-4ft-5ft-6ft-/112085461568?var=&hash=item5fb380d346