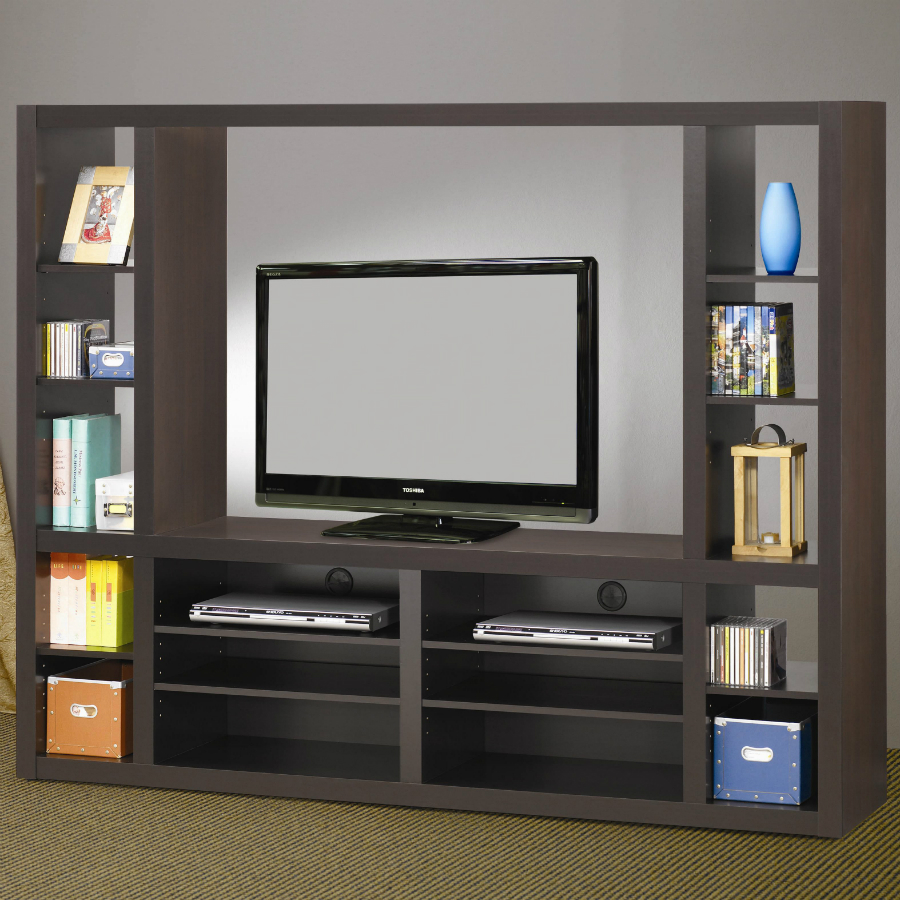 Home entertainment used to mean sitting at home and watching TV and maybe watching the occasional rented movie played with a VCR. However, in recent years, home entertainment has evolved to include a wide range of components that complement each other to provide a full spectrum cinematic experience at home. These components generally include a form of media player or streamer, amplifiers and preamplifiers, various audio equipment for surround sound, and of course a flat panel TV for optimum viewing.
Some entertainment systems are sold bundled with most of the listed components, while most others focus primarily on the media player and speakers only. The focus on media players and speakers came about because most consumers aim to find a decent player to play all the latest movies and music and then pair them with surround sound speakers and wide screen TVs.
Before buyers embark on the journey to owning the best home entertainment unit, they have to first figure out what components they need and understand the role each component plays in the overall entertainment system. They can then either select a bundled unit or buy some of the components separately.
Choosing a Media Player or Streamer
Many of these new age media players and streamers are built specifically to not only play inserted media, but to also access other media hubs like Netflix and Hulu. Before buyers venture out on selecting the right media player or streamer, they need to ask themselves a few questions about the likelihood of streaming from the computer to the TV, the playing of recorded media, and streaming from the internet. Many "smart TVs" already have some of these features, so many buyers simply focus on getting a good Blu-ray and CD player.
Buying a Blu-ray Player
The media source is of utmost importance because no matter how great your other components are, if the image and audio from the source is not of good quality, the audio and image that is emitted and displayed reflects it. Blu-ray players are very popular components of home entertainment systems because they play Blu-ray discs as well as regular DVDs and even music CDs. They also feature the best in HD video and have the highest bandwidth.
Blu-ray discs have improved audio performance with DTS-HD Master Audio and Dolby TrueHD, which means that the digital audio data is compressed during storage, but it is then fully restored when the data is being replayed. This often referred to as "lossless technology" in that none of the data is lost during playback unlike with some other disc formats.
Receivers and Preamps
It is said that the core of home entertainment systems is the audio and video receiver. These receivers generally comprise a combination of a preamplifier and a multi-channel power amplifier into one unit. They can also be bought separately, and some consumers even argue that "separates" provide better overall sound quality. However, the decision to purchase a combined unit or separates should depend on the available space and budget.
Separates
Without having to share space with the preamplifier, the power amp can incorporate bigger and more powerful capacitors, heat sinks, and transformers to unleash its power. In addition, both components do not have to share one power supply, and the delicate components of the surround processor can be separately housed.
Buyers do not need to limit their speaker choices to the type of amp mettle that can be accommodated in a single combined unit. Some speakers are more power-hungry than others and may require more than a five or seven channel amplifier that may not be included in the A/V combined receiver.
A/V Combined Receivers
Combined units are generally considered as an option, especially when the space allotted for home entertainment is not too great. However, space consideration is not the only factor or even the most important one. Buyers need to ensure that their receiver meshes well with their speakers because speakers with an 8 ohms nominal impedance can actually be easier to drive than speakers with maybe a 4 ohm. Another factor is the power and how much volume it can produce under certain conditions. Speakers with high sensitivity ratings of 90 or more with a moderate impedance rating can easily be driven by an average powered amplifier in a standard size to large entertainment area.
A/V receivers generally do not pressure the main amplifier with reproducing low bass but instead leave the responsibility to a subwoofer with an internal amp. This subwoofer pretty much takes care of the bass frequencies that fall below 80 to 120 Hz, depending on the bass extension and size of the attached speakers. The A/V receiver now has an easier job to perform because the low bass frequency normally utilizes the most power.
If buyers choose to go with A/V receivers, they should ensure that their choice of speakers comprise average to high sensitivity ratings and their nominal impedances should be between 6 and 8 ohms. This is especially recommended for lower-end models. Higher-end models may expand the speaker selection list, but buyers should still try to avoid speakers that are too demanding if they plan to go with a combined unit.
Selecting Audio Equipment
Selecting the right audio equipment is probably the most daunting part of completing a home entertainment system. The good news is that most entertainment systems on eBay already feature speakers bundled with the media source; however, most people like to buy their speakers separately for their system. The general consensus is that if buyers purchase the very best audio components, then their movies and music should sound excellent, but that is not always the case. While a better system can produce better music, budgeting and availability may hinder the selection process. Therefore, buyers need to compromise and consider various factors before making a final decision.
Buyers need to then decipher if the system is mostly for movies or music, the placement of the system, and how it fits in physically with the other components. Some speakers are better tuned for acoustics, while others can immerse the room with wall-shaking sounds to make movies come alive.
Additionally, movie soundtracks and music tracks are made differently. Most contemporary films are made with an almost infinite range of soft-to-loud dynamics with ambient or point sourced sound effects, extremely deep bass, and centre channel mixed in dialogue. In essence, almost all major films that have been released in the past two decades are made with a multi-channel soundtrack. However, contemporary music recordings are compressed without much deep bass effect. Furthermore, in a home entertainment system, the subwoofer is added to provide wall-shaking vibrations from movies, but it only needs to provide accurate pitch and tightly controlled, integrated bass in regards to music.
LCD vs. Plasma Flat Panel
The display in a home entertainment system is not always given much consideration because many buyers already own a TV or they simply assume that the biggest and widest screen is always a good choice. Aside from the obvious screen size issue, there are other things to consider including the various features available and the technology behind the major TV types.
Advantage and Disadvantages of LCD and Plasma TVs
Flat panel TVs are pretty much separated into two types: LCDs and plasma TVs. Both flat panel TV types have their ups and downs, and the determining factor may actually depend on what the buyer can afford. Plasma screens are good for viewing at wide angles and from the sides. This is best for viewing with a large group where all persons cannot be situated directly in front the TV. This should also be considered based on the seating arrangements in the entertainment room.
LCDs are more popular than plasma TVs, but LCDs can also be further broken down into two groups of its own. Standard LCDs are sold for a little less than LED LCDs because LEDs provide an overall better contrast and colour display. There are many factors to consider before selecting any of the aforementioned TV types, and the chart below should shed some light on the issue.
| TV Type | Advantage | Disadvantage |
| --- | --- | --- |
| | Higher contrast than CCFL LCD; best motion detail and widest viewing angle; less expensive than comparable LCDs | Screen is reflective; draws more power on average than similar LCDs |
| LCD - CCFL Backlight | Accommodates light better; weighs less than similar size plasmas; little to no image retention | Generally more expensive than similar plasma; lower contrast than plasma |
| LCD - LED Backlight with Local Dimming | Low black level and highest contrast; better room light tolerance; generally non-reflective matte screen; draws less power than similar plasmas | Most expensive flat panel; unrealistic effect caused by frame interpolation in 120 and 240 Hz models; narrow viewing angle |
| LCD - LED edge-lit models | Better room light tolerance; little to no image retention; frame interpolation in 120 and 240 Hz models can decrease motion blur; thinnest type of flat panel | Uneven lighting in dark scenes and letterbox bars; unrealistic effect caused by frame interpolation in 120 and 240 Hz models |
The chart above provides a simple summary of the advantages and disadvantages of each type of flat panel TV. Buyers simply need to focus on the advantages that can benefit them, and they should consider the disadvantages that cause the least problems for them and then make a selection.
How to Buy Home Entertainment on eBay
Buying a home entertainment system can be a very simple task once you decide on the amount and type of components that you need to complete the system. You can start out by simply performing a search for home entertainment on the eBay home page. This search provides you with numerous options that may include bundled systems as well as separate components. This is a good place to start, especially if you are not sure about which components you need.
To avoid compatibility issues, it is best to start out with a bundle and then add the additional components. This also saves money most of the time. Start out with a bundle that includes a good Blu-ray player and at least four speakers, including a left and right speaker, a centre speaker, and a bass speaker.
After you have completed your initial search, you can further narrow the details by selecting various filters. These filters include brand, receiver features, channels, and surround sound formats. To minimize the initial results amount, you can input some of those filter keywords into the initial search. For instance, you can start by typing "Samsung 5.1 channel home entertainment systems" and then make a selection from there. Lastly, before you make any payments, always contact the seller to confirm the components that you are going to receive and how they are shipped.
Conclusion
With the many components involved in a home entertainments system, buyers sometimes get overwhelmed with the decision making process. However, once they educate themselves on the various components and what each of them brings to the system, making the selections becomes easier. Not all components are necessary, and some buyers may already own some of these components, so they should first decide on what components are needed, and then set about to select the best type for their entertainment system.
Moreover, media players, amplifiers, audio equipment, TVs are all factors to consider in a home entertainment system, so buyers need to figure out if they need to buy new components or upgrade the existing ones for complete compatibility and enhance viewing and sound quality. At the end of the day, most buyers are still going to make their decision based on their budget and style. The good news is that eBay has enough choices to facilitate all buyers regardless of the factors that they use to make their decisions. The in-depth search engine and filter options makes the selection process much easier.